Authentic Turkish cooking? You"ll need authentic Turkish ingredients for that! Bring on Baharat Spices, fresh, fragrant and full of flavour. Don't miss your chance to grab a this special favourites spice pack from Baharat.co.uk with Exploring The Turkish Kitchen.com
 Giveaway post
When I travel back to the UK probably like most Brits living abroad, I can't wait to dive into the supermarket for some British fare. Sometimes it actually gets overwhelming trying to decide what I should sample first. If I'm honest it's not so much the British tastes I miss but the rainbow of variety of flavours from all the cuisines that are readily available in Blighty.
In between catching up on food glorious food I've missed, I love cooking Turkish dishes for my family and friends who love to have the taste of Turkey and Turkish holidays at home. 
When it comes to even store-cupboard ingredients in Turkish cuisine, fresh means full-on flavour and trying to find authentic tastes can be a bit of an effort where we are in the UK. You learn little tricks, of course, like a bit of salt and olive oil added to triple concentrate tomato paste to replicate tomato salça or tiny pinches of chilli flakes rather than generous teaspoons of warming Pul biber pepper flakes can work.
So this visit I've been over the moon to discover BAHARAT a UK based company who specialise in single-origin, authentic, naturally grown and preserved herbs and spices that are delivered to the door speedily.
Aromatic Turkish spices such as sumac, cumin, isot and pul biber, fragrant herbs such as thyme, oregano, mint and basil and flavour blends that will turn your kitchen into a gourmet kebab house (Guilt-free doner kebab anyone?)
I guessed we were in for a treat when I opened the first packet and was blown away with the beautiful citrusy punch that comes from only the freshest of vibrant sumac berries and the heady aroma from the Urfa / Isot pepper can cause even the fullest of bellies to rumble.
Most of the herbs and spices available from Baharat.co.uk are sourced from Turkey and are produced and harvested by small farmers under natural, organic conditions in regions of speciality something that I'm passionate about in my own cooking. Sold in handy keep-fresh packaging, naturally free of gluten, allergens and any additives, colourings, anti-caking agents and fillers and most importantly super fresh!
Any keen home cook knows, replicating the taste of a favourite cuisine comes from using the freshest, most authentic ingredients available and finding the right recipe and technique to transport you from your dining table to faraway lands. Good quality seasoning and kebab blends and mixes are undoubtedly the perfect addition to a Turkish cuisine lover's kitchen.
Aslan Sarı founder of BAHARAT grew up surrounded by homecooked Turkish cuisine before experimenting and mastering the recipe blends for sale to fans of Turkish cuisine as well as to restaurants and food producers. The passion for Turkey's flavour delights are clear from the website and social media accounts and includes developing and sharing recipes both on the spice packet and on the website so buyers and fans can easily replicate favourite Turkish dishes at home with ease free from additives and false flavourings found in so many packed and take away versions.
If you follow on Facebook and Instagram, you may have seen some of the delightful dishes we've been enjoying from the range including Mediterranean seasoned chicken, tasty homemade doner kebab and these flavoursome meatballs with sumac onions, fresh greens and yoghurt sauce. Bol Baharat Köfte Recipe
The spices are clearly fresh are bursting with fragrant zing and make for very tasty, easy to use blends, best of all the packages are generous and reseal to stay fresh.
Excitingly the range continues to grow and to celebrate the upcoming festive period, BAHARAT.co.uk are offering fans of Exploring The Turkish Kitchen the chance to win a Turkish Christmas Special Set plus their Essentials Collection.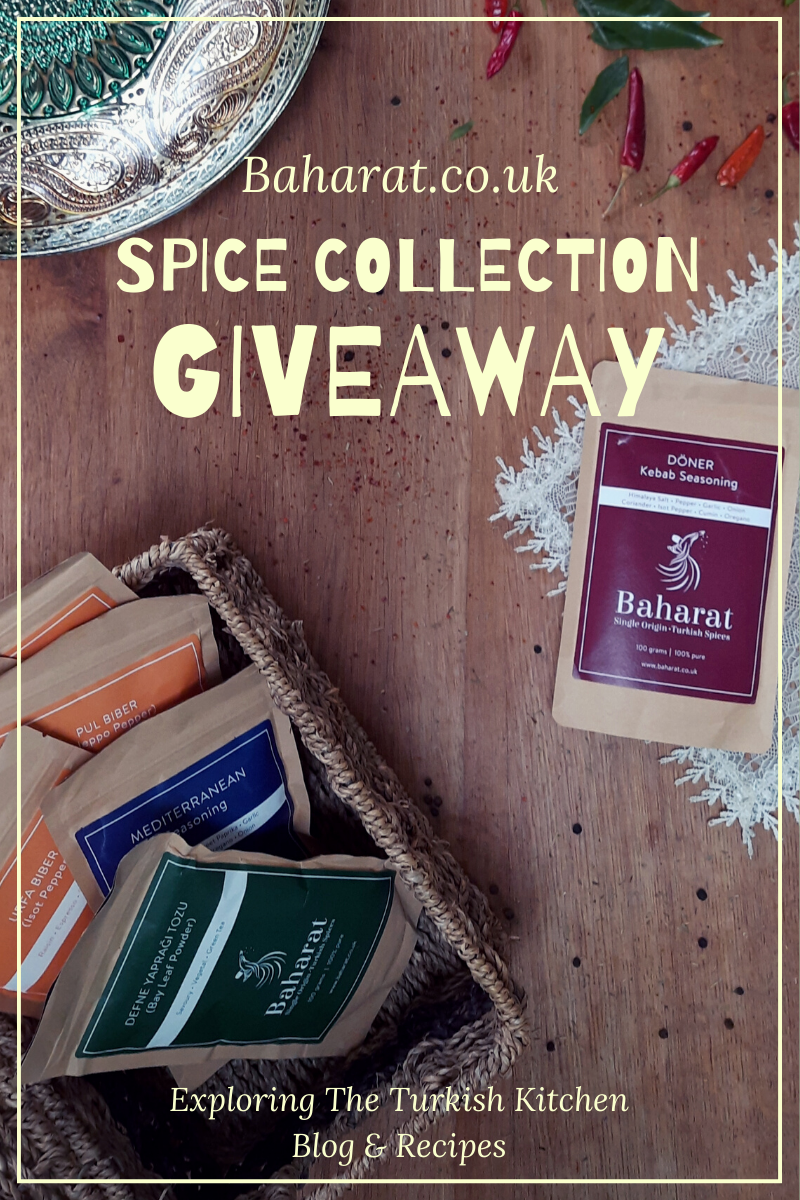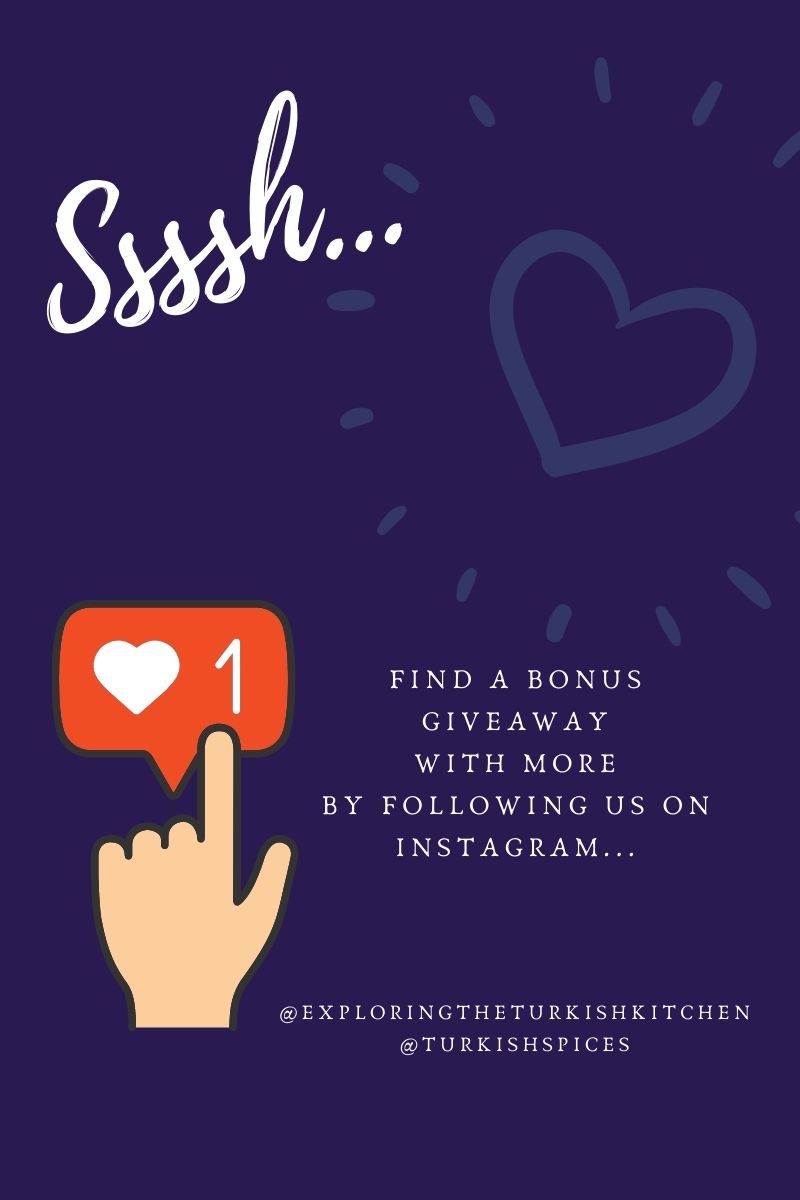 To enter comment below (on the blog or Facebook Giveaway post) which delightful Turkish dish you'd like to cook first if you got your hands BAHARAT's Turkish flavour blends. Then pop to the Rafflecopter contest box below this post, sign in and click 'I Commented'.
You can gain further entries and therefore increase your chances of winning these Turkish favourites by visiting my Facebook page, visiting Baharat's Facebookpage and by signing up for my newsletters via the Rafflecopter links. **Don"t forget to pop back to the Rafllecopter box to confirm you clicked which will then register your multiple entries**
a Rafflecopter giveaway
The giveaway is open to all with a UK postal address only and includes the prize of the spices and delivery charges. Entries will be checked against comments, group membership and visits to pages as relevant. For full terms see link below.