My name is Zöhre, I'm frail with both hunger and illness now, but my memory is sharp. I won't be here much longer, my time is up, I know because women know these things and I've seen so much.
The people I call family are around me, the middle-aged, the young and the even younger. Glum faces, secret tears, they try to hide the sadness and talk of only positive things. They say I'll be famous one day, but no one will ever know my real name.
I tell them I want to go back; across the land, they now call a border, to the soil I call home. I toss restlessly at first light remembering the outline of the mountains and the coastlines that surround my childhood home.
When I was a child, the village folk used to say I was the most beautiful girl they'd ever seen. So mesmerising that they used to call me Ezo, it means beauty you see.
All the fathers of young boys in the village wanted my father to permit me to marry their son. Of course, I never liked those boys, they were always rude, or ugly. I didn't want to marry any of them, I had my eye on one handsome boy, I secretly watched him as he marched into the square with his friend. Strong and bold he was like a lion to me, but I never told anyone this. It wouldn't be right, and I knew my fate was not in my hands anyway. The decision would come down who offered my parents the most in either money or status. My future was not my own.
One year I was very fortunate because the apple of my eye's name was spoken in hushed voices around my home. My match had been found, and we would wed in the New Year.
The preparations for my trousseau began, from towels to table cloths, the napkins and nightwear, I was proud of the neat little stitches and designs I had made as I grew into a young woman ready for marriage.
Before my wedding the other girls in the village began to talk, I heard the whispers when I collected water from the fountain, and I listened to the giggles in the hammam. They said he didn't want to marry me – but I didn't care what they said. I knew they were just nasty gossips. We were destined to be together.

After the wedding, I worked hard to make my new home cosy and inviting so that my lion would rush home to me. I spent my days making the dishes my mother had taught me and making myself more beautiful.
My lion would often come home but leave again soon, he had work still he said, he'd need to travel he said.
The gossiping and the whispering at the public baths were getting out of hand, but I didn't care, I believed they were just jealous, unhappy with their own sad, miserable homes.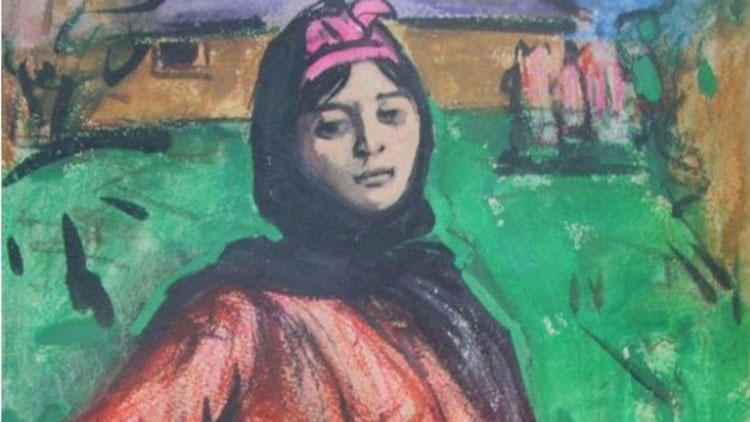 I was Ezogelin, the most beautiful bride in the village but I couldn't make my lion happy, he was a mean man who liked his drink more than the comforting home I tried to provide and hated his hangovers more than the young bride he'd been forced to marry. He sought refuge in the arms of many of a woman, but none of them was me.
The gossip of the womenfolk of the hammam became much more than whispers and spread from kitchens to the coffee shops and eventually the Imam. I was told they would arrange for me a divorce, I could move back to my mother's arms and a new groom would be found. I didn't want that of course – I wanted my lion to love me. Ezo the beautiful one.
Word spread quickly, of course, visitors would come and go from our home with offers of marriage, divorce was rare, but a sweet-natured bride with such an enchanting face was even rarer still. The proposals for my başlık parası, the fee passed from the grooms family for the bride's hand infuriated my parents and they refused offer after offer.
As times got harder my parents got pushier, but I refused, who could ever mend a heart so broken as mine. I cooked, I cleaned and cared for both my parents and younger brother well.
When my brother came of age there was no money for a bride, there was hardly money to eat, but we survived. 5 years had passed since I was granted a divorce and the offers of remarriage had stopped.
In the 6th year, a distant relative stayed with us, and there was again lots of whispering behind the curtains of my mother's rooms. I was called for and gestured to kiss the Teyze's hand before sitting, I felt the Aunt's piercing eyes measure me as my mother told me that my brother and I would travel to Syria.
It took a week to prepare everything for travelling, and it was during this time that I learnt that a gelin had been found for my younger brother and that no money would need to be paid to the brides family because she had an older brother who had never married.
My new home was grim, but my husband was a fair man. He was much older than me, but he treated me with respect. He struggled to find work because was never of good health, but he never drank and was never rough and in time then led me to love him.
Because he didn't work we were very poor people, my brother sent money when he could but it was hard to feed us, but I managed my best.

One winter my husband got very ill and never recovered, he needed a doctor you see but there was no money for it, I sent word to my brother but no help arrived, I had no fresh foods to serve my dear husband.
I sent my young son to the neighbours' houses, and he returned only with a little mint and some meat stock. I had a pantry dug into the wall, and I recall I frantically pulled out all that I could find, a cup of lentils, a little rice and bulgur and tomatoes I had ground and dried in the summer last.
My husband hadn't eaten well in so long, but that day I made him a bowl of soup that made his eyes open wide, he finished every drop and pulled me close. He told me I was beautiful, how grateful that I came into his life.
He passed of course and to this day I have remained as a poor widow, we have eaten this soup many times, each time I remember my dear husband. Maybe soon we will be together again.
My name is Zöhre, they call me Ezogelin – beautiful bride. If you eat my soup, will you remember me?
Ezogelin Çorbası - Lentil & Grain Soup Recipe 
Liked this story? for more creative writing / Stories behind Turkish Dishes Click Here