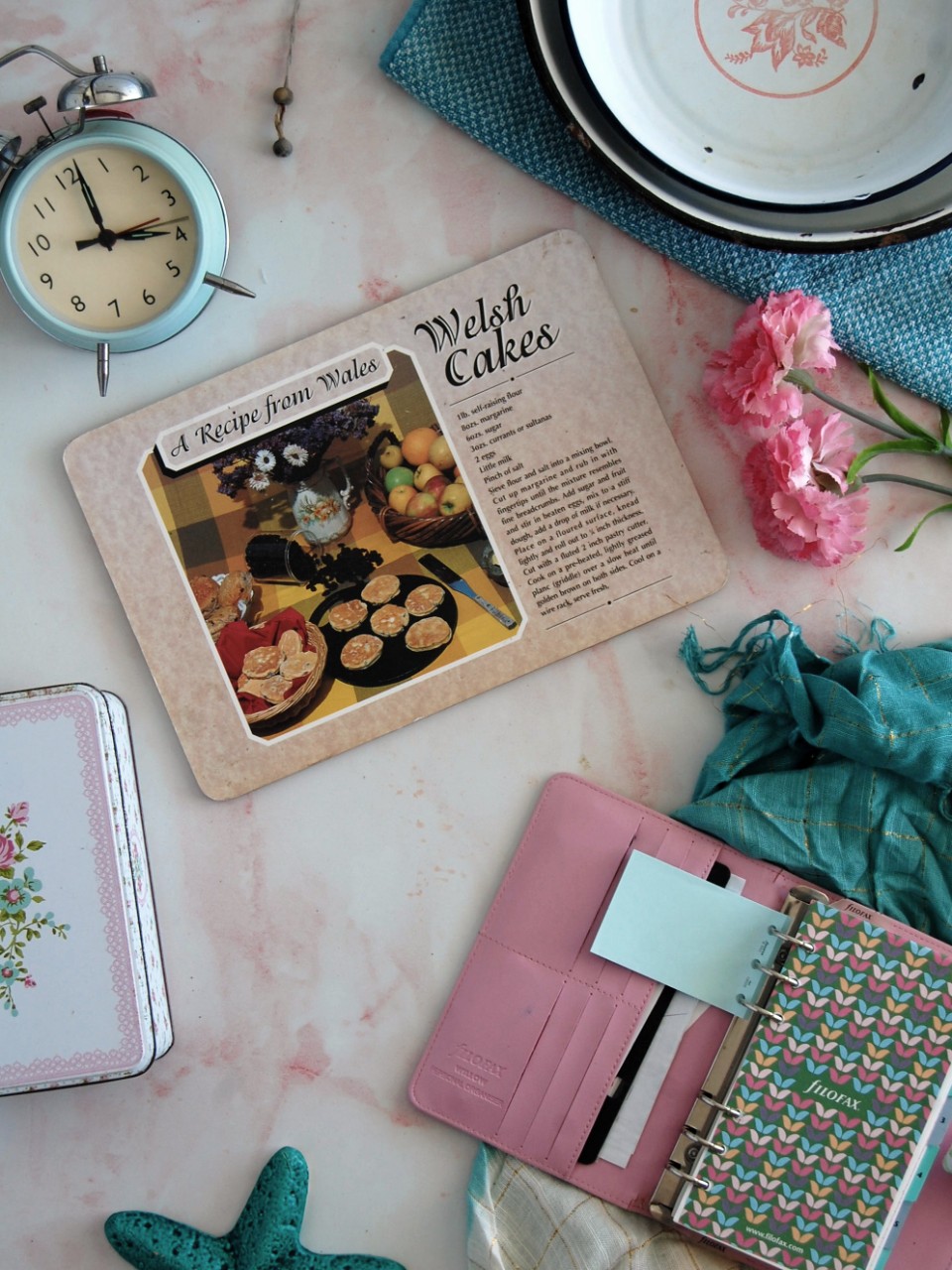 Before I pick up my favourite knife to chop the vibrant peppers I've just picked from the garden for an evening meal with friends, I glance over to a small kitchen shelf and smile at the little Welsh cakes recipe I took from my grandmother's kitchen when she passed. It's a small lightweight, placemat that seemed like a suitable souvenir to bring with me as I relocated from the United Kingdom to Turkey several years ago.  It's aged print looked neglected amongst her best china but fits well amongst the eclectic pots, jars and souvenirs that decorate my favourite room of our home: a place my toddler and I comfortably spend several hours of our day.
I tell myself I must make up a batch of those sweet little crumbly bites my grandmother made so well before I try to focus back on the task in hand. The sweltering heat forever distracts me but the melodic chorus of the swallows is loud and calming this afternoon and I take a moment to appreciate the cooling breeze coming through the house as it gently carries me back to the village the very first time I tasted this dish.
After wiggling through small plants on a dusty field in white leather sandals that I now know I paid a ridiculous amount of money for, my soon to be mother-in-law is trying to engage me in conversation and tell me how to pick vegetables for my dinner. I understand neither the instruction nor the need for so many bags of peppers.
I attempt to keep up with everyone else's picking, my jumper snags on a small bush, my feet are filthy, I'm hot, sweaty and I question what on earth I'm doing in this field under this blazing heat.
I guess my fiance feels my confusion from the other side of the veg rows and calls to me that I shouldn't worry: we'll go back to the house soon, where I can get washed and have a drink. We all pile into the car and drive walking distance to a small row of houses with paint falling off the walls. An inherited home kept on through love of lost family and as an escape from bustling city life.
'Biber! Give! Aunt!' my father in law bellows at me before shoving bags of peppers in my tired, shaking arms. Stunned to silence and before I have the chance to try to understand, the peppers are whipped back away from me by someone else and I'm led into a small courtyard that hosts buckets, barrels, endless farming tools and a very large fireplace.
Still floating in shock, I'm told to sit and the once quiet garden suddenly becomes a hive of washing, chopping and mixing activity.
As I sit, watch and try to discreetly move away from the blazing heat I see a feast fit for royalty come together, and as I wonder if skin can blister under clothing, make-shift tables are suddenly erected. A stream of visitors appears from all over the village and I find out that it is me, the bride to be of my mother in laws oldest sultan that honours such a banquet.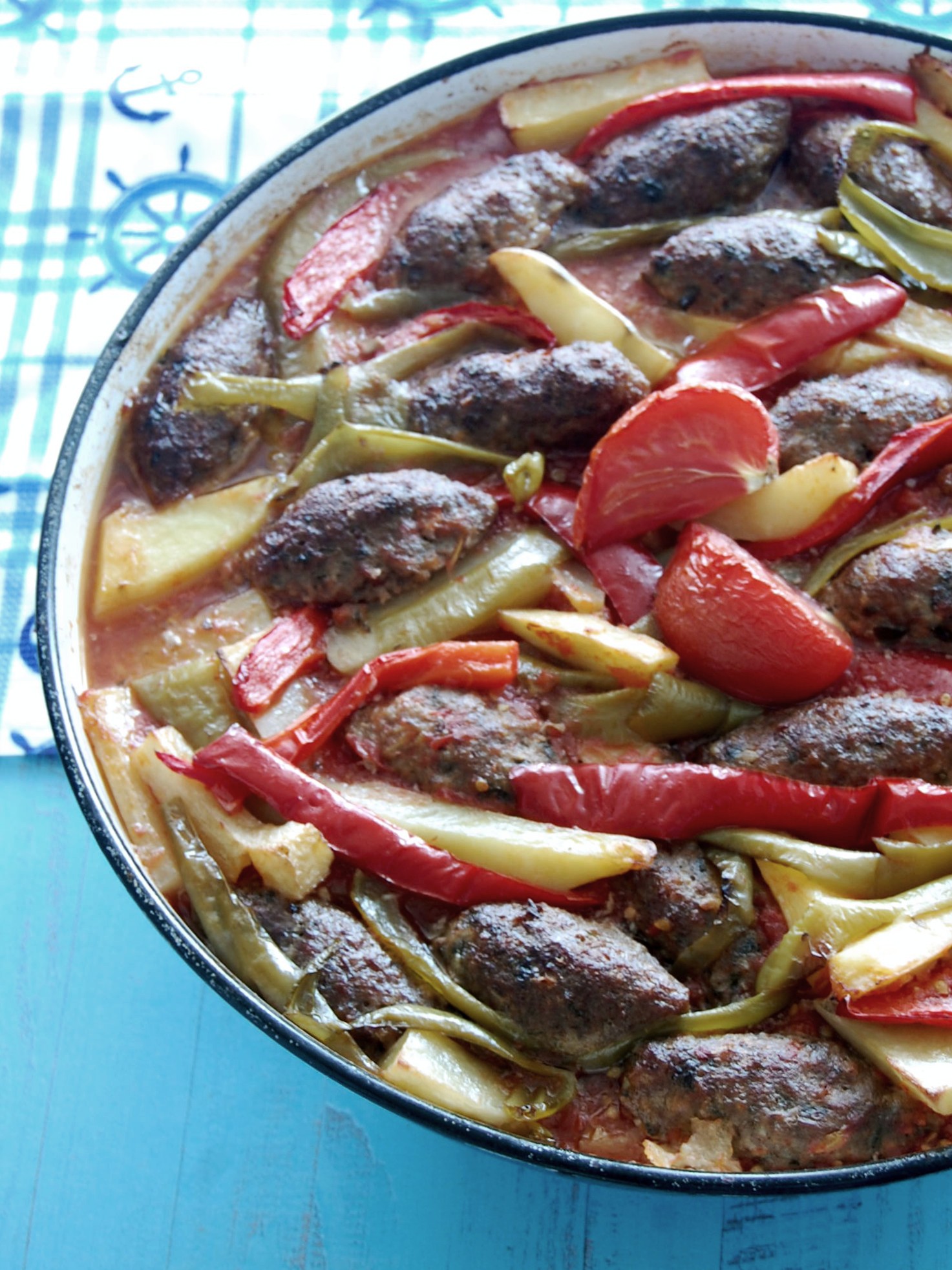 Surrounded by a sea of mismatched tableware,  I didn't know where to start but I do recall the moment that my surroundings suddenly paused, my first bite of Emir Teyze's Izmir köfte, tender spiced meatballs in a rich tomato sauce. Like a well-trodden garden path, everything just fell into place for me when the sweetness of those freshly picked peppers and starchy potatoes full of spice and love woke up both my taste buds and my senses.
There were so many vibrant dishes prepared for us that day but I can recall just the one and little did I know that that meal would take me on a  culinary journey. An opportunity to learn the benefits of seasonal eating and to discover not just a love of local fresh foods but one that would help me gain a sense of belonging, a place to let roots grow and bloom into the woman I didn't know I was to become.
Much like in any marriage there were times when I wanted to hate the thing I loved. Living in Turkey brought on frustrations: communication issues, the feeling of dependence on others, the rejection of ideas and values that didn't nurture the beliefs of my upbringing in a different culture.  
But then there would always be a dish that brought me back to my senses: The smell of sweet roasted chestnuts as we walked off a pointless argument one chilly autumn night, sticky-sweet quince jam delivered in a mothers breakfast hamper when the electric was cut off after a wild winters storm, salad with unripe almonds in the spring to wake up the senses and Emir Teyze's meatballs in tomato sauce sizzling away on the open fire each summer, always with freshly picked peppers bursting with revitalising flavour and goodness.
It was traditional village-style food that I craved when I went back to the UK visit after visit, and it was Emir Teyze's consistent, comforting meatballs that I so desperately needed when we lost a baby after premature birth.
Turkish food helped me to pick myself up each time I stumbled along with a new way of living: through culture shocks and interpretations of different behaviours and customs. Turkish recipes helped me to take baby steps in learning a whole new language. First numbers and quantities, foods and techniques, and eventually from recipe videos to historic cookbooks.
As I cut the potatoes into the apple slices that Turkish recipes so confusedly describes them,  I think back to how things have changed for me: I'm much more comfortable with the language and I find myself using Turkish habits and customs without ever meaning too.
I toss the ingredients into an oven tray with raw meatballs, the only way I deviate from auntie's recipe, knowing her kindness to me stretches beyond the relationship of affinity and I smile about how much I still love this, the very first cooking instructions I battled my beginners Turkish with.
When it's cooked and ready for serving I plate it up in treasured enamelware, a tray my mother in law gave me instantly when I professed just how delightful it was and I line up my camera to take a quick snap for my blog.
In just a few years, I've gone from standing bewildered amongst unidentifiable plants in unsuitable shoes to growing vegetables in my small garden. Seasonal produce that lovingly goes into making not just the many recipes that Aunt Emir has happily passed onto me but the numerous dishes I've discovered, learnt and perfected from a country that's welcomed me as one of their own.
Friends arrive with warm greetings and as I rearrange several of my own harmoniously mismatched dishes to make the space required to place upon the garden table my own Izmir köfte I smile to myself contentedly; a vibrant, Welsh daffodil that much like the plants I tenderly water has rooted in Turkish soil, proudly retaining the features of its genus by adapting slowly to its new surroundings.
Baked Meatballs in Tomato Sauce: Izmir Köftesi Recipe