Disclosure: This post contains affiliate links, which means if you chose to you can click the link to purchase the product and at no cost to you help to support my Turkish coffee addiction and fuel me with the energy I need to write more post like these.
For full details & my disclosure policy please Click Here.  Thank you for supporting my blog.
I'm the kind of reader who appreciates food making a feature in novels. It helps me connect to the character better and makes them more realistic to me. I mean, really, what human can go through the ups and downs of life without comforting sustenance: I can't even get through a book without a cuppa so I like, no need, to know the people whose lives I'm inhabiting from cover to cover really do eat too.
One book that did it for me when talking food, specifically Turkish cuisine was Louis de Bernieres 'Birds Without Wings' - tell me you've read it, please!?: It's up there on my favourites list and I've read it so much I've had to replace it 3 times. 
It's a book that not only had me connect with the characters it had me hurridly gobbling up the words served to me by the author as though my brain itself had been starved. 
One dish, however, had me a stumped as I came across the scene that presented it to me. The coquettish character Leyla Hanıım whilst preparing am extraordinary feast 'made a paste of yellow lentils, in order that happiness and laughter should come into the house.' I had known all the Turkish dishes described so fittingly into the story up until this one dish, prepared so lovingly by Leyla, mistress of the Town's Ağa Rüstem Bey.
And much like Rüstem Bey as he was first presented Leyla as a potential concubine I was intrigued and needed to know more about the fare that was so teasingly presented to me. 
I rummaged through my cookbooks and I searched online but I couldn't find a yellow lentil paste even on 'nefis yemek tarifleri' a popular recipe database of both amateur and professional cooks. 
I didn't give in though, because I was confident there was no way de Bernieres, who devotes so much time to research would include a dish in this historical novel unless he himself had eaten it when staying here in Turkey.
I'm sure I exhausted every search possible even focusing on Fethiye and later expanding outside of the region of Muğla and in the end came to the conclusion that it should either have been made from red lentils or was simply Fava, a broad bean dip which is something I've always liked (well as long as it's made with red onions!) No biggy I thought!
 At a later chapter I suddenly recalled that Bodrum with all its exclusive artistic flair claims a fava dish of its own; could it be that this localised meze is made from yellow lentils and not broad beans I asked myself before running back to again googlestigate.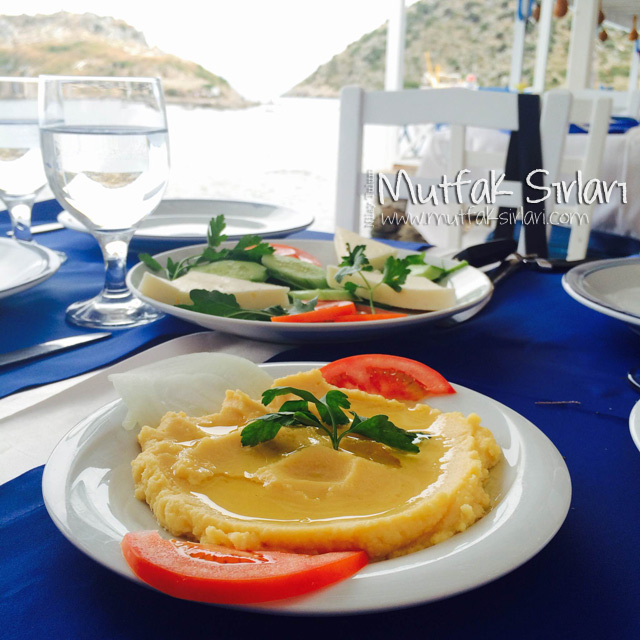 />
I learnt that Bodrum's version of fava is called Gambilya, made from the Bodrum baklası, bakla means broad bean so my excitement simmered away until I came upon an informative article on the online version of 'The Guide Bodrum'. 
Not only did I learn that Bodrum baklası is NOT a broad bean but is a 'vetch pea which is often mistakenly called a lentil or a bean.' B-I-N-G-O!
Discovering that the pea does resemble a lentil and is not only a traditional food of Bodrum but that it's earned a place within in the Ark of Taste catalogue of engaged heritage foods finally justified my obsessive need to taste a dish represented in a much-loved novel!
I think I ordered a packet of the dried legume there and then and I'd like to say I waited patiently for the postman to deliver but if you've ever dabbled in oniıne shopping here in Turkey you'll know the truth is in the period between payment and delivery I forgot all about it! 
The look on my husbands face when he asked why I had lentils delivered to his office - 'They.Are.Not.Lentils! I screeched as I whipped them out of his hand.
And so there I was one evening excitedly holding a packet of Gambilya from Hatice Teyze who sell artisan local produce and cosmetics until I realised that I actually had no idea how to make Bodrum's fava! 
Google is a home cooks best friend and worst enemy right?, now knowing exactly what I wanted to cook I set upon the task of sifting through all those online recipes to separate the wheat from the chaff, or would that be the pea from the pod?, something The Guide Bodrum informed me is quite difficult because the plant has needles.

Only it turned out that recipes for Gambilya are as rare as the peas themselves! 
So I went for a recipe by Mutfaksirlari.com (below) 
I imagine I got myself a little too excited to try them out and had expectations bigger than my belly, I liked it, but I wonder if it was missing a little extra something something.

I really do like my broad bean meze beter with red onions rather than white so maybe the same would be said for this one.

It definitely tastes more pea-like and the lemon was possibly a little distracting, but I'm looking forward the experimenting and I've since come across a soup and a salad recipe that I'm eager to try this summer inshallah. 
Mostly, of course, I'm pleased that the next time I pick up the epic novel of Birds without Wings - because you can be sure I will, and I come across Leyla hanım once again enthusiastically preparing a banquet to show real love, devotion and connection to her master I'll be able to taste the words served to me.
Gambilya Bodrum-Style Fava
Ingredients
Bodrum fava
1 'Su' Glass Bodrum Bakla (Gambilya)
1/2 Medium onion
1/2 Peel of half of lemon
1 Clove of garlic (Optional)
1/4 Bunch Fresh dill (Optional)
1 Tablespoon Salt
3 'Su' Glasses Water (600mls)
Gambilya Bodrum-Style Fava Directions
Wash and drain the peas
Finely chop the onion and lemon peel.
Put the peas, onion and lemon peel into a saucepan.
Add the salt, olive oil and water and bring to the boil.
Once boıied, blend until smooth. 
Strain through a fine sieve into a glass baking dish.
If using chop the dill finely and mince the garlic, mix into the paste and allow to cool to room temperature. 
Chill and serve cold.
Recipe notes
Bodrum bakla, fava of Gambilya can be found in the Milas and Bodrum areas of Muğla and online.