Disclosure: This post contains affiliate links, which means if you chose to you can click the link to purchase the product and at no cost to you help to support my Turkish coffee addiction and fuel me with the energy I need to write more post like these.
For full details & my disclosure policy please Click Here.  Thank you for supporting my blog.

Farewell: A Mansion in Occupied Istanbul by Aşye Kulin (A Food Reference List)
I've picked this interesting read from Bookswap Turkey Facebook Group. The book by Ayşe Kullin translated by Kenneth J. Dakan. Set mostly in Istanbul the story focuses on everyday life around a mansion property of a public servant and his family during last days of the Ottoman empire.
Much like the rest of the people of the empire, they are affected by the war in many different ways.
The period running up to the demise of Ottoman rule, including the first world war, the war of independence and the birth of the Republic of Turkey was certainly not a peaceful one.
The book although centred around the family shows how both the high society and working-class were affected outside and within the home. For everyone, this was deeply felt on the kitchen front.
Presumably, the well to do had the benefit of connections much like the main character whose father in law having land outside of the city was able to send some of their own produce. This extra supply didn't keep them well-fed, however, caring so deeply about keeping up the pretence of affluence and an engrained duty to hold up the traditions of serving guests made themselves suffer more than necessary - A case of keeping up with the joneses Ottoman style!.
It took me several chapters to get into this book but when I did I enjoyed it and glad to have read it. Since then I've joined Amazon Kindle Limtied and was excited to discover more Ayşe Kulin books and have been working through the stories and the dishes too! .
Many Turkish dishes were mentioned in the book and that as always caught my attention fascinated to see that much of the food served to guests and prepared in the home regularly actually matched the kitchens I see today.
********************
'Finally. there came the news of long-awaited victory: the decisive defeat at Çanakkale (Gallipoli) of the combined armies of the British Empire and France. A festive mood swept across the land, and celebratory desserts and börek were sent to the neighbours. Houses filled with morning visitors extending their best wishes and congratulations, as though it was Bayram holiday.'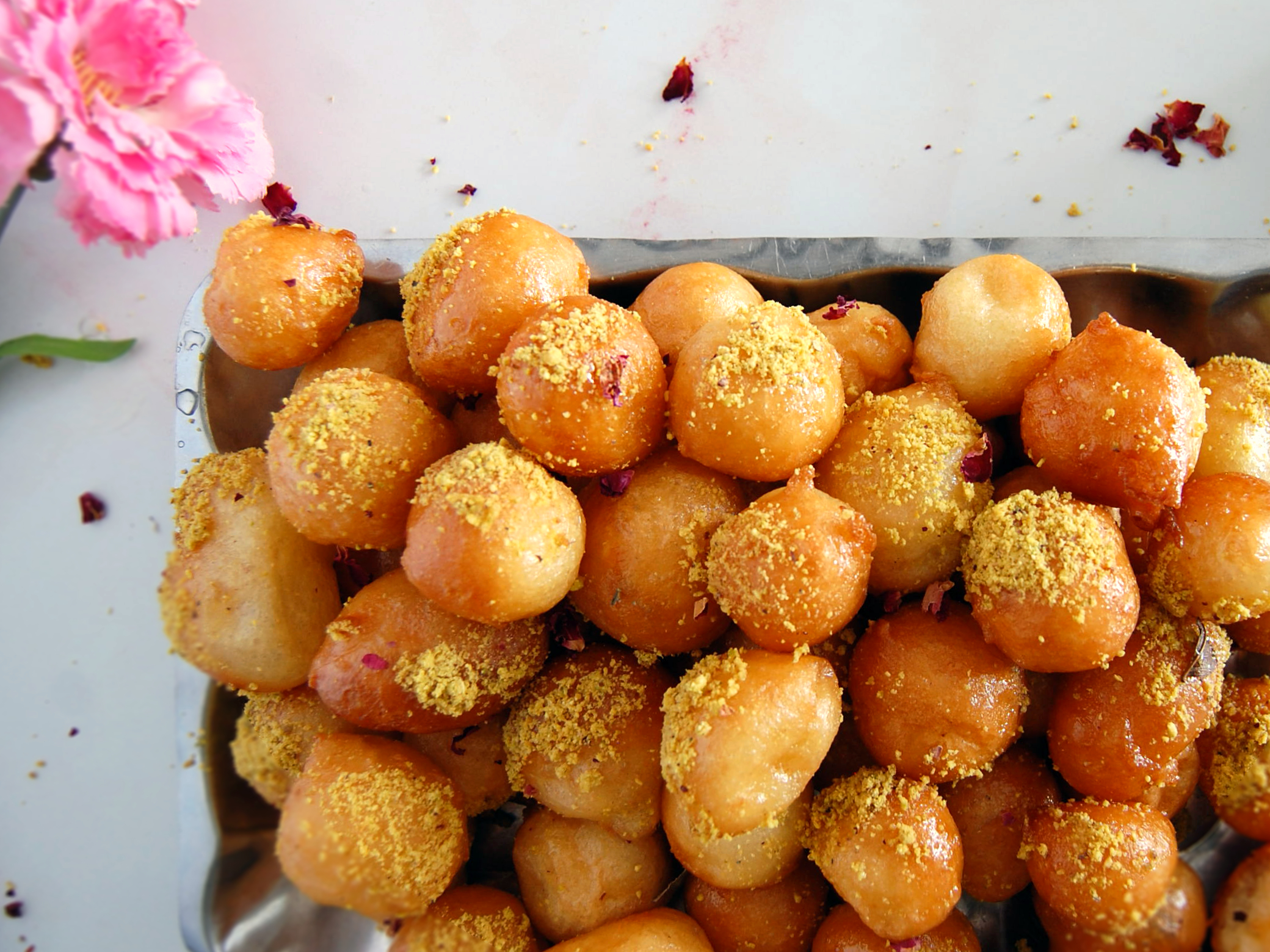 Lokma, meaning 'Morsels' are small bites of fried dough that have been soaked in syrup.
A sweet treat that can be found at festivals and celebrations and is often prepared in remembrance of loved ones who have recently passed away
Turkish Sweet Dough Morsels: Saray Lokması Recipe
 ********************
Mehpare beamed at the sight of the chestnut lined up on the stove.
''You're roasting chestnuts for me! Did something tell you I was coming?''
''You were always terribly fond of them, weren't you? They're just about done,'' said her aunt, as she turned each one over with a pair of tongs.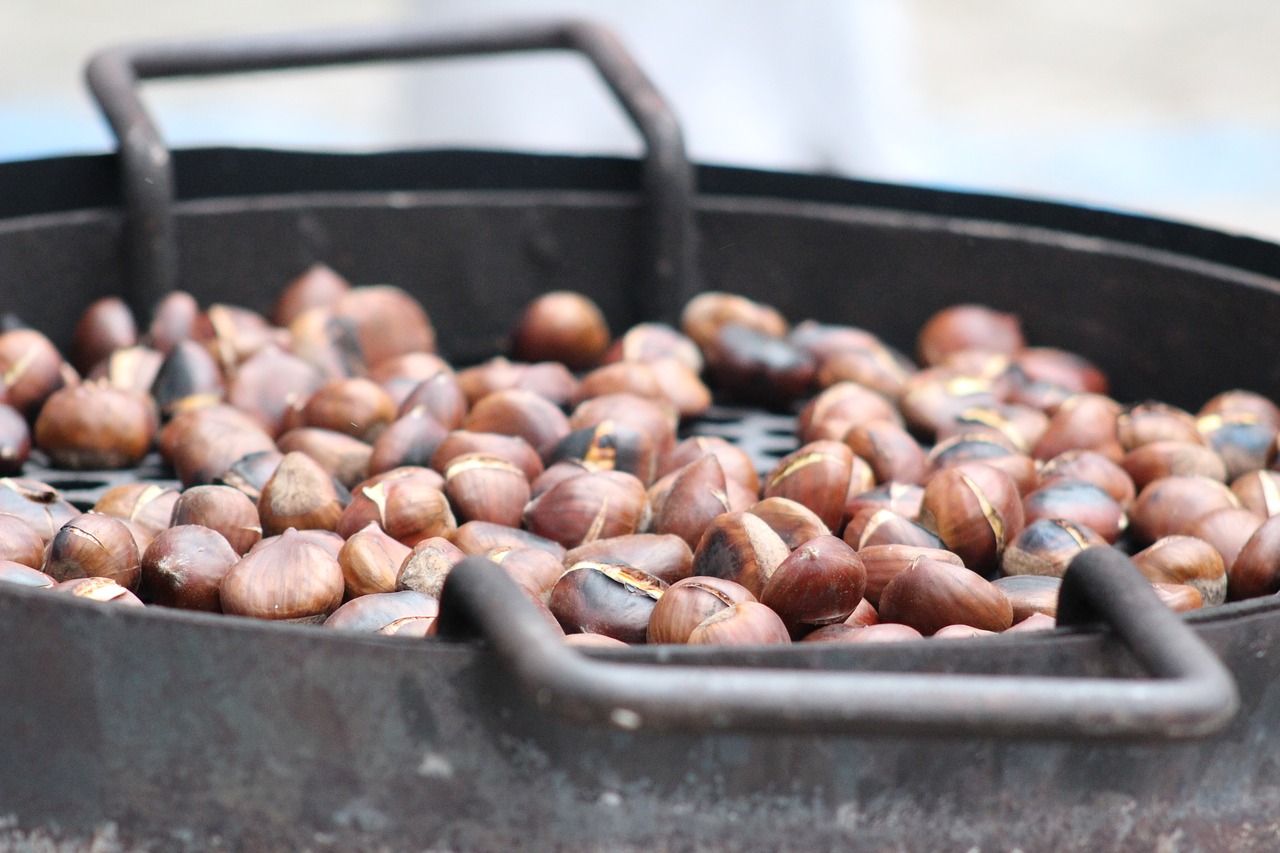 A wonderful special treat come autumn and winter. There's something about following your nose to the chestnut sellers on the street. Little paper bags with too hot to touch but must get a bite chestnuts are a delight.
********************
Mehpare fidgeted uncomfortably.
''Aunt I wonder if I could ask you for something...I miss your gözleme terribly... Could you prepare some before I return... I hope it's not too much trouble.''

''Don't they make you Gözleme at the house?, there's a head cook isn't there?''
''He's been discharged. And anyway, no one makes it like you.''
''Yet again you've managed to win me over! Would you like cheese ones?''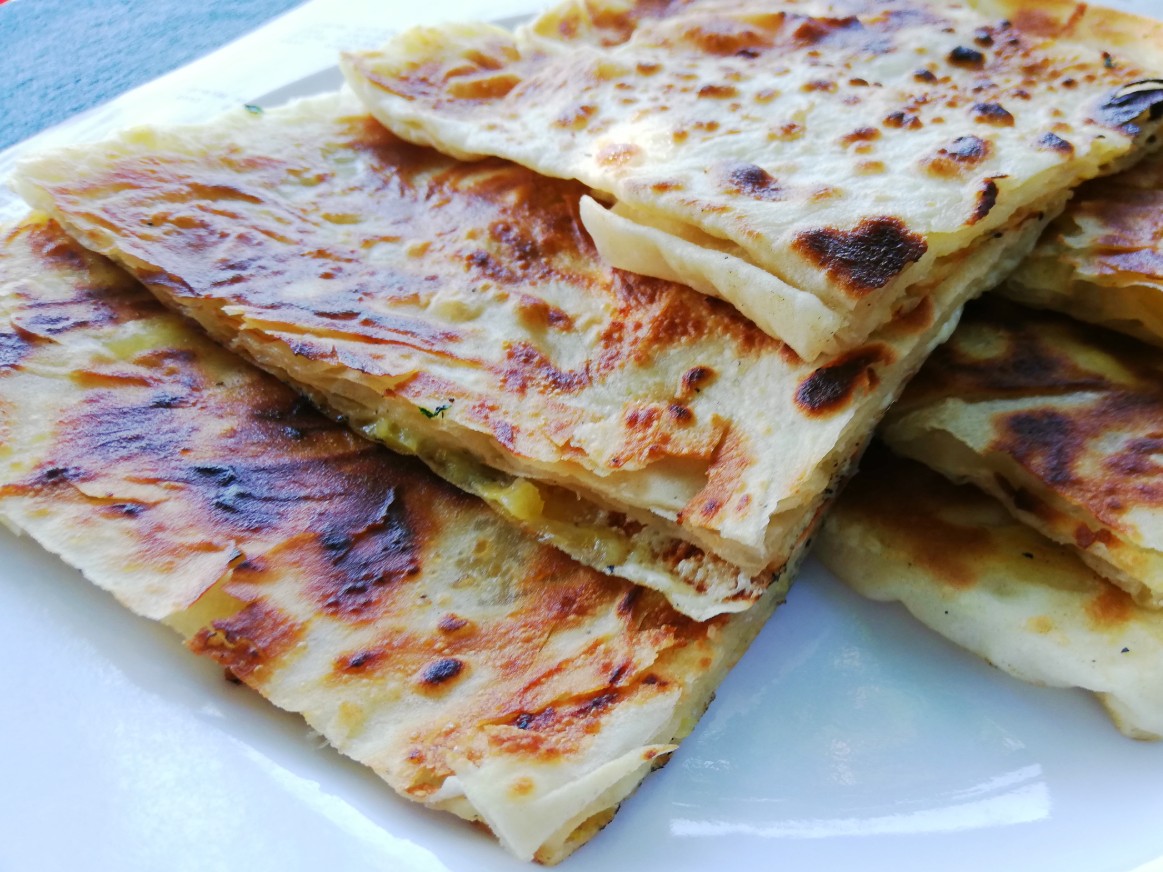 Gözleme, unleavened flatbreads stuffed with grated cheese.
Freshly rolled and filled to order, Turkish flatbreads can be found in every corner of Turkey. From the local market place to gourmet breakfast eateries. Whether prepared with spinach, cheese, spiced minced lamb, potato or in-season roast vegetables these flatbreads are loved by both young and old. 
Turkish Filled Flatbreads Gözleme Recipe
******************** 
'She was hurrying along the street when she slipped and bumped into a simit vendor's circular tray. The ring-shaped rolls spilled onto the snow. She bought a few from the muttering vendor after he picked the rolls up off the ground and wiped them on his leg.'
Seasame and grape molasses crusted bread rings freshly baked daily throughout Turkey. At the crack of dawn, simit sellers can be found walking the city streets with carts or trays selling to school children and factory works rushing for the start of the day. Throughout the day the sweet and nutty aroma of steaming simit can be followed to sit in bakeries that are bursting with white-collar workers and housewives lost in conversation over ruby red tea, fresh bread rolls and cheese and jam. Come evening time some of the rings take on a softer, denser texture, the simit seller walks the local neighbour bellowing that his 'Evening simit' or locally to us 'Akşam gevreği' is fresh and available. The simitçi is stoped in the street and a small basket on the string holding money for his wares is lowered down to street level. The money now replaced by the simits and hoist back up to the apartments and with a click of mothers fingers, cheese, loves and complete spread is miraculously pulled together for the family to enjoy super together. 
******************* 
''The narrow streets of Beyazit were filled with street vendors pushing carts, donkeys laden with onions and potatoes, sellers of refreshing şerbet, women peddling cloth and women's clothing.'
''Open the door, my hands are full,'' cried saraylıhanım at the top of the stairs, breathless, and bearing a tray of warm poğaça, and a cup of linden tea.'
Poğaça, often cheese and herb-filled rolls but can be made with a number of fillings are perfect for breakfast on the go, lunch boxes, picnic spreads and after school snacks that taste like home. Served alongside olives, simple salad and fruits for a comforting snack or breakfast spread.
Cheese & Herb Filled Breakfast Rolls - Peynirli Poğaça Recipe 
Linden tea or ıhlamur in Turkish is a cold busting tea perfect for those first sniffles. Made along with vitamin boosting additions of lemon, honey, apple peel, ginger and cloves makes for a boosting drink. 
Autumn Sips & Sniffles: How To Make Ihlamur Çayı
 ********************

''We too received education and instruction,'' snapped Saraylıhanım, drawing herself up in her chair.
''Of course, we did,'' agreed Münire Hanım. 'We learned to pluck the lute. We committed the Koran to memory. But neither we nor our mothers were equipped for the demands of modern life. Until a short time ago, we spent our days enclosed behind four walls. Only now are we slowly learning the ways of the world.''
''There's also something called experience,'' said saraylıhanım, ''and it's every bit as precious as raw knowledge and, unfortunately, a quality youth do not possess... Mahpare, dear girl, pour our guests more tea, would you... Can I offer you another slice of borek, my dear... do help yourself to shortcake.''
Börek - A classic taste of homemade Turkish food. Spinach and cheese-filled tray baked pie. Each cook has his or her own secret technique and ingredients. There's fun to be had in finding your own special twist.
Spinach & Cheese Filled Borek Pie / Ispanaklı Tepsi Böreği Recipe. 
******************** 

As saraylıhanım left the kitchen she called out, ''Bring my coffee to the arbour, Mehpare.''
'I'll send it with Zehra, efendim,'' Mehpare said as she looked up from the dolma she was busily preparing.
''Bring it yourself.''
Biber dolması, rice and vegetable or meat-stuffed peppers. 
Found in Esnaf lokantas, quick service homemade style resultants popular with workers and office staff up and down the country. In the summer fresh peppers are used abundantly out of season dried peppers replace this popular dish. 
Stuffed Peppers - Biber dolması Recipe
*************

'Zehra had been unable to locate coffee for some time, so she prepared a cup of boiled chickpeas and carried it out to the back garden.
Produced from chickpeas that have been cooked, roasted until blackened and then ground into a fine powder, the actual brewing of the chickpea coffee is much the same as how to make Turkish coffee. Turkish coffee holds a special place in Turkish culture and during the economic difficulties, it was not unusual to keep back the very little Turkish coffee that people could get their hands on for guests or special occasions.
Read more about Turkish Coffee from chickpeas in A Sip Through Time: Chickpea Coffee.
******************** 
Mehpare placed a pinch of mincemeat on top of a vine leaf and rolled it into a cylinder. Life behind the trenches, in the shadow of guns and bullets, would easier than life in this house, she was sure of that.
Vine leaves, freshly picked or preserved can be used for vegetable-based or meat-based sarma. There's skill and patience involved in creating tight vine leaf rolls and it's often a group task involving lots of tea and gossip.
******************** 

Zehra brought in a tray of mint-scented lemonade. From now on Zehra would be responsible for the running and fetching. Mehpare had risen to the rank of ''Young bride''.
Behice had ensured that the wedding feast was as lavish as the conditions of the day permitted. There was the traditional wedding soup, rice pilaf with chunks of lamb, two cold vegetable dishes drizzled with olive oil and hosaf. No wedding could complete without zerde, but it had been impossible to find saffron. There hadn't been any sugar for the lemonade and the other desserts either, so they'd been sweetened with the honey sent by İbrahim Bey a week earlier.
Hoşaf: A lightly sweetened refreshing dessert of dried sultanas and honey with a gentle clove background. A dish that is said to have carried an army of soldiers through the first world war.
Dried Grape Compote With Honey - Ballı Kuru Üzüm Hoşafı
Turkish Wedding Soup: 
Zeytinyağlılar:  Or vegetable-based recipes cooked in olive oil are a fundamental part of the Turkish diet, often practical and economic dishes they focus mostly not the taste of the vegetable itself rather than flavour additions. 
********************