Many of us dream of a more simple life: romanticizing the idea of rural life, working the land and finding harmony in nature and home. But could we really hack it? Have the strength to not just take on the challenge but to keep going at it no matter how much it throws at us.

I'm talking about taking cottagecore dreams from Pinterest boards to real life. Livng the life, day in day out through Turkey's high temperature, rain and snow? 
Emma Işık, mother, wife, farmer runs a blog like no other. There are no artistic shots of pumpkins in fields, daisies necklaces, or bicycle riding with straw hats and Broderie Anglaise here. Oh no, Emma shows us through candid shots and straight to the point post about what it's really like to live a life of agriculture in Turkey. Think walnut stained hands, harvests, kids with tans and wind swept hair, newly born lambs and comfy şalvar, Sometimes it's get emotional and very often it's bursting with comedy..... 
Christa: You've been running a much loved and hugely entertaining social media blog for a few years, what prompted you to share life in Turkey? 
Emma: My blog began more of a written diary for the boring days ahead, then I decided I'd share it online in the hope others didn't feel stuck alone out in Turkey, that they'd have something they can relate to. 

 

I try not to take life to seriously and find humour gets us a long way in life. I hope my readers get that what I write is real life; I like to call a spade a spade and hope the things I say come across in a simple easy to understand manner and get to the point.
Christa: From the United Kingdom to Gaziantep Turkey. That's quite the change of scene. Did you have any farming experience before moving to Turkey? 
Emma: Well not exactly farming but I always had ducks and chicken flapping about the place as a kid! I've always had a love for animals, I even went to a pet shop and picked out a stick insect as a pet once, not knowing it was live food for the snakes!!!

 

I've always been very open to the fact that I never wanted to move to Turkey. In fact, it took my husband five years to persuade me too, even then when we did it was half-heartedly.
C: You keep us updated with family life and seasonal tasks, sometimes spending months away from creature comforts, do you have a favourite time of year? 
E: It's strange how we adapt, after a while you just get used to it. You find new ways to satisfy your taste buds and you just crack on with the pack of cards you were dealt by making a few tweaks here and there.

 

Walnut season is my favourite time of year simply because of the weather, working in hot weather just kills me off. Walnut season is October, so it's cooler, and a much easier job! I hate pistachio season!
C: Of all the things you produce what's your favourite? I guess locals can buy directly from you?
E: My children! haha. Are the new baby lambs allowed? Food-wise, it would be the cherries. 

 

Yes if your quick enough to come get it, as soon as the produce has been picked its sold on in bulk loads that'll either be sent abroad or sold locally at greengrocers. Our pears were delicious this year!
C: Have your family's eating habits changed since moving to Turkey?
E: Massively! I've learned so much. Using seasonal veg was non-existent in the UK to me, things like carrots were available all year round so I've had to adjust to that and there's been times when there just things like a stem of parsley and cobwebs in the fridge and I've had to scrape together a six-course meal. Sometimes it feels like Jesus and his feeding the 5000 miracle. 

 

All the food we eat although not by choice really is cooked by myself and my eldest daughter Milly who is a star; up in the village there aren't any restaurants around for 20 miles plus most of the time we're just too skint to eat out!

 

It's cooking non-stop and when I have to get food made to be sent out to the fields, lunch is usually cooked before breakfast at 07.30 simply because I am just too busy to get it done any later. 

 

Pasta is my easiest go-to dish: Toss in cooked tomatoes, onions and courgettes, and fresh mint! Serve with a pomegranate sauce drizzled salad! 
Christa: What about Turkish cuisine - Love it or hate it?
Emma: When I first came here, I hated it! Gaziantep's cuisine is supposed to be the finest in the whole of Turkey, but it was just too spicy for me. Nowadays however I'm adding extra pul biber [pepper flakes] onto food.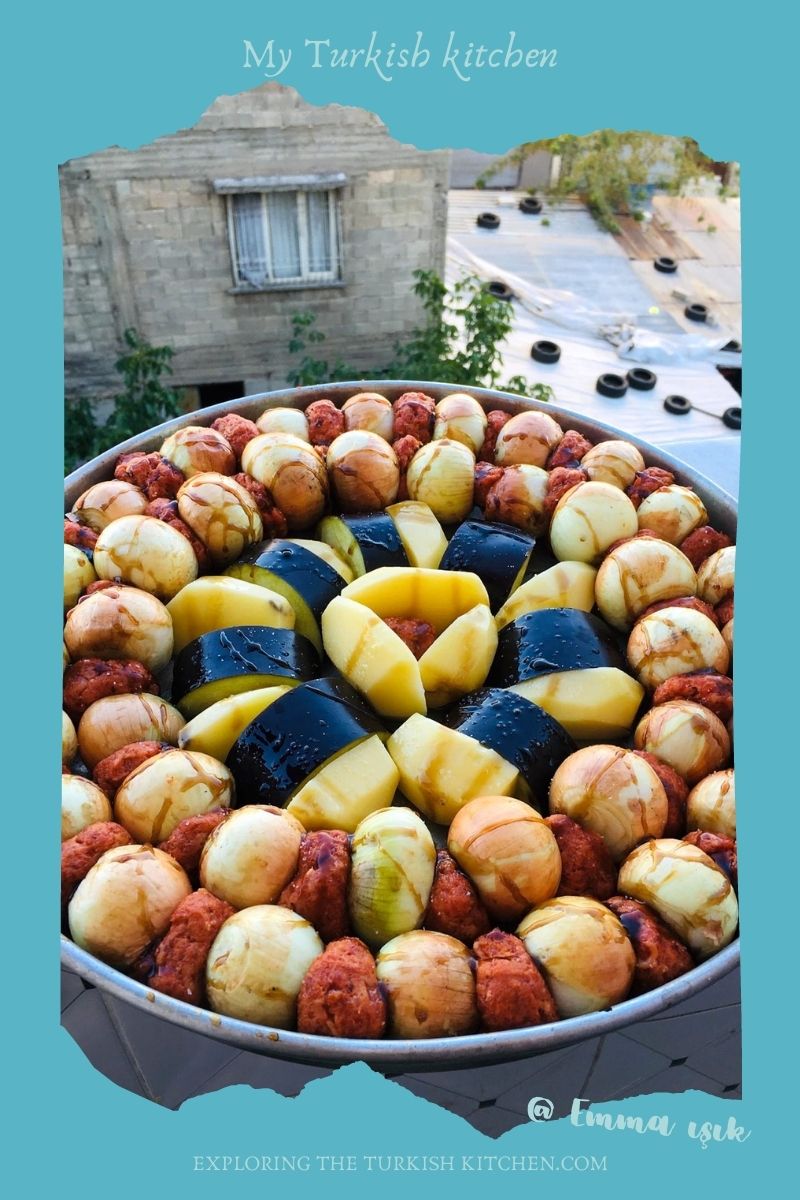 C: Of course, Gaziantep is famed for its food, sweets and spices. What is your most recommended 'Antepli' dish for someone to try? 
E: There are so many dishes to choose from, a Turkish BBQ being my favourite and definitely warm kunefe and ice cream for dessert. [Strands of pastry, stuffed with cheese and often pistachios. The decedent dessert is toasted in special dishes making the outer pastry crispy and the cheese, hot and stringy before being soaked in a thick syrup] but if your daring enough you should try kelepaça laced with garlic. [A traditional slow-cooked soup made with mutton head and feet and often lemon and egg] 

 

The best baklava comes from Gaziantep too, I laugh when I see folks enjoying it from Lidl.

 

But always make sure you keep a supply of bog roll on stand by, the restaurants usually don't have any.
C: Eating and family time are both important features of Turkish culture. Describe family dinning time for you?
E: Pure chaos, drinks spilled everywhere, rugs ruined, it's like a zoo!
C: How easy has it been to adapt to life in Turkey? Is it ever a struggle to keep the kids and yourself in touch with a British way of living?
E: Life in the city wasn't easy at all, and we very nearly gave it all up, that's when the farm came in: I love life on the farm but our house isn't too different from being back home. A fierce game of monopoly is always welcome, we all speak English at home, and enjoy English food most days, talking of which I've ran out of mint jelly and on the last crumbs of gravy!

 

[Out of the house] Non-Turkish interaction happens once a year! I get so excited stood in the McDonald's queue at Sanko Park [Shopping mall] because that is probably the only place you'll hear any English.

 

The thing I miss the most from home is food, Indian especially. The kids do better than me, they've even adapted to sheep head stew haha
Christa: You have a great sense of humour and a comical, realistic way of delivering a snapshot into a life that is clearly hard graft. Does life in Turkey ever get too much? What keeps you going?
Emma: Absolutely, and as I mentioned we nearly gave up on Turkey. Turkish families are a massive pressure on your relationship and if it isn't strong enough, you'll not survive that pressure. Last year I was close to a breakdown and became quite unwell, things had to change, and again this is where the farm and rural life has changed our lives for the better.
C: You've been very candid in the past about the treatment of Syrian refugees in the area and your proximity to the Syrian border. That's an element many of us living in or visiting Turkey don't come across, not at least on the same scale especially since COVID took over the news front. Are things still the same? 
E: Gaziantep is full to the brim of Syrian refugees, and if I'm honest they aren't really that welcomed by locals. We have a refugee family on the farm and they've become family. I've even picked up a few words here and there, enough to have a simple conversation with Fatma. 

 

Kids are great, they don't see colour or race, I love watching the Turks, Brits and Syrians all playing together innocently. They're totally unaware of the world state. That's how I think it should be: we can learn so much through our children.
C: Have you had the chance to sample many Syrian dishes then? Do they vary much from Turkish?
E: Ooooo Syrian food, you know I actually have enjoyed some Syrian dishes more than Turkish, some of them taste similar to something you'd find in England.

The Syrian shops provide better quality things too, like squashes, they taste just like they would from Asda.

 
C: If someone had dreams of taking on rural life in Turkey, what would be your top tip/s.
E: Turn up the good music, it's kept me going! You gotta go with the vibes you pick up if it isn't rocking your soul, move. Buy a good pair of wellies!

 

I'd love for somebody to take a step in my boots for one day to just feel the love and contentment that I have from this simple life. Living this lifestyle strips everything right back to basics, you learn this greater understanding of yourself and purpose to life. Something I didn't know before.
C: On your FB & Insta pages you give us a views into the life as well as answering questions, give tips on harvesting, growing and drying produce plus fascinating looks into a side of Turkish culture that often gets missed by popular tourist-geared sites. We've seen the muddy clothes and windswept hair on the kids but between the rugged shots of farm life, you always look so glamorous! What's the secret behind the Emma Işık farmer girl glam?
E: Oh please haha! I've never been asked such a question.

 

I think there's just too much bs in the world so don't get tangled up in it. Go through life lightly with a hop skip and a jump and you'll go far. 

 

A favourite saying of mine is, 'a day without laughter is a day wasted' - Charlie Chaplin. And I swear by that. Just be kind.
Christa: And what's next for the farm? Where can we see more of the ışık family life in Turkey?
Emma: We've outgrown the farmyard now so we have to build a new one independently, our current yard is shared with a brother in law. I've waited years for my own village house, it'll be great. Also the excitement of a film crew coming to us in May 2021, to shoot a documentary on us! I am so nervous. 
---
Emma's farming and family antics in Gaziantep and further afield can be found on Facebook and Instagram and I can't wait to see her on film!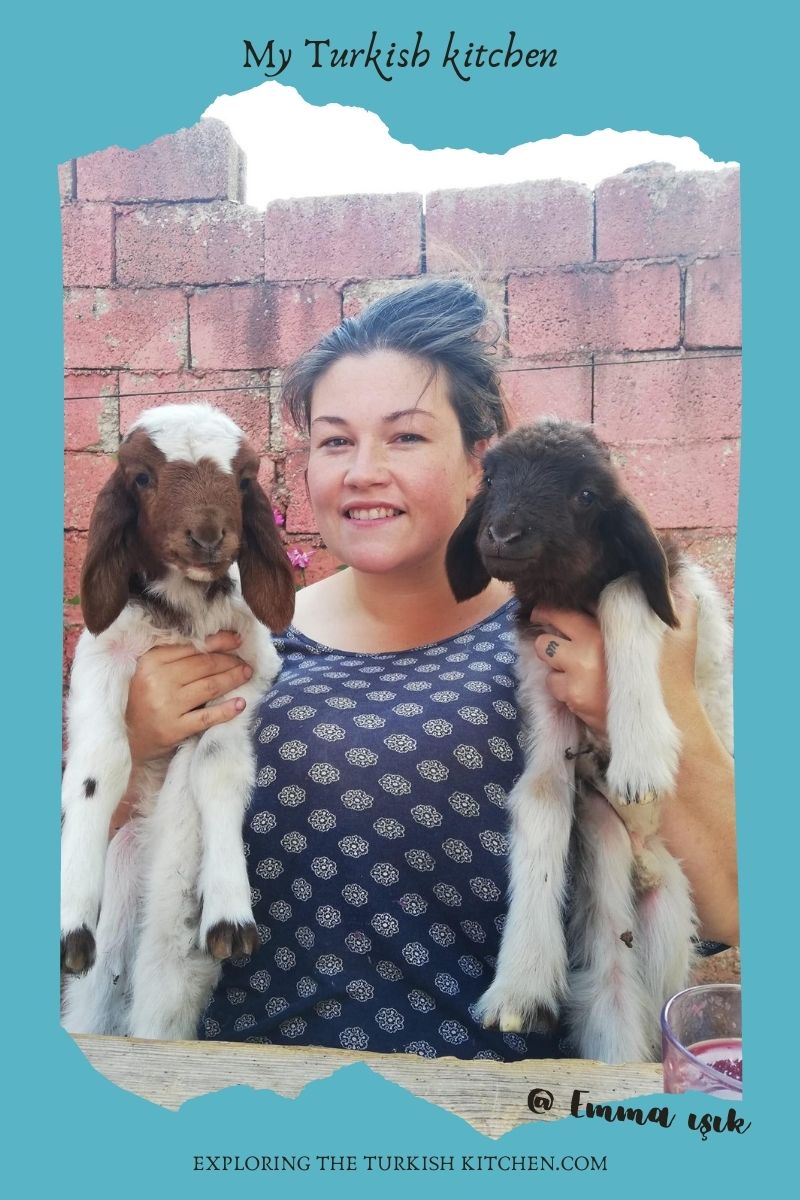 Instagram: Follow me for Stories about me and my yabanci life,and living on a Turkish farm!
It's not sun sea and cocktails around a pool, that's for Sure! Follow on Instagram here
@

farmer_in_the_mountains
---