You've been living here a few years now, what initially brought you to Turkey?
I have been living here since December 2015 and had been coming to Turkey since Sept 2013. It was on my 1st ever visit that I met my now husband, in fact on my very first night.

If anyone had said to me, then I was going to get married for the 1st time at the age of 49, and to a Turk, I would have laughed as I knew virtually nothing about Turkey, it's culture, history or food, nothing. I feel embarrassed to say I didn't even realise that the Doner kebap, kebaps generally or baklava had anything to do with Turkey.

Meeting my husband was a whole new learning experience, and it continues to be so.
You don't live a classic expat or resort life here, how do you find that?
I live in a village just outside Manavgat not far from the resort of Side in the Antalya region. The village is agricultural with olive and citrus groves as well with chickens and ducks wandering around freely. Although we are still close to the beach and the mountains are a few minutes drive away it seems a world away.

Living in the village has meant we were fortunate to build our own house to suit our needs on land we purchased and then a year later were able to buy the plot next to us as well.
The road less travelled?
Oh no, our house on a farm track to the edge of the village, and what a busy track it is, we have tractors going past with the farmers and their wives often beeping and waving as they go past calling out, kolay gelsin.


Sheep are often on the land near us, so we see at least 3 flocks go past a day, plus the cows which are either tied up along the track or being taken to eat in a field. One day a lady who after greeting me with 'Ayşe Merhaba ' then continued to explain that her other cow would come soon as it had stopped in the orange garden. Sure enough 10 minutes later the cow decided to find its way home.
The animals keep you on your feet then?
Yes, I've had a few experiences with this one certain cow who when tied up to the telegraph pole across from my house realised that it could still reach my fig and mulberry trees to have an afternoon snack on. Another time it decided that it didn't like being pegged to the bank and broke free. I think I gave the village a laugh as I was trying to drag this huge cow back down the road and peg it back to where it couldn't do any damage.

The olive garden is home to my chickens and cockerels and hopefully, inshallah, to some baby chicks as excitingly one of my hens is sitting on eggs for the 1st time. Although she decided the dog kennel was the best place to do this.

I have a cat called Pamuk (Cotton) and a dog named paşa (Padisah) recently he spotted some snakes in the grass opposite our house!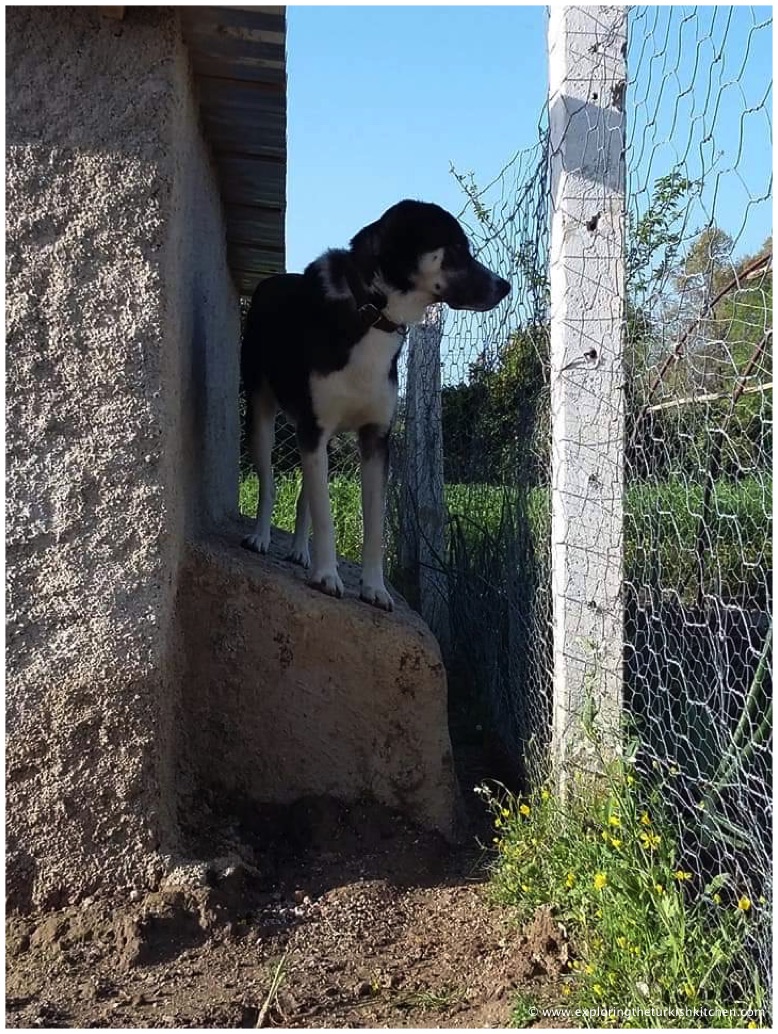 You must have full days with all these tasks to keep you busy?




My day starts at whatever time my cat wants to go out or when the chickens are screaming to let me know they feel I should be up feeding them.




Breakfast is usually by 7am with a Turkish breakfast and glasses of çay, and then I finally sit down at 9.30 at night with either Turkish coffee or ada çay or flower tea as my husband used to refer to it by.





Having our own land has meant that we can grow our own vegetables and also some food for the chickens. Living where I do means the winter is never that cold, so we can have things growing all year round and put poly tunnels up for some tender stuff.





I do most of my thinking while in the garden and outdoors, so village life here in Turkey gives me plenty of opportunities to think.
And with an expanding garden, even more, growing.

  
Yes, buying the second plot of land has meant we have been able to plant an olive grove on our property which keeps supplied with olives to eat and enough olives to be sent to be pressed in the Zeytin fabrikasi in the village.

We have also had the space to plant a range of citrus trees and other fruit trees, so fruit is freshly picked all year round.



Meaning you have full control on how your fresh fruit & veg is treated before eating?
 
My cooking is nothing exotic just home cooking with fresh ingredients that we know where they come from, and my husband has begun to appreciate how different things taste with fruit and veg that has not been sprayed.

We are just about to receive our bee houses, and then Papa is giving us some bees, so the next thing on my learning experience will be beekeeping. We aim to make natural honey with no sugar being fed to the bees, and as we do not spray to be as organic as is possible. So bee suits have been purchased and we are waiting eagerly.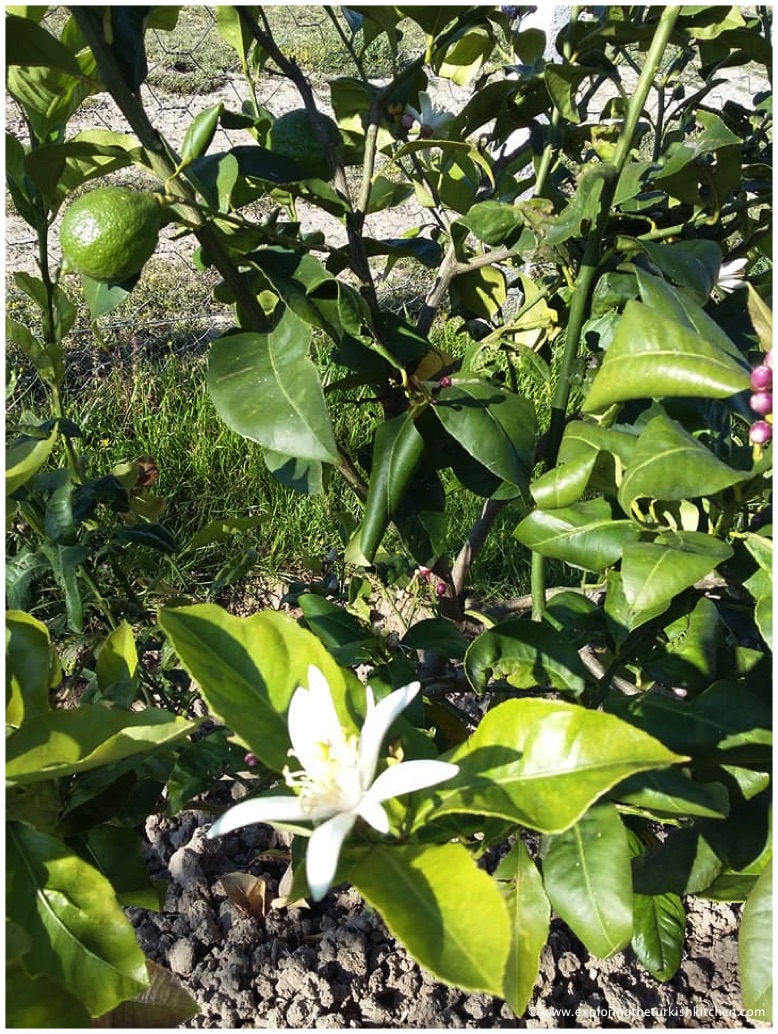 Does living in a rural village effect Homecooking at all?




I cook on an open fire outdoors every day or a soba, wood burner if it is a cold day in the winter both have been a challenge, especially as you can not regulate the fire. A few burnt or undercooked meals have been served, and breakfast could take over an hour to make as it would take a while for the water to boil for the çay before actually cooking the eggs etc. Having said that the fire does give a lovely taste to things now I have got to grips with it.





I've also challenged myself with new skills, last year I made yoghurt with milk from one of the cows I see every day. Domates Salça, Biber salça and a few weeks ago, mulberry jam and loquat jam on the fire.




I hope to make rose petal jam and pekmez soon, and then the next thing to do is to learn how to pickle and dry vegetables for the winter so we can keep our food bill down.





We very rarely eat out as my husband is in tourism, so he likes to eat at home but if we do its eitherKöfte from a restaurant that we used to stop at when he collected me from the airport or Adana kebap which is this dish we had when we got married, both washed down with Ayran of course!




How have your eating habits changed since moving to Turkey?




Living here has meant I have learnt to eat many things that in the past, I would have turned my nose up at or even wasn't available in the UK.





Here we eat virtually all the Chicken or animal, so chicken heart, liver, or stomach, sheep's head, tongue, brain and the list goes on, but I draw the line at eating the eyes.





I struggled the 1st time with all those things, but slowly I have begun to like them, although, still not keen on the brain and refuse to eat the soup that is made from sheep's intestines.





My eating habits are far healthy as very few additives or preservatives and no ready meals. Even the water we drink is collected from up the mountain. I have learnt to be more resourceful with food and less waste. Any spare food the chickens, Pamuk my cat or Paşa my dog have and




I've also even got a compost heap much to the bemusement of the local farmers who keep asking what it is.





I have also finally, learnt how to sit at the sofra and eat without wearing some of my food although I feel sorry for anyone who has the misfortune of sitting next to me as I am left handed and elbows clash a lot.





However, I have not yet mastered the 'No thank you - I am full' bit yet, which causes great when amusement when being told to eat, eat! My best friend developed the skill to say no very quickly when she stayed with us and now she is remembered fondly for it.





And outside of the kitchen?




Being here means I have had to toughen up and get stuck in with the help. We had to slaughter our guinea fowl and cockerels when they were stressed and attacking our hens, and help with the cutting of the lamb during the sacrifice Bayram.





As well as learning to pluck the guinea fowl and cockerels that I had so loving fed and looked after.





I have stood and cried but wiped the tears away and got on with it.




Massive changes from your first ever visit to Turkey?




Yes, life has changed in the 3 and half years living here, and it will continue to do so as I learn more cooking skills and learn to adapt recipes to being cooked on an open fire while learning new techniques and how to use fruit and vegetables differently to how I would have in the UK. And who knows maybe I will have my own cow or lamb to get milk from (as long as they agreed to leave my trees alone that is)




 Photos Owned By Karen Gitmez.