The day my copy of 'Özlems Turkish Table' was delivered, I sat down late at night to feast on its pictures, recipes and storytelling until my eyes could take no more. Forcing myself to put it down to go to bed I dreamt of the most magical food pairings and was up sprightly the next day to finish it, every single page of it!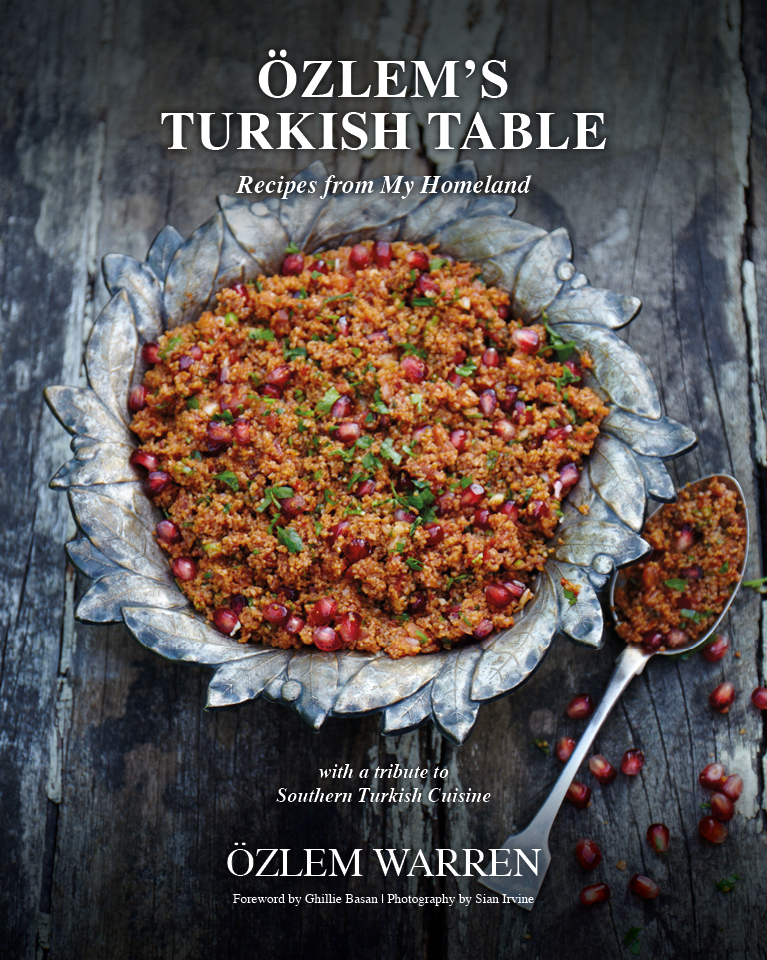 The author's passion for both Turkish cuisine and her heritage are evident as she draws us into each recipe with tales of family time and Turkey's rich culture. The book, much like her blog offers a personal window into the background and heart behind its dishes.
Ozlem Warren's teaching side (she has worked as a guest chef, run culinary tours and pop up cooking schools) lends us a valuable guide into essential ingredients, signature dishes and suggested menus to bring it all together.
Through the delightful chapters of the book such as:
Condiments, soups dips,
Mezes and salads,
Breakfasts,
Pastries,
Vegetable & Olive oil recipes - zeytinyağlılar
Meat & Poultry,
Bulgur, Rice & Legumes
Fish & Seafood.
Desserts, Sweet treats and Turkish coffee
the author takes us through her background from her Turkish roots and personal memories but also Turkey's culinary history and her homeland of Antakya's history & sumptuous cuisine.

Özlem's Turkish Table is one of those books you'll want to turn to when you need a full on hit of the Turkish kitchen. From essential ingredients and condiments to enrich your Turkish cooking, breakfast & pastries for a fulfilling leisurely breakfast to full-on banquet menus, the author has covered a whole variety of dishes and options for all dietary requirements.
The pictures are set up to make you want to lean in and take a bite. Torn bread perched above walnut and red pepper dips, spoons filled with just the right amount of pul biber to garnish dinner and just cracked cheesy-vegetable topped flatbreads waiting for you to reach, pick up and pop it in your mouth.
Özlem's Turkish Table Cookbook - 
Giveaway!
I'm excited to say I've teamed up with Özlem Warren to offer you the chance to win a copy of her beautiful cookbook Özlem's Turkish Table
To enter, check out the contents page and comment below on which section of the book you'd like to cook from first. Then pop to the Rafflecopter contest box below this text, sign in and click 'I Commented'.
You can gain further entries and therefore increase your chances of winning this hot off the press cookbook by visiting my facebook page, visiting Özlem's Turkish Table page and by signing up for my occasional newsletters.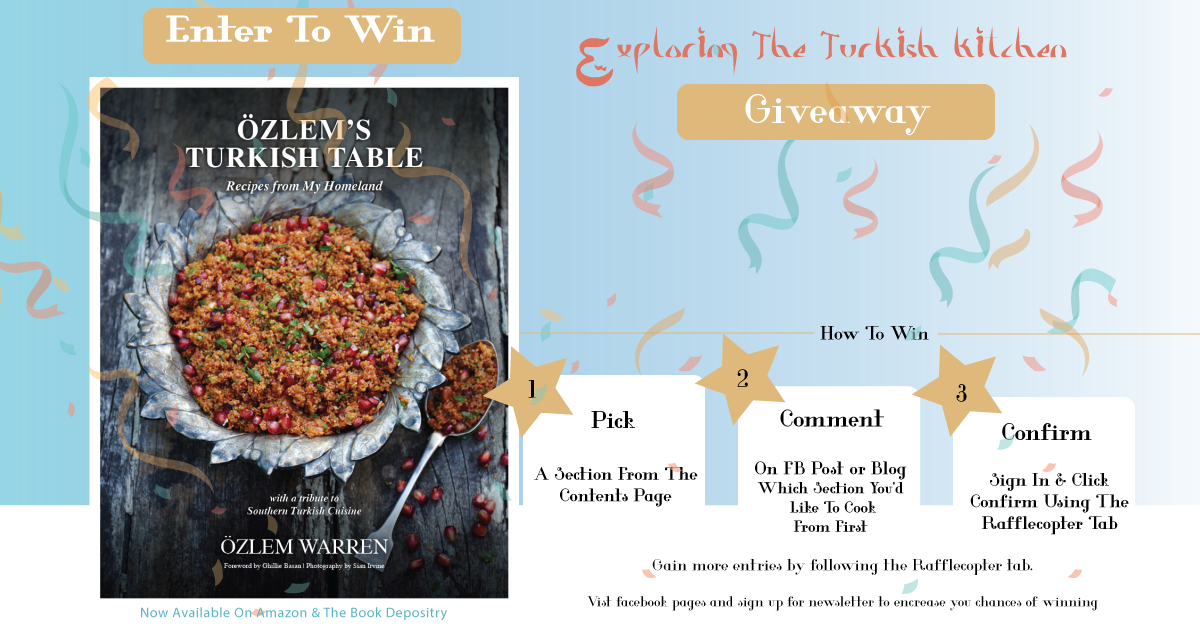 a Rafflecopter giveaway
p> 
The giveaway is open to all with a postal address and includes the prize of the book plus delivery charges but the winner is responsible for any import or customs tax relevant to their home country. Entries will be checked against comments, group membership and visits as relevant. For full terms see link below.