Kuru Fasulye / Turkish white beans with caramelised onions and a tomato sauce. A heart, warming vegetarian and vegan bean stew with a sweet undertone. 
Kuru fasulye is a simple, cheap and cheerful dish much loved by both office workers and labours all through the country during all seasons of the year. Found both in lokantas and at home, it's a simple lunchtime staple. 
I remember clearly the first time I was introduced to the version of this dish featuring heavily in shallots and fell in love. During the winter months where peppers and tomatoes are both somewhat scarce, so don't feature in this dish as much and if they do are often from dried versions. The dish takes on a sweeter tone and is richer from the increase in salça use. 
I moved on to caramelised onions one winter when I couldn't find shallots and haven't looked back since. Another personal addition is the pekmez or grape mollases which I think brings it all together very nicely. 
I like to serve this dish with a simple bulgur pilaf with rosemary and lemon. 
Kuru fasulye With Onions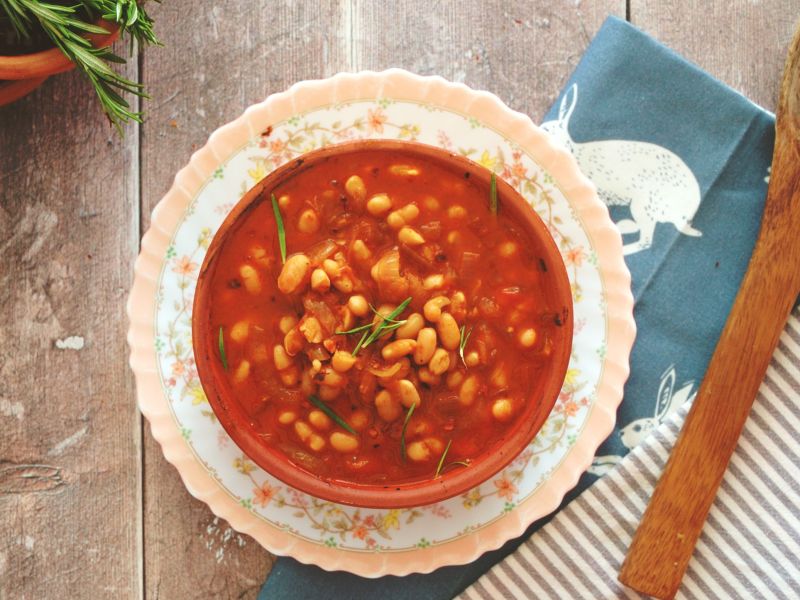 Kuru Fasulye / Turkish white beans with caramelised onions and a tomato sauce. A heart, warming vegetarian and vegan bean stew with a sweet undertone. 
Ingredients
Turkish Beans With Onions
1 Cup

White beans (Kuru Fasulye)
3
White onions, sliced into half moons
1 Teaspoon

Sea salt
1 Tablespoon

(Heaped) Tomato salça
1 Tablespoon

(Heaped) Pepper salça
1/4 Teaspoon

Paprika
1/4 Teaspoon

Black pepper
1/4 Teaspoon

Pul biber / Aleppo pepper flakes
1 Tablespoon

Pekmez (grape molasses)
Kuru fasulye With Onions Directions
Soak the beans in water overnight.

The following day drain and place in a saucepan with enough water to cover and cook on a low boil for around 30-45 minutes, removing any foam that may come to the top when cooking.

The beans are ready when softened.

Whilst the beans are cooking, heat a little olive oil in a frying pan and add the onions. 

Stir the onions until they are coated in the oil and add in the salt and a couple of tablespoons of water. 

Cover the saucepan and turn to low heat, the onions are ready when caramelised to a deep brown colour, this can take around 30 minutes or more, during this time if they start to stick add a tablespoon or two of more water. 

When both the beans and onions are ready, add the salças to the frying pan along with a little water from the beans and fry until they have loosened up.

Add the onion / salça mixture along with the spices and pekmez to the beans saucepan and simmer for around 30 minutes or until the beans are softened to your liking. 

Serve as is or with rice/bulgur pilaf and pickles.
Recipe notes
Notes on making Turkish white beans / Kuru Fasulye. 
 I use dried beans and soak them overnight in a large bowl full of water if you prefer to use the no soak method simply increase the cooking time to your normal method
Dried beans for making kuru fasulye can, of course, we substituted to cooked tinned beans. Cooking time will be reduced significantly.
There are several types of dried beans available in Turkey, I personally favour Şeker or Ispir fasulye although don't always see them for sale. They are larger rounder and take a little longer to cook but result in a soft, creamy bean perfect for making traditional Turkish recipes like the kuru fasulye. 
Using a rapid boıl will cook the beans quicker but they are likely to split, keeping them to a simmering boil will keep them together and help develop flavour when other ingredients are added. 
Acidic foods such as tomato and salt can slow cooking down significantly, make sure your beans are cooked before adding the other ingredients.