A light and easy bulgur pilaf with nutrient-rich spinach and lifting lemon, dill and olive oil dressing.  A perfect Aegean kitchen end of winter pick me up.
Ingredients
 1 small onion, chopped 

Olive oil for sauteing

Juice of one lemon.

1 large clove of garlic minced

1 water glass of bulgur (150grams)

2 water glasses water (400ml)

1/4 cup stock concentrate or stock cube.

500grams of spinach, Leaves only (around 200-250g), save stalks for later

Salt, pepper

Fresh chopped dill, around a tbs or 2. 

One tablespoon olive oil.

Pul biber / Aleppo pepper
How To Make Turkish Spinach and Lemon Bulgur Pilaf
In a medium-sized saucepan (with lid), heat a little olive oil and fry the onions for a minute. 
---
Lower the heat and add half the lemon juice. Stir through, cover and leave to gently fry for five to ten minutes. 
---
Add the garlic, bulgur, water and stock.
Cover, bring to the boil and as the first sign of boiling appears, turn to simmer and leave to cook for 20 minutes. 
---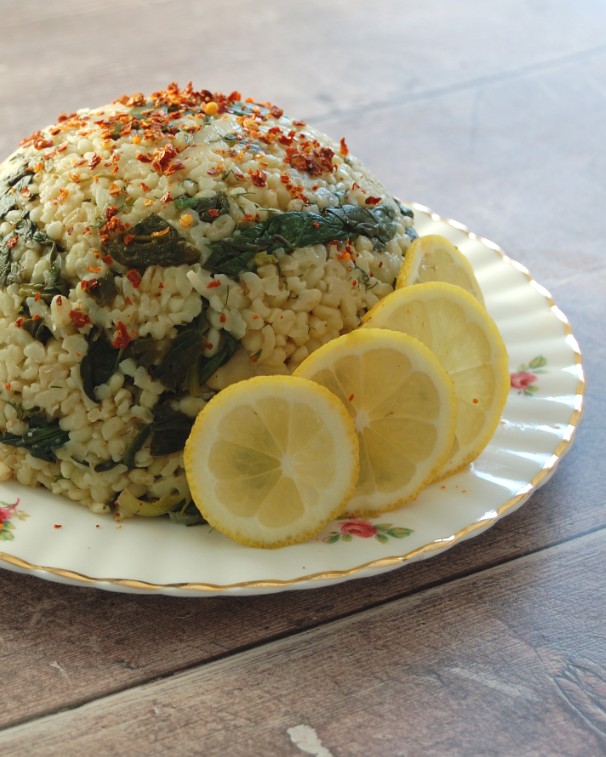 Roughly chop the spinach, stir through the bulgur, recover and simmer for a further ten minutes. 
---
Remove from the heat, place a clean tea towel over the pot and replace the lid of the saucepan. Leave to rest for ten minutes. 
---
Mix together the remaining half of lemon juice, the olive oil, fresh chopped dill and pinch of salt and pepper.
---
Stir the olive oil - lemon dressing into the cooked bulgur. 
---
Place into a mould or place on a serving dish. 
---
Can be served warm or room temperature with a sprinkle of pepper flakes on top. 
--------
Notes On Making Turkish Spinach Pilaf 
This dish works well served with chickpeas or cheeses such as halloumi. White cheeses such as ezine or goats cheese work well when served at room temperature. 
Refrigerate if not using soon after making.
Bulgur can also be substituted for rice but this will cook a little quicker. Use a medium to long grain rice to prevent the dish from feeling too sticky/creamy.
Frozen spinach can also be used.
Turkish Nohut Dishes! And How A Chickpea Can Make You Reflect On Life