A rich, comforting porridge-like dessert full of a variety of beans and pulses with tones of Mahlep, cinnamon and cloves and a zesty kick brought together in (an optional) saffron-infused milk. The traditional dessert does require a little preparation in advance and some tender care during the making but is well worth the effort. Often made in bulk and shared and exchanged with neighbours and friends.
 Original recipe post from September 2018 updated with new pictures August 2020.
I don't remember my first taste of Aşure or Noah's ark dessert, Ashura, Noah's pudding whatever you wish to call it (The name choices varies almost as much as the ingredients and methods!) I think it's just always been a part of living in Turkey maybe. 
But I do look forward to it every year, I think it might be another one of those either love it or hate it dishes like Menemen, tarhana and Keşkek - Savoury Porridge With Lamb are.
Of course for a pudding so steeped in history - It said to be the oldest desert going, there can be no such thing as the perfect Aşure recipe. How each person enjoys and makes their Noahs dessert comes down to personal preference and with experience – a little experimentation here and there goes a long way. 
And it's probably only through tasting the good, the bad and the ugly that you can find your ultimate dish. In fact, it would certainly be fair to say the proof is in the Noah's pudding.
How to make Aşure
I favour the subtle background tastes of spices such as mahlep, cinnamon and clove plus a lift from some citrus peel.
I like to add saffron-infused milk too in the last 10 minutes of cooking; an idea I picked up from both Zerde – A beautiful yellow milky rice pudding and from a variation of the dish called Tekke Aşure. (Dervish Lodge Pudding). 

This unusual addition imparts some gentle flavourings but also keeps the pudding looking a little livelier. I learnt early on in my experimenting that whilst cooking if you throw into the pot the darker fruits and nuts with their clothes on it takes on tones more akin to dishwater than a delightful dish you'd want to savour. For this purpose too, I save the figs and walnuts for the the final dressing.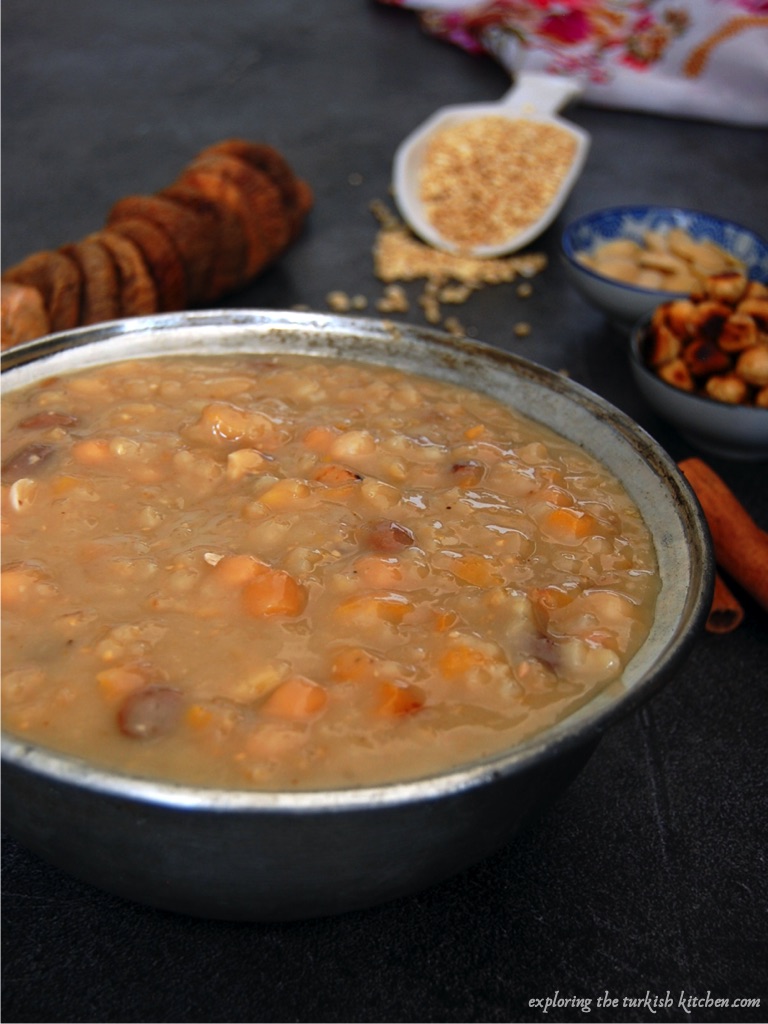 What is aşurelik buğday?
There are no set rules on how Ashure should look, be cooked or served and there are so many different versions, see The Day of Ashura and Noah's Pudding for more. 
I used dried produce, and out them to soak the night before cooking. ı choose to cook them in separate saucepans but at the same time because I don't like mushy bits and I find it easier to control how much each pulse is cooked. When they're just cooked I then combine and add in the sweet bits. Thats not necessary though you can start one big saucepan and add as you go along.
 I also don't uses masses of sugar - Aşure can be eye-widening sweet, to the point not being able to identify the other ingredients use but it can also be completely sugar-free if you prefer. I think dried fruit adds so much tasty sweetness it's unnecessary to go overboard - plus a drizzle of honey over the top just before serving is a wonderful indulgence.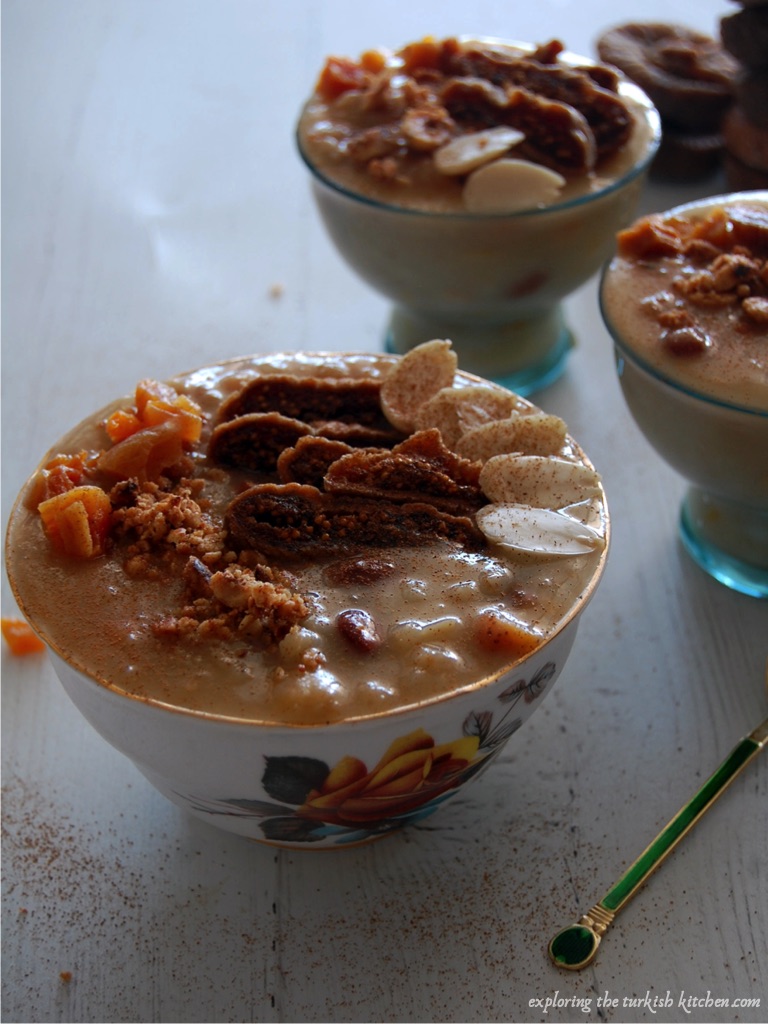 So feel free to follow the recipe to a tee, experiment with the things you know you love or just wing it whilst following the method. Go shopping and enjoy buying ingredients you've never used before or simply use whatever you've got in already but most imğportantly don't forget to share. 
Aşure is one of the most distributed dishes going here in Turkey, you can expect to receive a number of different versions and don't be surprised if someone knocks on the door with a large pot and wants you to run in and grab a bowl. They'll serve it to you at the door forgoing the need to remember which bowl belongs to each of your neighbours. But ıf you do receive a bowl or three don't forget to return it with some other foodstuff in. Crockery is never returned empty in Turkey.
Aşure Noah's Pudding / Ashure(Featured Chef Christa Eker)
A rich, comforting porridge-like desert full of a variety of beans and pulses with tonnes of mahlep, cinnamon and cloves and a zesty kick brought together in (an optional) saffron-infused milk.
Ingredients
Ashure Dessert
1 Cup Peeled Wheat 'Aşurelik buğday'
1/2 Cup Dried Chickpeas
1/3 Cup Dried White beans
1/4 Cup Dried fava beans
1/4 Cup Broken rice 'Kirik pirinç' / Baldo
Peel of 1/2 lemon, white pith removed
2 Teaspoons Ground Mahlep (Optional)
3 Whole Cloves
1 Cinnamon Stick
1 Cups Sugar
1 Cup Chopped Dried Apricots
1 Cup Golden / Light Sultanas
1/4 Cup Whole hazlenuts
1/4 Cup Blanched Almonds
1 Cup Milk
Saffron strands
Optional For Garnish / Serving
1 Cup Dried figs
Handful of mixed nuts, chopped
Sesame seeds
Pomegranate seeds
Seasonal fresh fruit
Ground Cinnamon
Ground Nutmeg
Drizzle of Honey
Aşure Noah's Pudding / Ashure Directions
One night before cooking wash and then place the beans & grains in separate bowls and soak overnight.

Steps 2 and 4 can be done at the same time.

Drain and rinse the chickpeas and place in a medium saucepan with enough fresh water to cover and then place on the lid but use a wooden spoon or lid holder to enable it to stay slightly open.

With the saucepan on the medium ring, bring the water to boil before reducing to simmer for around 50 minutes removing any foam that arises when cooking.

Drain and rinse the white beans and place in a medium-sized saucepan with fresh water, cover leaving the lid to this saucepan also ajar and bring to the boil before reducing to simmer for around 1 hour.

Remove any foam that arises when cooking.

Once cooked, drain both saucepans and place to beans and chickpeas the side for later.

(For a lighter dessert drain and cook the wheat in new water)

Place the wheat into a large saucepan with around three times the volume of water.

Add in the mahlep, cinnamon sticks and cloves and bring to the boil while stirring.

Reduce to simmer and stirring at regular intervals cook for one hour.

At any point, if the water level starts to get low top up again with hot water. It is likely to need at least more water once during the cooking time.

After the 1 hour simmer add to the wheat the previously cooked chickpeas and beans and simmer for a further 30 -40 minutes.

(Whilst the wheat-beans-chickpeas are simmering)

In a small saucepan or cezve heat, the milk and saffron threads (If using) heat to hot but do not boil.

Remove from the heat and leave the saffron to steep in the milk for 30 minutes.

Wash the apricots and sultanas several times.

Add them into the saucepan along with the sugar, fava beans, rice and hazelnuts.

Stirring frequently, continue to cook on simmer for a further 30 minutes.

Using a small sieve drain the milk from the saffron threads into the pudding saucepan and continue to stir for around ten minutes.

Remove the pudding from the heat and allow it to cool.

Divide into serving bowls/portions

Decorate with the garnishing ingredients.

 
Recipe notes
What is Aşurelik buğday? - Translated as peeled or cracked wheat it the whole wheat kernel with the bran rubbed off it. If you can't find peeled wheat you can substitute pearl barley.
If you don't have dried ingredient in or would like to speed up the making you can use tinned versions of the chickpeas and white beans but as you need to soak the wheat from the night before you may as well save those pennies.
The chickpeas and beans can be cooked together in a large saucepan if you prefer but I believe the key to a great ashure dessert is to be able to get a bite of all the different pulses and to swap out the water for each of them. 
The volume of sugar can be increased/reduced or completely removed should you wish.
The pudding thickens up as it cools so don't be concerned if it feels a littler watery when cooked, ıf it significantly thickens simply loosen it up with a little water before placing in the serving dishes. 
Alternative, ıf you Noah's pudding feels way too thin (Unusual) or you wish for a very thick pudding,  when everything is cooked mix together a teaspoon of cornstarch with a little cold water in a glass and mix until all the lumps have gone. Add this to the ashure and stir over the heat for 5 to 10 minutes. This is unlikely. 
Dark fruits such as figs and raisins or sulphur-free apricots can cause the dessert to take on a dark murky colour to avoid this add them at the last moments or as a topping.
Look out for dried fruits especially pre-cut ones that have been coated in rice flour 'Pirinç unu' , this can cause your Noah's Ark pudding to thicken too much. To prevent it pre-soak them in hot water for 10-15 minutes are add more water to the pot.
Citrus fruit rind offers a refreshing hit in the Asure dessert, I favour orange if I can get it but it's not always in season. Alternatively rose water is a very popular addition.