A traditional taste of Konya. Earthy, firm okra and soft, tender meat in a pepper and lemon juice-based stew. Serve hot with warm, fresh bread for that wonderful taste of cooler summer evenings. 
Original recipe post from July 2018 updated with new pictures & details July 2020.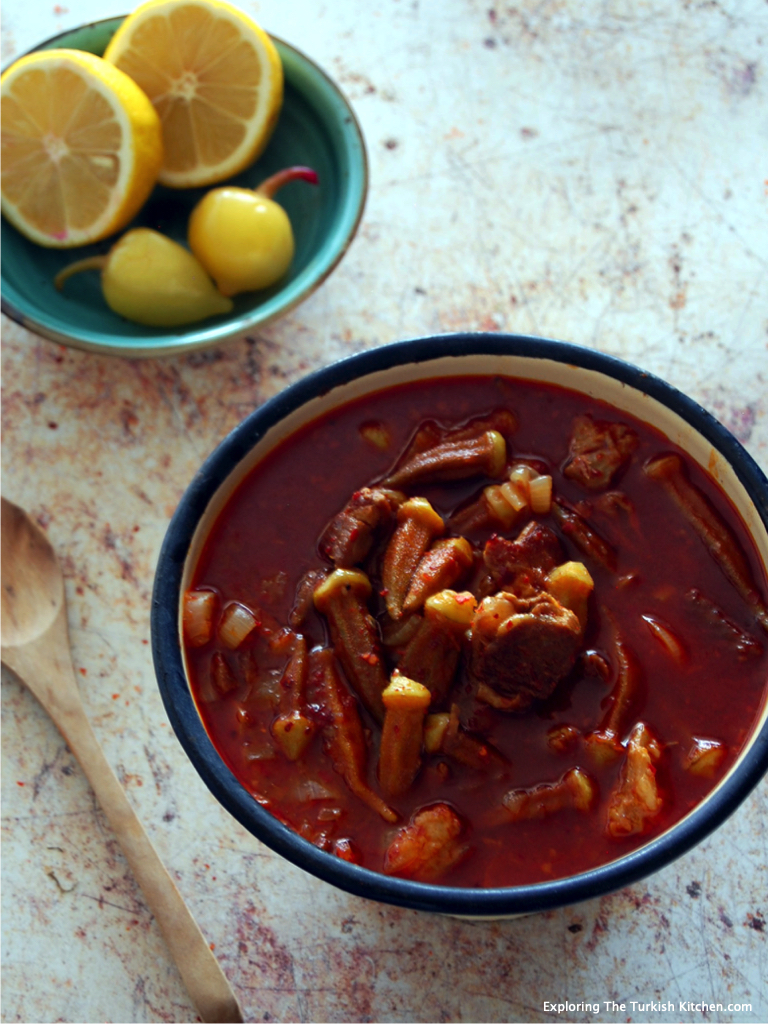 There are several popular dishes synonymous with Konya's wonderful cuisine: Etli Ekmek – Long thin strips of crisped dough topped with meat, Fırın Kebabı – Slowly roasted lamb or goat. There's an endless list that also inclıudes Tirit and Kaygana although you may know this more in connection with Izmir and the black sea. 
Possibly one of the most popular Sulu yemek's, a group that encompasses casseroles and stews is Bamya Çorbası – Okra or Ladies fingers with succulent pieces of meat dressed with lashings of lemon juice.
Over the last few years here in the Aegean, we've been seeing okra at it's best during the months of August and September just as the days a starting to cool but this year we've been enjoying wonderfully small and bright fruit in July. I have a warm spot for the fruit as it shows pink shades though, it reminds me off late summer sunsets.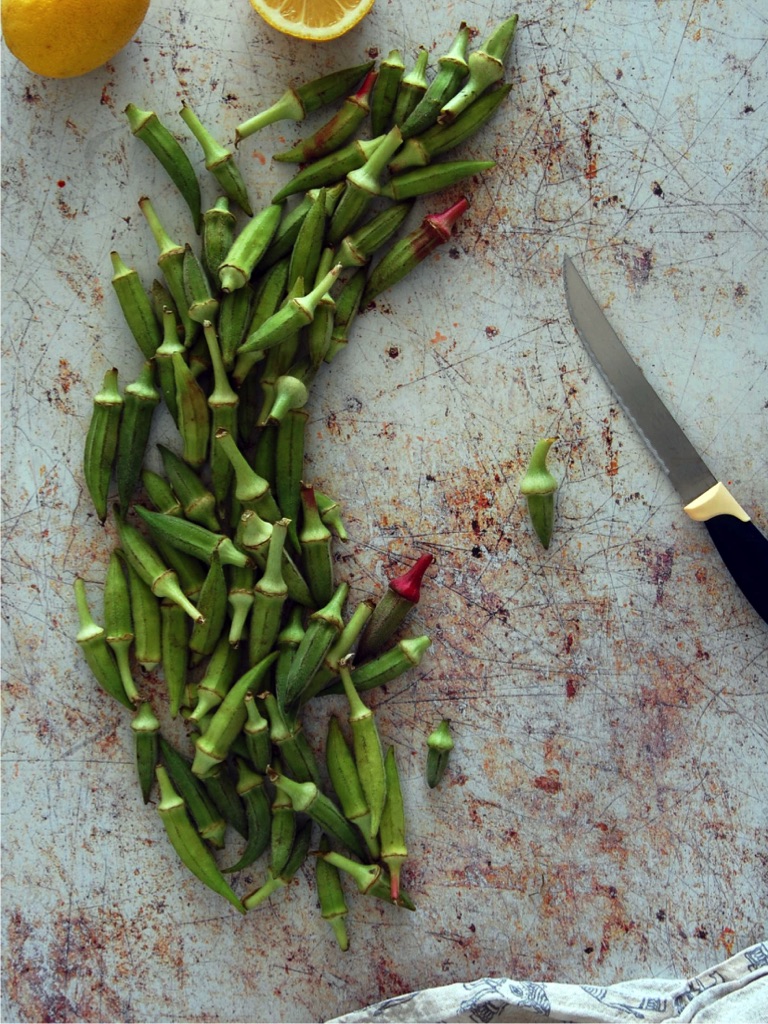 During the late summer days, very small okras are strung up and air-dried, these are 'kuru çicek bamya' and are traditionally used in the winter months to make a comforting soup version of this dish. 
I've learnt that the key to a really good okra based dish is to ensure once wash the stalks are kept whole and soaked in lemon juice or vinegar before cooking. Cutting the okra allows that infamous sticky goo to release during the cooking stages and for me and I suspect many, ruins the whole dish. 
Meaty Okra With Lemon & Pepper Etli Bamya
A traditional taste of Konya. Earthy, firm okra and soft, tender lamb with pepper and lemon juice sauce. Serve hot with warm, fresh bread for that surprisingly refreshing summery stew.
Ingredients
Ladies Fingers
250 Grams

Small, Fresh okra
1
Juice of one lemon
2 Tablespoons

Olive oil
1 Large

Onion, cut into crescents
250 Grams

Mutton leg or lamb casserole meat
1 Tablespoon

Sundried pepper paste Biber Salçası'
1 Large

Garlic cloves, minced
1 Litre

Boiling water
1/2 Teaspoon

Salt
Meaty Okra With Lemon & Pepper Etli Bamya Directions
Gently trim the outer flesh of the top portion of the okras keeping the top intact, this can be done by using the knife as if you were peeling a pencil. Keeping the okra whole and not cutting into the centre helps to keep them firm and slime free.

Place the trimmed okras in a single layer in a tray and pour on the juice of one lemon. (Or a few teaspoons of vinegar if lemon is unavailable).

Stir to ensure they're fully covered and leave to soak.

In a large saucepan heat the oil and fry the onions until softened and beginning to brown.

Add the meat cubes and cook until browned.

Stir in the pepper paste and minced garlic, fry until loosened and spread around the bowl.

Pour the boiling water into the saucepan and simmer for 30-45 minutes. (For stew one-litre water or a soup two=

Drain the okra over a small bowl to retain the lemon juice.

Place into the saucepan along with the salt.

Stir to combine and simmer for 15 to 20 minutes. The okra is ready when a gentle khaki colour and softened but with a little bite. 

Add in the retained lemon juice and serve.
Recipe notes
The dish works just as well with beef as it does lamb and I make it with either regularly. I recommend a cut like a front leg (Kol) to ensure the meat tenderises well without overcooking the okra.
Soaking the okra in lemon juice helps them to retain some colour and stops them from getting slimy. For this purpose too I don't cut into the vegetable. There are some great videos for learning how to cut okra. Search 'Bamya Nasıl Temizlenir?' to see some fantastic skills. 
Choose the smallest of your bamya selection to balance out the size with the meat cubes.