A chicken dish sweet enough for a Sultans feast.  Sauteed chicken with dried fruit and almonds in a turmeric-based stock with easy cook nutty orzo pasta grains. For a more indulgent treat substitute the turmeric for saffron.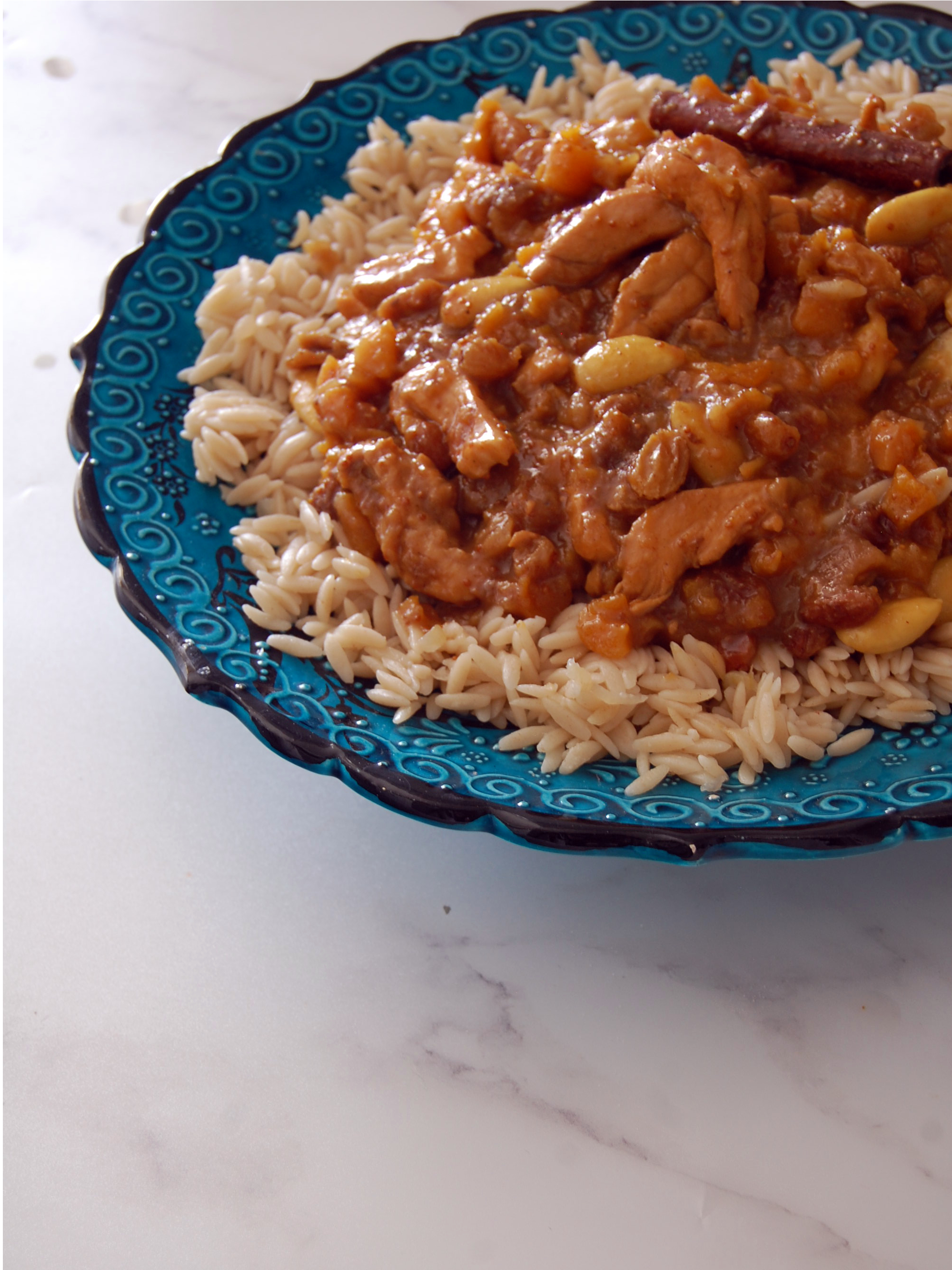 This chicken dish with gentle spices and plenty of dried fruit is reported to be very popular during the 15th and 16th centuries (500 Years of the Ottoman Cuisine) but gained it's named 'Mahmudiyye' because Sultan Mahmud who rained during 1730 to 1754 was said to love it so much. 
My own recipe has a few changes over the years and discovering the original combination of nutty orzo pasta alongside the stew from Marianna Yerasimos book was a wonderful revelation that ı've stuck to ever since.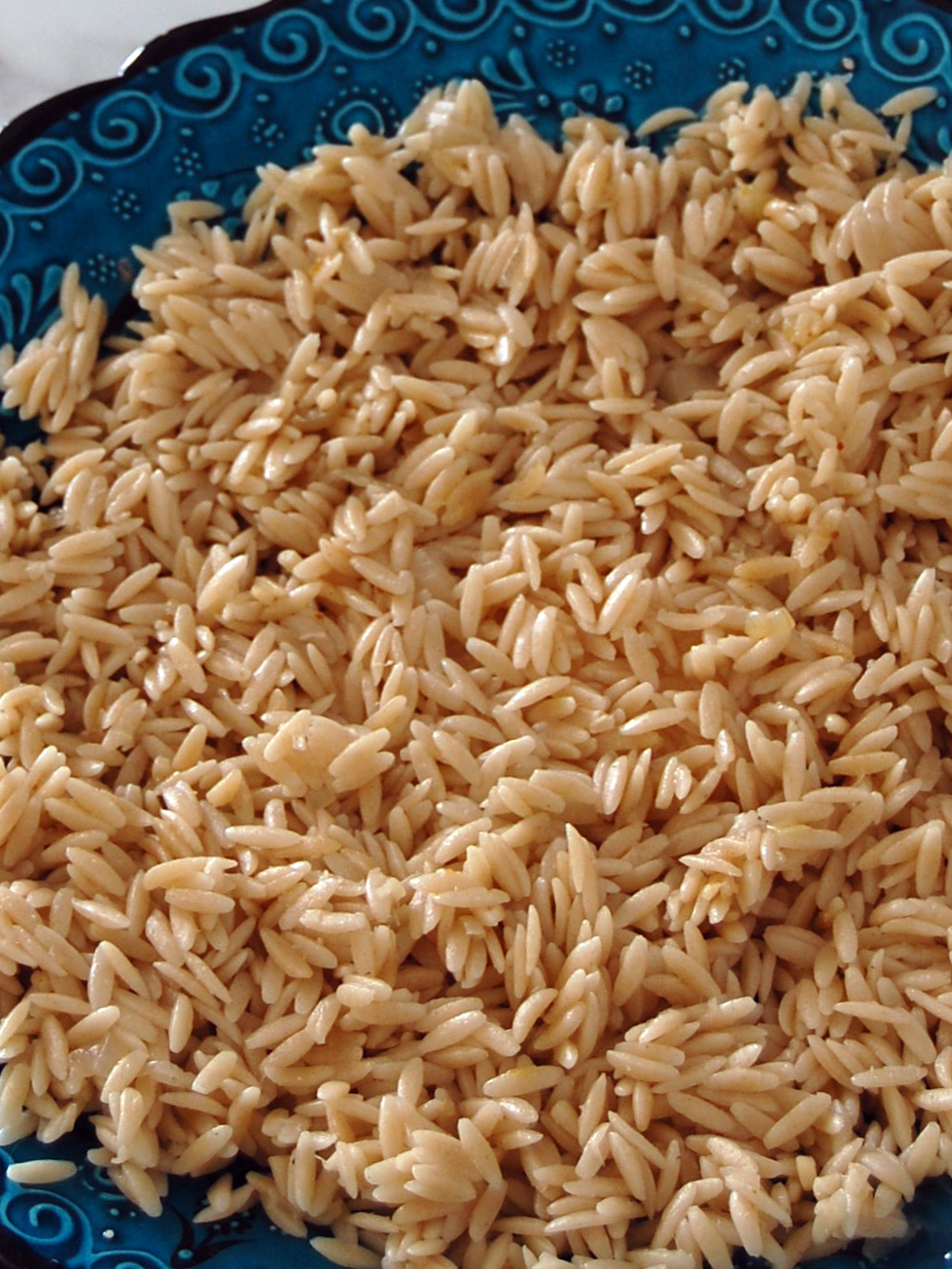 Orzo or Arpa şehriye in Turkish is are tiny pieces of pasta that resemble rice. They're a fabulous ingredient to keep in the pantry because it can so easily be made into a soup or pilaf and can make dishes stretch that bit extra when required.
Arpa şehiriye cooks quickly, in around 7 to 10 minutes in a pan of boıling water and its nutty aroma lends to a great background against the sweet dish. It can be cooked with a little concentrated chicken stock or a stock cube if you prefer but works just as well without. 
A cup of cold water or a quick run of the cold tap helps it to stop over-cooking, great if you like a little bite to your pasta. 
Use it as a bed with the chicken, fruit and nut piled high if your serving to guests or simply mix it all together and into bowls ıf you prefer.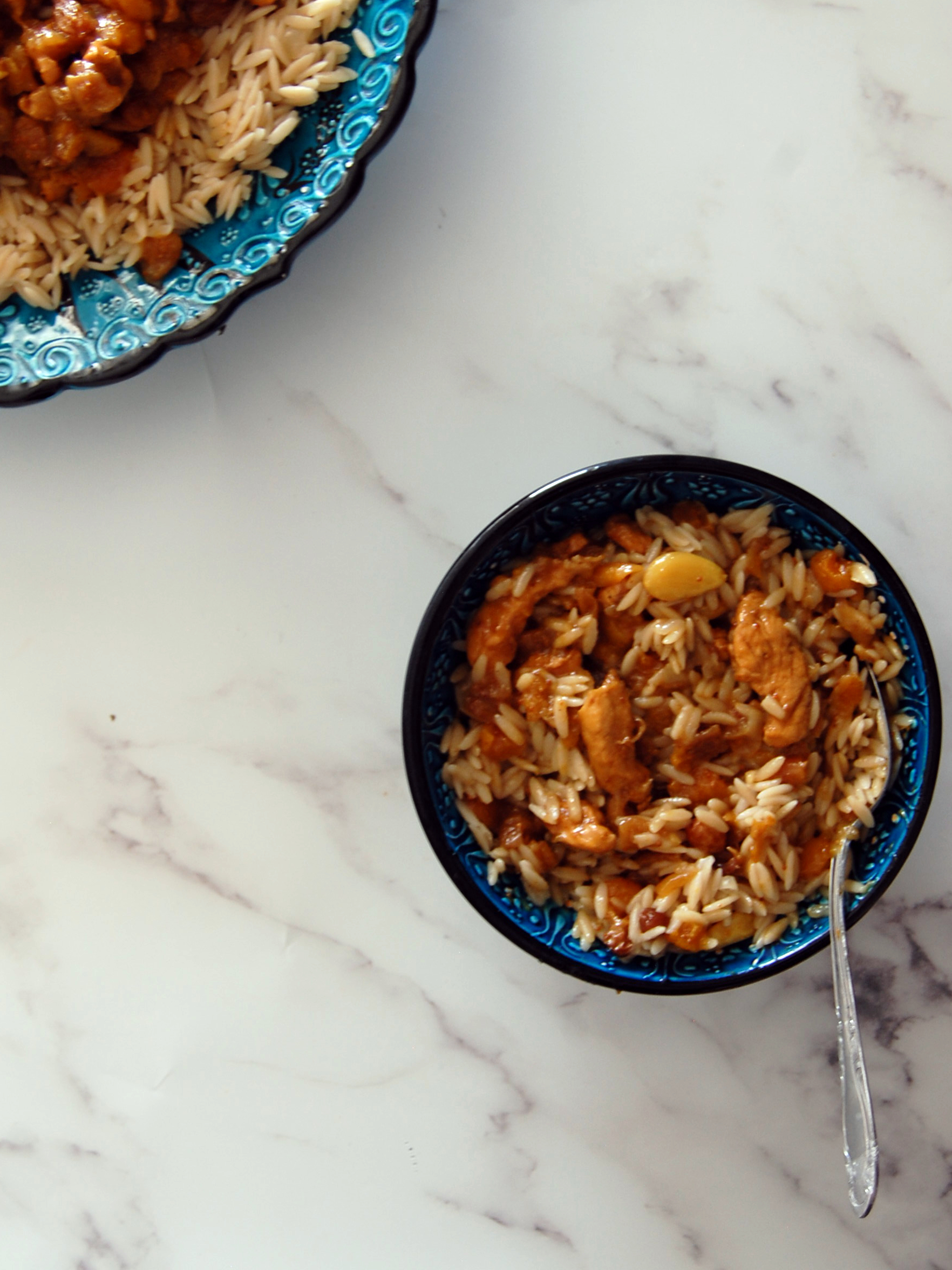 The gentle bitter taste of the turmeric and it's a vibrant colour blend with the fruits for a golden dish fit for a sultan, for extra indulgence swap it out for a generous pinch of saffron. 
Dried apricots, figs and sultanas feature in my Mahmudiyye recipe but you could easily substitute for other dried fruits that you have to hand, a drizzle of honey is used at the beginning when cooking the onions but this could be committed if you wish. The squeeze of lemon just before serving though should not be forgotten, that tiny acidic note takes the dish to another level. 
Chicken & Dried Fruit Mahmudiyye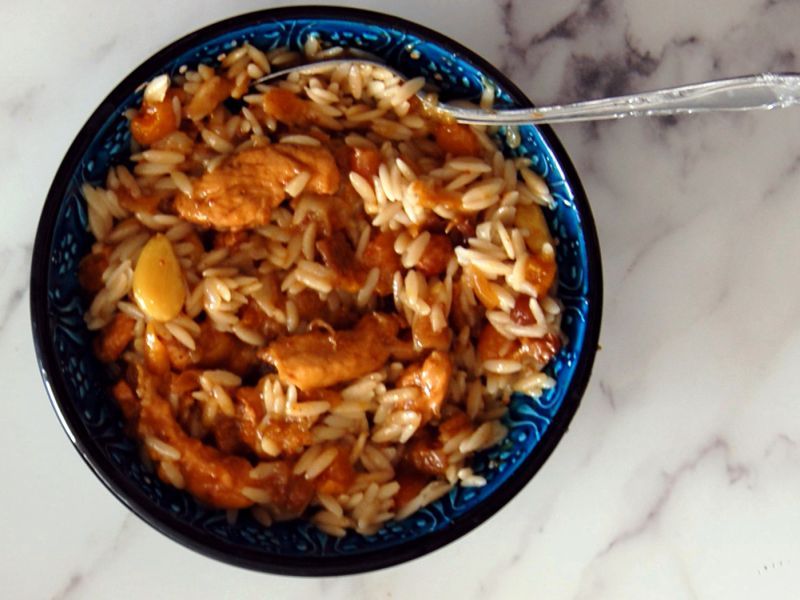 A chicken dish sweet enough for a Sultans feast.  Sauteed chicken with dried fruit and almonds in a turmeric-based stock with easy cook nutty orzo pasta grains. For a more indulgent treat substitute the turmeric for saffron. 
Ingredients
Turkish Chicken & fruit
1 Large Onion
1/2 Teaspoon Salt
1 Teaspoon Honey
2 Chicken Breasts, diced
1 Cinnamon stick
4 Cloves
1 Teaspoon Turmeric powder
80 Grams Chopped dried apricots
50 Grams Chopped dried figs
50 Grams Sultanas
1/2 Teaspoon Black pepper
50 Almonds
160 Grams Orzo pasta 'Arpa şehiriye' (1 'Su' glass)
400 Militres Water
Lemon juice
Turkish Chicken & fruit
Chicken & Dried Fruit Mahmudiyye Directions
Chop the onions into thin half-moons and place in a large saucepan with a little olive oil.

Begin to gently fry the onions ensuring they are well covered in the oil.

Add in the salt, honey and a tablespoon of water. Stir and cover.

Cook on a low heat for 10 minutes.

In the meantime wash the dried fruit and leave to soak in a small bowl of warm water.

Add the chicken into the saucepan, mix amongst the onions and fry until coloured.

Bring a small saucepan of water to the boil and add in the almonds. Boıil for a few minutes.

Working in batches remove 3 or 4 almonds from the water with a slotted spoon and slip of their skins.

Drain the water from the dried fruit and add them to the saucepan along with the water/stock, spices, dried fruit and blanched almonds.

Cook on a very low flame for 30 minutes.

In a medium saucepan add a little butter or oil and gently fry the orzo pasta grains for a few minutes.

Add in the water and a little concentrated stock or stock cube.

Bring to a low boil and allow to cook for 8 to 10 minutes.

Once cooked, remove both saucepans from the heat and add in a small glass of cold water or place under a running tap for a minute.

Stir and then drain.

The pasta can be mixed into the chicken stew or layered onto a serving plate.

Before serving add a generous squeeze of lemon juice and butter of using.
Recipe notes
If pre blanched almonds are available the step slipping of the skins is redundant. Here in Turkey, they're harder to find so purchase 'iç bardem' and simply boil them for a few moments and the skins will slip right off. You need to work quickly however so working in batches of small numbers is easier. This also works very well for slicing the almonds. 
Sulphated apricots produce a nicer colour dish but unsulphured apricots are more beneficial and authentic. 
Orzo or Apra şehiriye in Turkish are small pasta grains that look like rice or malt grains. They are low costs and quick cook but could be substituted for rice. 
This dish would likely have had saffron in and can be substituted. 
(