Concentrated tomato puree, jarred and stored for the cooler month. Used in countless dishes in Turkish cuisine, sundried tomato paste or şalça although time-consuming is surprisingly easy to make at home.
 Original recipe from July 2018 updated with new photos and text edits August 2021
Domates Salçası, Turkish tomato paste is a fundamental part of Turkish cooking and surprisingly easy to make at home. Pureed tomatoes are traditionally concentrated under the summer sun's gentle heat and then jarred up to be stored away, ready for the cooler months when quality tomatoes are not available.  Used in numerous dishes and requiring very little equipment, copious amounts of tomatoes, salt, and olive oil, this homemade sun-drying tomato paste method is a little time-consuming but well worth the effort.  
When the summer months hit, you can't miss the mounds and mounds of ruby red tomatoes both at the local markets and scattered along roadsides around villages. When the season is well underway, you can't miss the scores of people crowded around the stalls enquiring about prices and buying them by the crate load. 
Some will be selecting them to string up either halved or sliced for Homemade Sundried Tomatoes to use in the winter months as in casseroles or on winter versions of stuffed vegetables like Stuffed Peppers dolma, but most will be making Turkish tomato paste 'Domates Salçası'.
Domates şalça is Turkeys answer to Tomato puree. Traditionally and for the best flavour, it's made by hand using plum tomatoes which come by a few names and most popularly simply Şalçalık 'Paste tomatoes'. 
Unless a very high-grade food mill is owned, the tomatoes are skinned and either hand-crushed over a colander (very labour intensive) or blended before being passed through a sieve to remove any seeds or remaining skins.
The puree is then either reduced down in large saucepans over the flames of an open fire or directly placed into trays, mixed with salt and left to evaporate and concentrate under the sun for around three days. 
Sun cooking the tomato paste produces vibrant colour and intense taste, often referred to as Village style. No matter what the label says, no commercial brand can match the unique taste and texture of making salça the traditional way. The texture and thickness are tailored to each family/maker,  the thickest of which is called 'Tas gibi' - like a stone. 
/>
With very little equipment, some time to spare and ideally some friends to chat away the tasks, homemade salça is something you too can make at home with ease.
What ingredients go into Tomato Şalça 
The most important part of the salça making is, of course, the tomatoes: Any type of tomato can be used providing fresh and in the season, but plum tomatoes give the best results because of the lower levels of water to the flesh. Plum tomatoes are best in Turkey from June to September, with prices dropping as the months go on. 
Selecting tomatoes without blemishes is essential. I've come across many people who cut out the bad bits and work with the rest of the tomato, but my experience is that it leads to more acidic paste and shorter shelf life. I think it's better to save those tomatoes for cutting and cooking and use only perfect tomatoes in the salça. We want to preserve the best, of course. 
Pickling 'Turşulık' or rock or sea salt-free of additives should be used to preserve tomatoes. I've made my recipe for 6KG of tomatoes, but this number is simply for the salt ratio; each year, I try to lower the salt amount and found the three heaped teaspoons are the lowest I can go to proper humidity levels without spoilage.  It should be therefore considered a guide.
Easy year varies, but I expect seven to ten kilos of tomatoes to result in one kilo of triple concentrate Turkish sundried tomato paste. Therefore the recipe should be doubled, tripled and even quadrupled as you see fit. 
 How To Make Homemade Turkish Tomato Salça. 
Unless you have a powerful food mill or blender, you'll want to peel the tomatoes, this is possibly the most time-consuming part of making Turkish tomato paste, but if you give them a quick bath in a large saucepan of boiling water after scoring the skin, they will come off easily enough. Smaller batches can be plunged straight into cool water, but if you're doing a lot all at once, and let us be honest, who wants to clean the kitchen of tomato splatter more than once a year, it'll probably be easier to let them cool off as you work in batches. 
Once peeled, my blender works very well in a huge saucepan to blend whole tomatoes into liquid consistency, and I then strain the entire thing in a Suzgeç to remove the seeds and any rogue peel. 
  What is a süzgeç?
A süzgeç is a metal colander that has solid sides and holes only at the bottom; it's great for jobs like making tomato and Pepper Paste 'Biber Şalçası' and other store cupboard specialities like Koruk Suyu / Sour Grape Juice because it can hold a good volume of liquid with it all spilling out to fast and you can get your hands in there to encourage it along. 
Humidity is the greatest difficulty in sun-drying or cooking, and ideally, you'll want to target the days and nights around the 40% and 50% marks. Anything over 65%, and you can almost guarantee it'll spoil. I'm not far from Lake Bafa, and I find that I have perfect days but high humidity nights around July time, so I have to bring my trays in at night and put them back out the following morning. 
If you live in a high humidity area or even if you lack enough sun, you can help it along by reducing the tomato puree down on the hob or an open fire before putting it out in the sun or even do the whole thing on the fire slow and low but harnessing the suns power does lend for a lovely strong taste. 
Once the desired concentration has been reached, it simply needs placing into sterilised jars taking care to press it down, remove any air bubbles, and then topping with good quality, fresh olive oil before sealing. 
How to store homemade tomato salça
Homemade Turkish tomato, once sealed, can then be kept in the fridge for the longest shelf life or following Turkish tradition in a cool dark place.
Once opened, it should be kept in the fridge and in between uses re-top with olive oil to prevent spoilage. 
Sun-dried Tomato Paste Domates Şalçası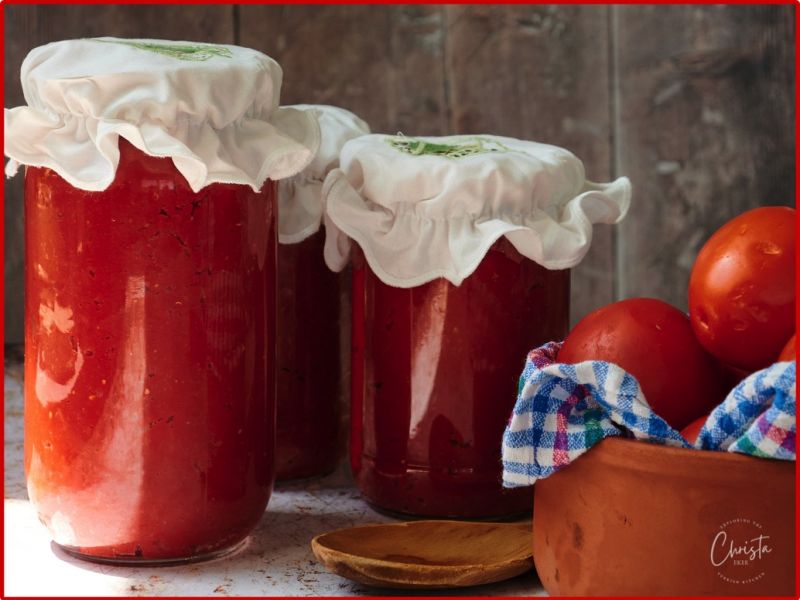 Concentrated tomato puree, jarred and stored for the cooler month. Used in countless dishes in Turkish cuisine, sundried tomato paste or şalça although time-consuming is surprisingly easy to make at home and well worth the effort.
Ingredients
Home made village style tomato paste
6 Kilos

Pumb tomatoes
3 Tablespoons

Rock salt
Olive oil to top jars
Sun-dried Tomato Paste Domates Şalçası Directions
Thoroughly wash ripe, in-season tomatoes taking care to discard any blemished ones.

To peel:

Add water to a large saucepan and put it to a boil.

Score the base of each tomato skin with a cross.

Once the water in the saucepan has come to a gentle boil, working in small batches add the tomatoes to the pan for around 45-60 seconds before removing with a slotted spoon and allowing to cool.

Once cool enough to handle, peel away the skin and place into a large bowl for blending, or a food mill if you have one*

Blend until liquid consistency. 

Place a large suzgeç (A metal colander with solid sides and holes only on the bottom) above a deep and pour on the tomato puree working in batches as your equipment sizes allow).

Use your hands to encourage the liquid to pass through the strainer and collect the seeds and any bits of leftover skin and discard

Stir into the seed-free liquid the salt and place the tomato puree into trays taking care not to make the liquid neither too deep nor shallow. 

Place the trays in a sunny location and cover them with mosquito netting or tulle curtains to keep out unwanted bugs and crawly visitors.

Ideally, your location will see a full day of sun and have lowish humidity (Under 65%) for around three days.*

Bring the trays in any night that your humidity level increases above 60%. 

Each morning and night use a clean wooden spoon to mix through the liquid which you should see reducing from the first day.

Once the puree has reduced to the desired concentration fill to just below the rim of clean, sterilized jars ensuring to push down well and remove any gaps of air.

Top with good quality, new-season olive oil, seal and store in a cool dark place.

Once opened, keep the jar in the fridge between uses and re-top with olive oil as required.
Recipe notes
* You can make as little or as much paste as you wish, but concentration all the work into one day makes for a tidier kitchen in the long run. 
Salt to tomato ratios in recipes/guides varies a lot! I like to err on the lower side but keep enough to prevent spoilage when stored away for the year. 

Tomatoes in Turkey are at best during the summer months, June - September.
The summer months are when tomatoes are not only the cheapest, but when they are at their best; ideally, salça should be made at this time to ensure it is full of flavour. 
Peeled tomatoes can be pureed in a food processor, blender or food mill (some are strong enough not to need to pre-peel the tomatoes); if you have none of these, salça can be made by halving the tomatoes and grating them.
'Salçalık' or plum tomatoes are idea because they have lower water content and are easy to skin, process and remove the seeds. 
 The salça can be held in any container, but I advise avoiding any reactive materials such as plastic, copperware and aluminium, which can affect the taste.
Try to avoid any blemishes and discard any tomatoes with mould or bugs.
If you lack sun or live in a high humidity area, you can reduce the tomato puree down on the hob / open fire or in an oven or do any combination including hob / open fire followed by a day of sun drying.
To use salça in cooking, cook it out in a little oil when frying or sauteing.