Original recipe & blog post from Sept 2018 updated with new pictures & details July 2020. 


I'm a huge aubergine fan, especially now I know just how good they can during the summer season. They make the most delightful economical but substantial addition to so many Turkish recipes but they're also wonderful as a stand-alone recipe.
This particular Turkish aubergine dish has become a summer staple for us ever since I first came across it in a Turkish recipe magazine nad again whilst watching the Netflix show 'A chefs table' featuring Turkey's own Musa Dağdeviren founder of Çiya Istanbul. 
I like to salt and sugar by aubergines, a discussion we've had several times over in the Facebook group, it's a tip I picked up from a blog called 'Oya's Cuisine' I have no idea why the sugar works so well but I love how tasty and tender the aubergines become so I do it for every recipe without fail. 
If you belong to the no need to salt, you can, of course, skip that step.
But was is 'Patlıcan silkme?'
You could say shaken aubergines, but basically, it's slowly cooked or simmered Aubergines with that chopped tomatoes, peppers, and onions.
It's flavoured with nothing more than minced garlic, salt, and olive oil.
Don't be afraid of all that olive oil, it seems like a lot, but it's not in fact oily at all, the temperature remains very low and so we get to keep all of its delightful goodness.
That means, of course, you want to make sure you're using really good quality olive oil to take advantage of both tastes and its wonderful health-boosting properties.
I gather via Mr Dağdeviren and from the lack of recipes around for this dish that it's become one of those overlooked dishes of the past, which is such a shame because it so so good. 
It can be made on the stovetop, on a gentle simmer or in a slow cooker, which is extra delightful. Best of all you get to just dump all the ingredients in and leave it to cook away.  
Come serving simply give it a little shake (or stir) and rest and then serve warm.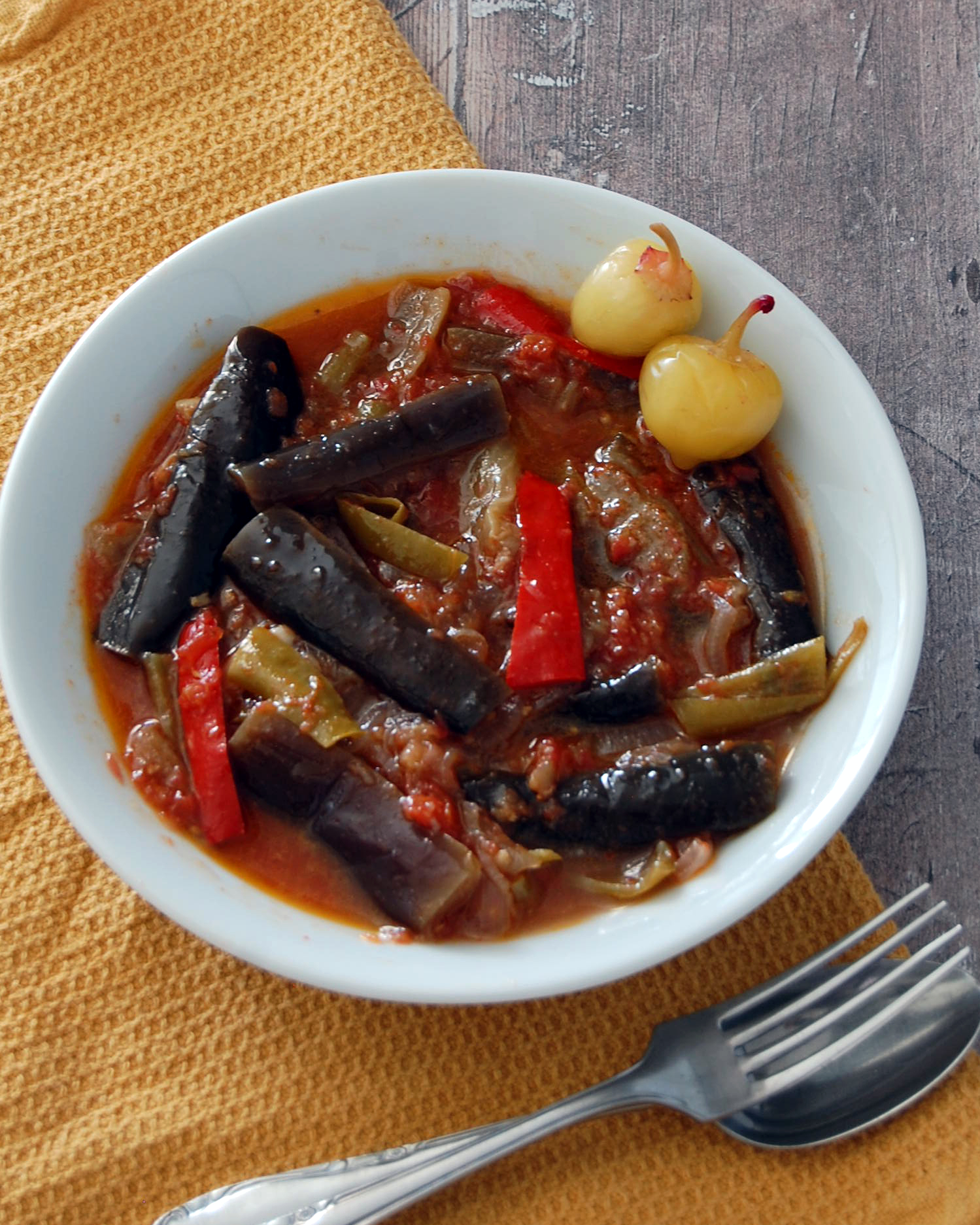 It's great with rice and is a surprisingly low cost but a substantial meal.
Braised Aubergines Patlıcan Silkme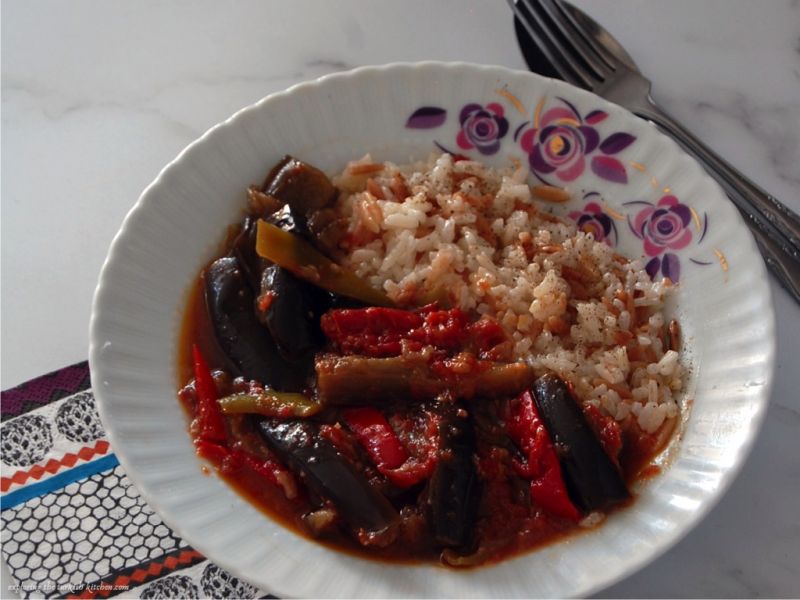 Slowly braised or simmered Aubergines with tomatoes, peppers, and onions. Its silky rich flavour comes from nothing but garlic, olive oil and it's own tender juices. Super easy, dump and run vegetarian stew. 
Ingredients
Aubergine silkme
5 Long thin aubergines
1 Tablespoon Salt
1 Tablespoon Sugar
4 Long green peppers 'Sivri biber)
1 Sweet red pepper
3 Cloves garlic
1 Onion
3 Large tomatoes
60 Millilitres Olive oil
Braised Aubergines Patlıcan Silkme Directions
Cut the aubergines into finger length, thin, wedges and place them on a tray.

Sprinkle over one tablespoon each of salt and sugar. Leave for around 30 – 45 minutes.

Meanwhile cut the onions into small cubes and the peppers into long thin strips.

Mince the garlic and grate the tomato into a small bowl.

Rinse and drain the aubergines. 

In a medium to large saucepan or slow cooker, layer the aubergines, peppers and onions.

Add to the top the tomatoes and garlic and pour on the olive oil.

 Close the lid and simmer over a very low flame (or the high setting of the slow cooker) for around an hour.

Remove from the heat, give the saucepan a good shake to ensure all the tomatoes and juices have combined and leave to rest for around 15 minutes.

Serve warm with pıilav or side dishes.