A classic Ottoman Zeytinyağlı 'vegetable & olive oil' dish'. Aromatic vegetable stew filled aubergines traditionally served at room temperature but just as delightful warm. Serve with thick cooling strained yoghurt and pilaf as a main or as part of a meze spread. 
This delightful Turkish aubergine dish is found in homes and lokanta's (Homemade style restaurants) throughout the country daily during Turkey's lengthy summers. It is a classic example of both Ottoman recipes and Zeytinyağlı types of dishes.
Zeytinyağlılar are dishes that are made up of two essential factors in Turkish cuisine: fresh in-season vegetables and quality Turkish olive oil. They can have many different elements, yoghurt, grains. They can be served warm or at room temperature, but it's a given that those two important elements will be the main feature of the recipe. 
Aubergine might be the ultimate summer vegetable for me here in Turkey - I know, I know there are so many contenders, but what could scream out for alfresco dining more than that deep smokey flavour that comes from the humble patlıcan?
With a name said to have come from the gent who delighted in his wife's cooking who could not think of it as a perfect summer staple. I fry mine whole, I stuff them, I bake them, and then I add even more oil when it's ready to serve, which may not be the healthiest way to enjoy aubergines, but I enjoy it I do. Many a recipe online fully bakes them and even boils them (a huge no-no from us). So if you're on a diet, you might want to look away now, but we're talking about a dish that was so good an Imam fainted* (or expensive depends on which way you look at it); If we can't indulge in a bit of luxurious eating when surrounded by all this delightful Turkish olive oil and fresh, affordable veggies when can we?
Traditionally Imam bayıldı features as part of dining spread as can be found in many a meze spread too but if served with rice or bulgur pilaf, cacık and seasonal salad it makes for a wonderful vegetarian main meal. 
When I first started making Turkish stuffed aubergines I didn't get what all stripy peeling was about? I asked Anne and she said quote 'That's the way we do it Kızım' I asked a very knowledgeable foodie friend 'They're bitter if you don't'. I didn't agree so I stopped peeling them and simply pricked them before soaking in salty-sugary water. Later on, I learnt from the wonderful Refika Birgül that the reason for this part peeling which the Turks often refer to as pyjama or zebra peeling is that it stops the pressure building up when cooking them and then exploding. Which actually did happen to me once - oh what a sound a mess that makes!. Refika went on to explain that if we completely peeled them they would lose their shape and ruin so PJ-style is the perfect compromise: I've been part peeling them ever since - thank you Refika.
Often this dish gets translated as either the Imam who fainted or the Imam who delighted when eating this dish, bayıldı could mean either. I can believe the second for I adore this dish but I favoured the story of the first and you can see my take on the story here: Imam Bayıldı - The Imam Fainted. 
Vegetarian Stuffed Aubergines Imam Bayıldı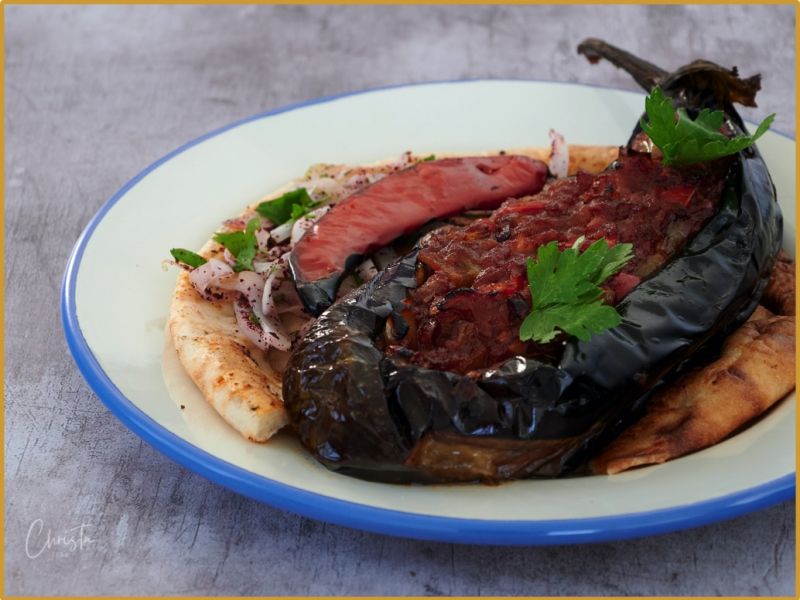 A classic Ottoman Zeytinyağlı 'vegetable dish'. Aromatic vegetable stew filled aubergines traditional served cold but just as delightful warm. Serve with thick cooling strained yoghurt alone as a part of a meze spread.
Ingredients
Stuffed Aubergines
4 Long thin Turkish aubergines
2 Large Onions, cut into fine pieces
1 Teaspoon Sugar (Optional)
1/2 Teaspoon Salt
2 Long thin Green peppers, chopped into small cubes
1 'Kapya' Red pepper, chopped into small cubes
3 Tomatoes, grated
6 Garlic cloves, minced
1/2 Teaspoon Pul biber red pepper flakes
1/2 Teaspoon Black pepper
1 Tablespoon Sun-dried tomato paste 'Salça'
200 Mililitres Water
Optional
Vegetarian Stuffed Aubergines Imam Bayıldı Directions
Using a peeler from top to bottom, take three of four peel strips away from the aubergine. This will create a pyjama or zebra effect. 

In a large bowl/tray, put a teaspoon of sugar and salt and place the aubergines in for 30 minutes. (You may need to weigh them down with a plate)

Remove the aubergines from the water and pat dry. 

Add 2-3 cm of olive oil into a large frying pan, heat and work in batches if required, fry the aubergines, regularly turning them until they are soft and beginning to show signs of splitting.

Remove from the frying pan and place on kitchen paper, and allow to cool.

Preheat the oven to 180 degrees Celcius.

Heat a little oil into an ovenproof pan, add in the chopped onions, sugar and salt. Cook until caramelised.  

Add the peppers and fry until softened.

Stir in the tomatoes, garlic and spices and mix well. 

Cook for a further 3 to 5 minutes and remove from heat, and place into a bowl. 

Place the aubergines into the overproof pan (alternative to an oven tray).

Gently cut from the top down into the centre of the aubergine, taking care not to cut through to the bottom.

Open up the centre to create the shape of a boat.

Fill the aubergine centres, divide the vegetable mixture between them 

Optional: Top each with a teaspoon of breadcrumbs

Mix the salça into the glass of water and pour this into the bottom of the oven tray.

Place in the preheated oven for 40 minutes.

Serve cold or hot as desired either as a main meal with pilaf and salad as a part of a meze spread.