Fresh, plump green beans stewed in a rich tomato sauce. Using only onions, garlic and pepper, this full of flavour dish celebrates fresh beans in the best way possible. Turkish style with plenty of olive oil.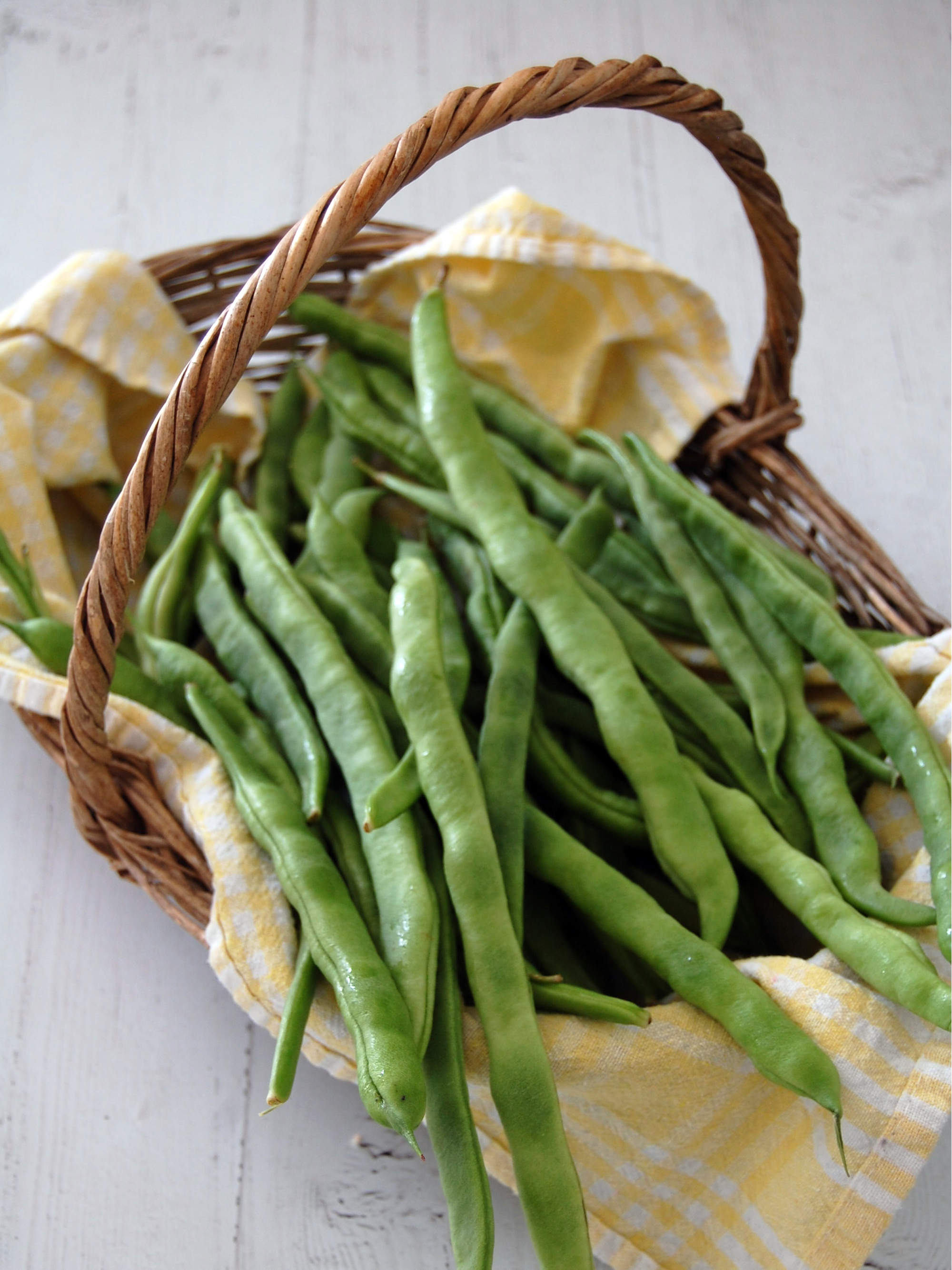 Bright green, super lean, these fresh beans certainly make that mark as summer's green queen.
Taze Fasulye, a dish of fresh green beans stewed in a tomato sauce and usually served at room temperature, is something I have to admit looks and sounds somewhat underwhelming. Still, given a chance, a surprising discovery awaits anyone who chooses to make it for the first time.
Looking for a dried bean recipe rather than fresh? Here's my Dried Beans With Turkish PastramiPastırmalı Kuru Fasulye
Unlike the green beans of my childhood, boiled or steamed until a particular lingering smell to mask any form of flavour was acquired. This method of slowly braising the beans in a tomato and onion base packs a tremendous flavoursome punch. 
It's light, refreshing and packed with the beautiful flavours of summer. Often served as main with rice or bulgur pilaf and pickles, it can also be found during the summer months as part of most restaurants meze offerings.
It's undeniably a classic 'Zeytinyağlılar' recipe that can be found in most Turkish homes when the weather starts to pick up and produce changes to lighter cooling veggies.
Zeytinyağlılar's are vegetable and olive oil recipes that focus on the natural flavours and goodness of the vegetables and make for excellent mains and sides. See more Turkish Vegetable Recipes here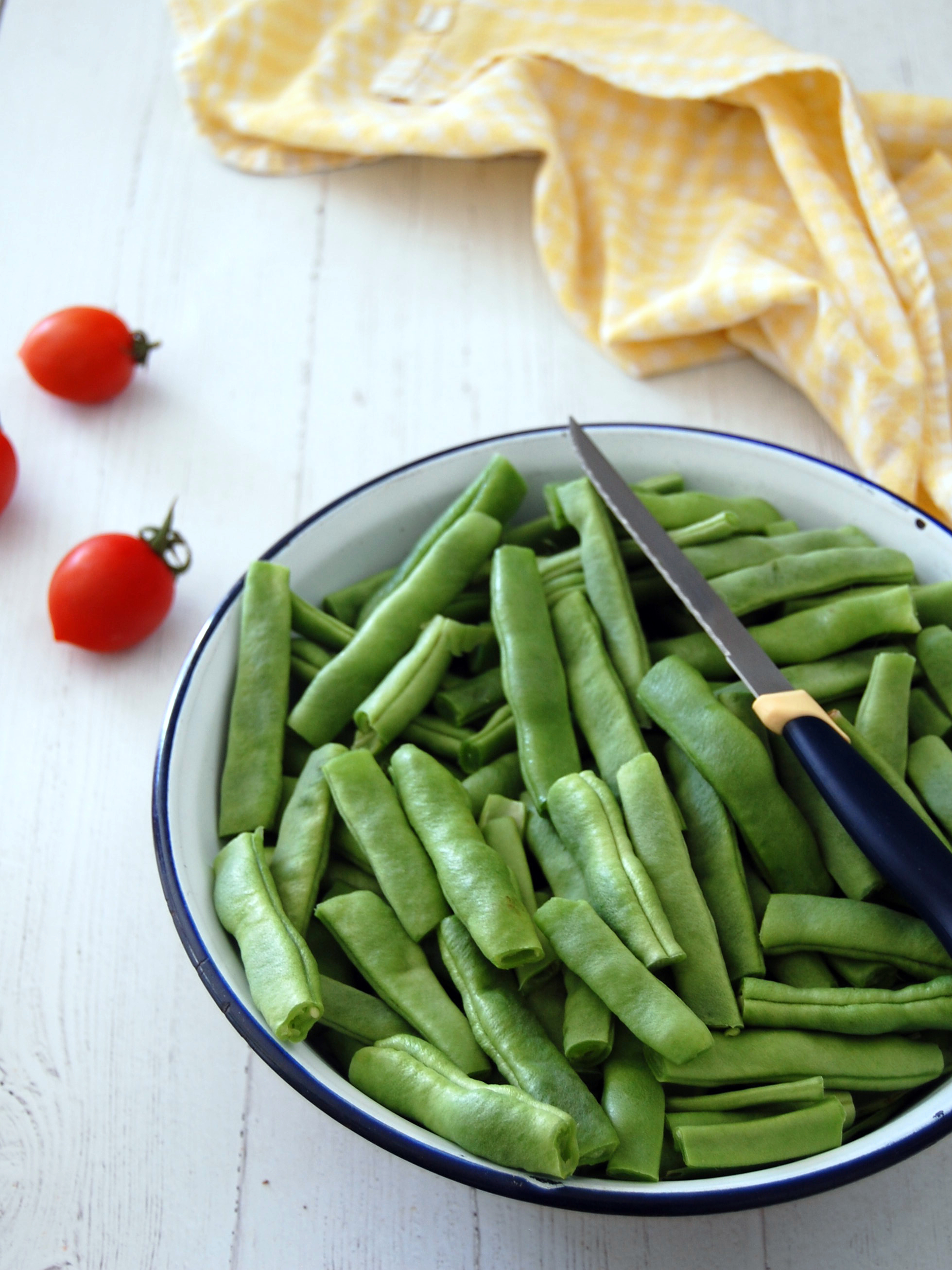 Selecting ingredients for shepherd's salad
Putting together a dish like this is also many a housewives favourite pastime; sit on the balcony or just outside the village house with tea and friends to gossip away the preparation with as you pick up each bean, top and tail with a small knife and the de-string before popping into a waiting tray.
How To Make Turkish Style Green Beans
Because the beans are gently braised over a long time, it would be forgiving to think they may be overcooked, but I believe this is the secret to perfecting a cold fresh bean stew.
The water and tomato juice reduce down, and you'll be left with beans full of flavour. Traditionally the dish is made ahead and left to cool to room temperature, and if you are patient enough, they taste even better the next day. (Or following – if you can make them last that long!)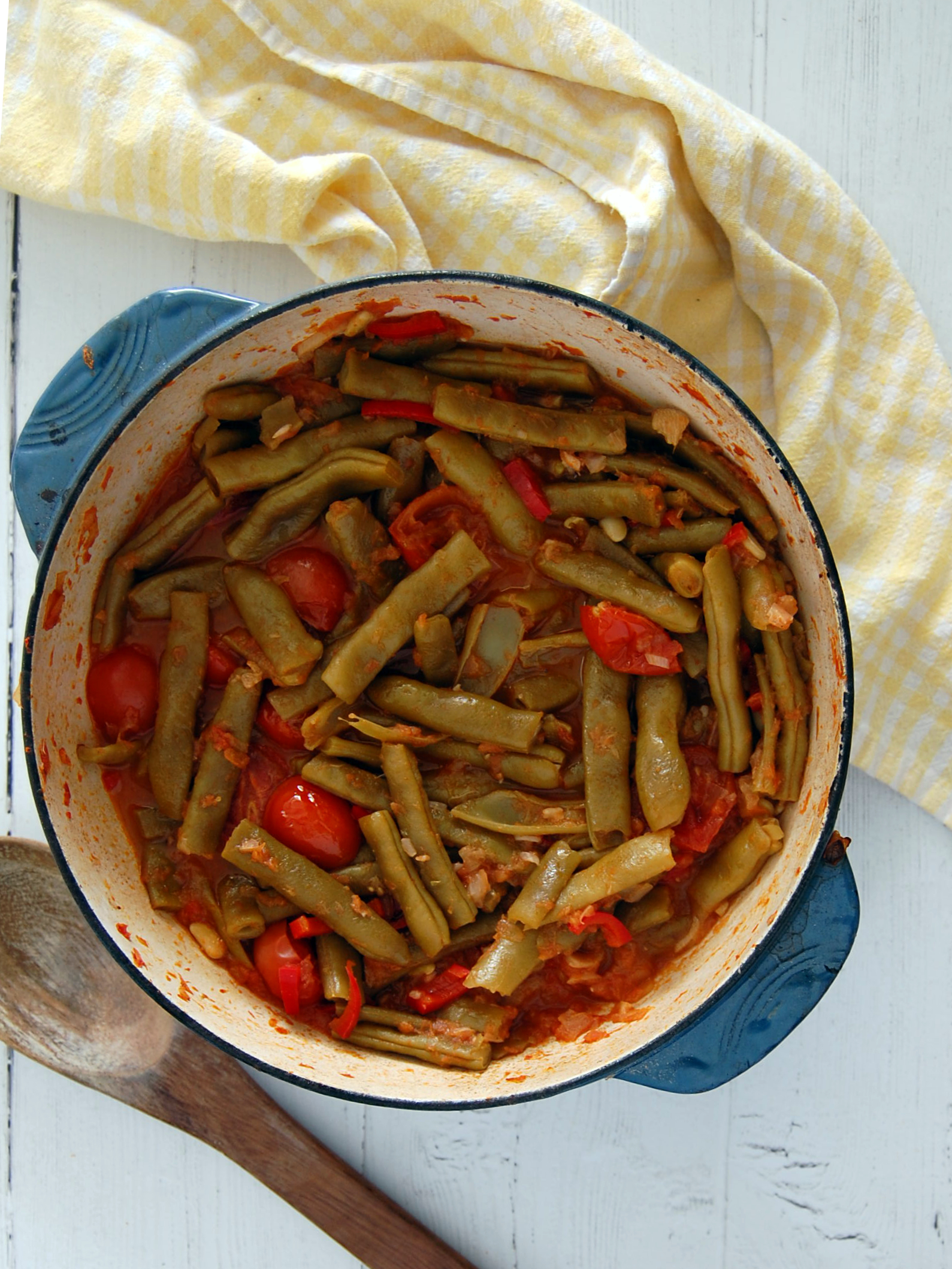 Is Taze Fasulye A Vegetarian Dish?
It's suitable for both vegetarians and vegans and uses only natural ingredients, but if you wish, you can add in some meat to make it more substantial; in my opinion, it's better without.

How To Prepare Turkish Green Beans
When picking fresh beans from the market, you want the greenest and most plump ones you can get your hands on; avoid any darker or dried ones as this can affect the overall taste negatively.
The beans need to be topped and tailed, too, and unless they're super young and fresh, the woody string should be removed. The cut size is up to the personal preference, but we like a good chunky cut of 2 - 3 cm, so get that teapot bubbling away, set yourself up in the garden and get down to cutting - this can be therapeutic work.
Green Beans In Tomato Sauce Taze fasulye
Fresh, plump green beans stewed in a rich tomato sauce. Using only onions, garlic and a litte pepper this full of flavour dish celebrate beans in the best way possible.
Ingredients
Turkish Green Beans
1 Kilogram Fresh green beans, trimmed & stringed
2 Onions, chopped fine
3 Garlic cloves
1 Red pepper
6 Small to medium sized tomatoes (4 grated, 2 chopped into small cubes)
2 Tablespoons Sundired tomato paste (Domates Salçası) *See notes
Pinch black pepper
Green Beans In Tomato Sauce Taze fasulye Directions
Using a large saucepan that has a lid heat some oil and fry the garlic & onions until softened. 

Create a well in the centre of the pan and if required add a little more olive oil, add the tomato paste and black pepper and fry for 2 or so mins before distributing around the pan until the onion pieces are well coated.

Stir in the chopped & grated tomatoes and the pepper and fry for a further 2-3 mins.

Stir in the beans & top up with enough boiling water to just cover them. 

Cover the pan and bring to the boil.

Once boiled put the pan to simmer for 1 hour. 

Remove the lid and continue to cook for further 30 mins or until the sauce has reduced and thickened. Don't be afraid of overcooking the beans they take on much more flavour the longer and slower they are stewed. 

Cool to room temp and drizzle with a little good quality olive oil before serving (They are also fabulous warm if you prefer) 
Recipe notes
Green beans are a delight in the summer months, the fresher the better. Young fresh beans means less work preparing and a better taste. The tomatoes too are of course best during the summer months and if we're using in-season tomatoes the tomato paste becomes almost unnecessary so can be reduced or even limited should you wish. Out of season or if the tomatoes you have been lacking in the flavour the sundried paste is a must.
We eat our beans with rice and pickles, sometimes we may serve It along with meatballs but often it's a meal on it!s own and a veggy day. If you prefer you could brown some meat along with the onions and make the dish more robots.