A carnival of Aegean flavours. Pumpkin (or butternut squash) with onions, garlic and sesame roasted in a fiery sauce of tomato paste, pepper, mint and honey. A flavoursome main but just as fabulous as part of a meze spread.
Sinkonta, it doesn't sound very Turkish, does it? If anything I would presume it was Greek but I've found so little information on the Izmir speciality that it's all let to my imagination.
There certainly a lot of crossover and influence on the Aegean cuisine from the Greek islands so we'll just presume.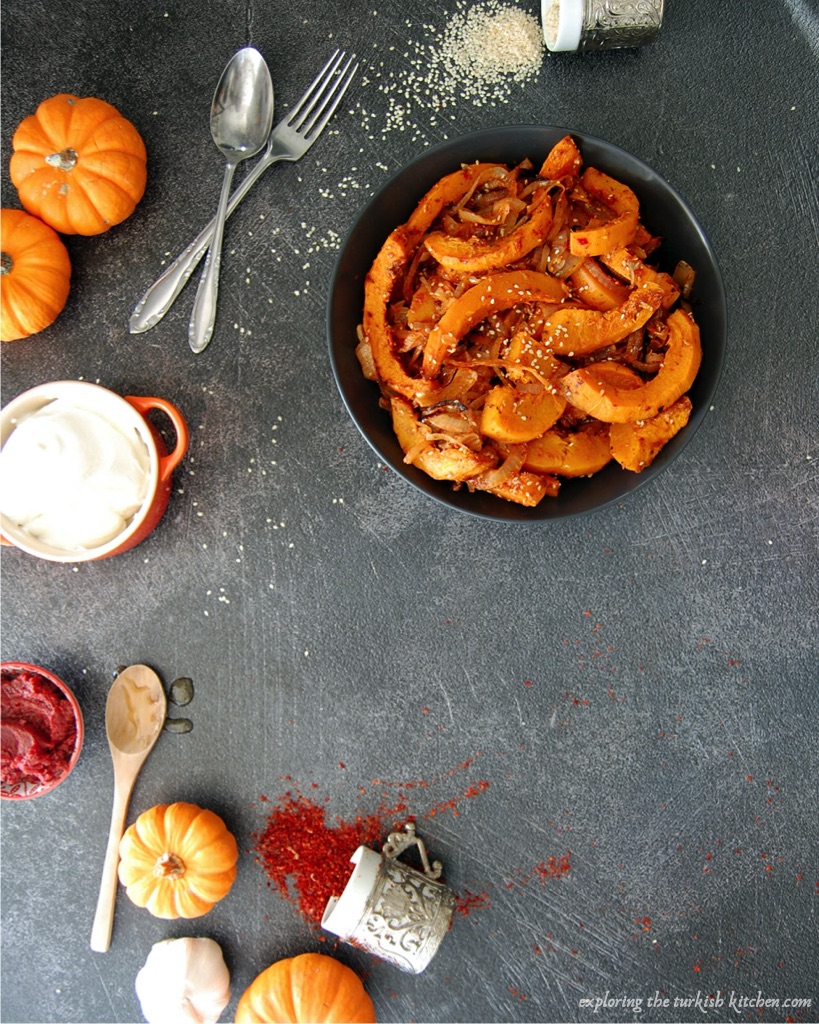 Whatever it's origins are there's one thing for sure, Sinkonta - this dish of roast pumpkin is a delight. Sweet, spicy, salty it has all my favourites and I think it's a wonderful balance. 
I wish I had a lovely tale of discovery to romance you with, unfortunately, I don't - I discovered this dish via the wonderful Rick Stein's Venice To Istanbul book and fell in love although I did have to play with the salt levels a little - Village style şalça is salty enough: I think Mr Stein got used to making his with standard tomato paste!
It's a really easy dish on so comforting. We have ours as a main to start with, which means it feeds four easily but then as a side the following day. It works with comforting meaty stews and is also a great hot dish to add to a meze spread. 

Chunky Onions For Sinkonta
How to make Sinkonta
I recommend plenty of onion for this dish, really get them all over the pan, wrapped around the pumpkin and don't be afraid of varying sizes when it comes to slicing. Some will caramelise lovely some really crisp up and it just added flavour.  
Pumpkin is the usual suspect but I've made it several times with butternut squash, pumpkins in Turkey are huge if you don't pay the premium of buying slices so if you're wondering what to do with extra pumpkin here's your answer. Butternut squash which Migros seem to be stocking everywhere no means you less commitment too other dishes!
I like my Sinkonta spicy, so through a couple of teaspoons of pul biber or Aleppo pepper flakes in there as well as black pepper - Sweet and spicy always work for me but feel free to err on the side of caution and half these amounts if you not as much as a spice fiend as me!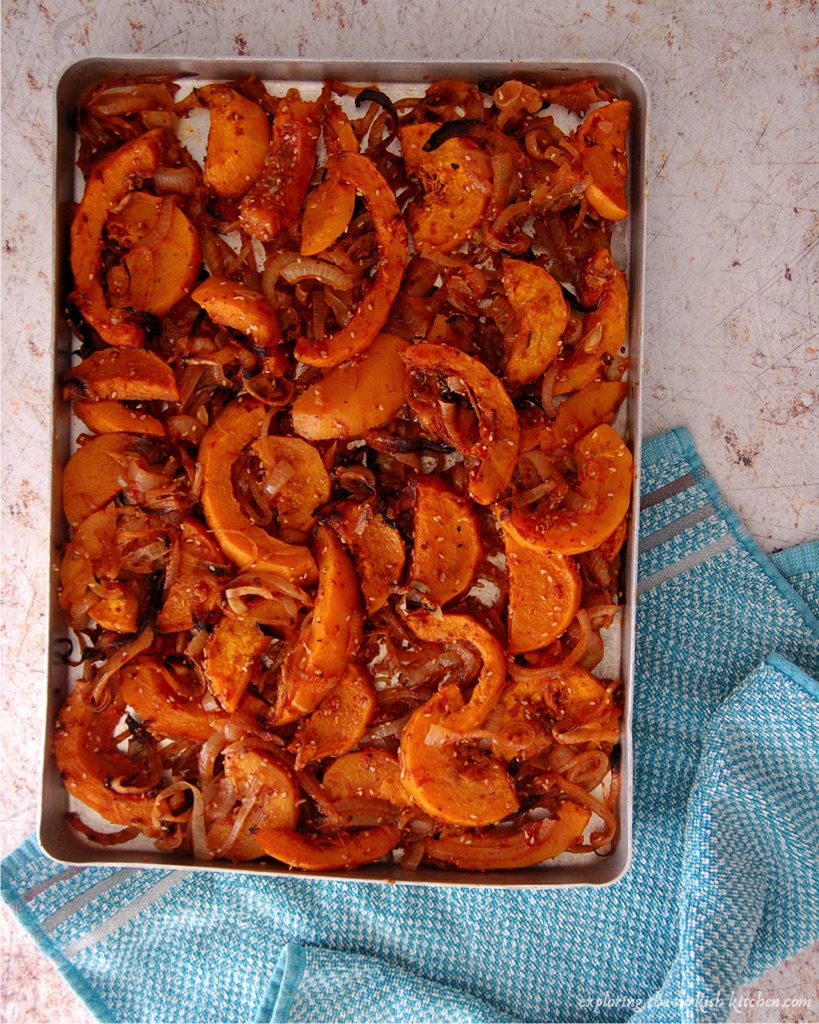 What is Pul biber? 
Pul biber is sometimes referred to as Aleppo pepper, it's small dried flakes that look like chilli flakes but pack less of a punch - although just as if not more flavoursome. True pul biber is made from a specialist pepper which is sundried and then flaked but not all a made equal. There are oily versions which make it extra silly and flavoursome and regional specialities. It's a wonderful addition to the Turkish kitchen and for dressing finished dishes and salads.  
Roast pumpkin & onions Sinkonta(Featured Chef Christa Eker)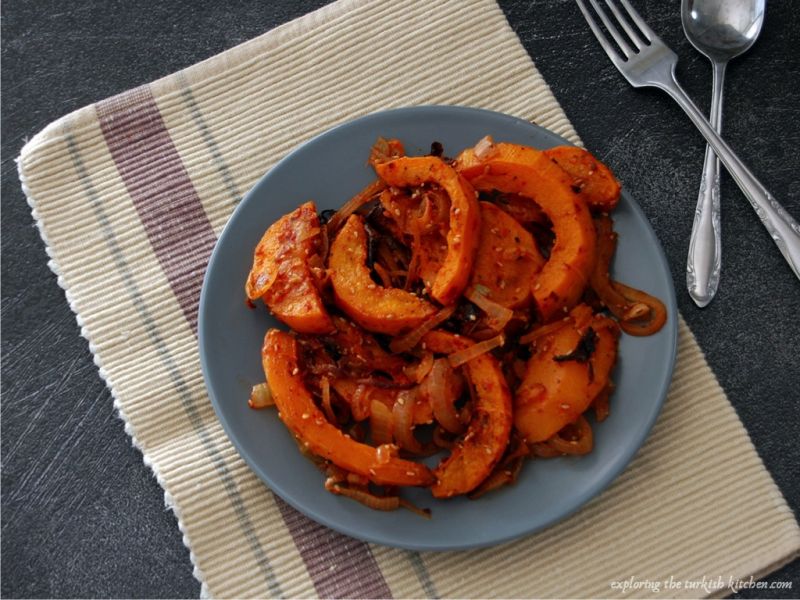 A carnival of Aegean flavours. Pumpkin (or butternut squash) with onions, garlic and sesame roasted in a fiery sauce of tomato paste, pepper, mint and honey. A flavoursome main but just as fabulous as part of a meze spread.
Ingredients
Turkish Roast Pumpkin & Onions
1 Kilogram

Pumpkin or butternut squash
3 Large

Onions, cut into crescents
For The Dressing
3
Garlic cloves, minced
2 Tablespoons

Sundried tomato paste 'Domates salçası'
2 Tablespoons

Olive oil
1 Tablespoons

Red grape vinegar
1/2 Tablespoons

Honey
1/2 Teaspoon

Black pepper
2 Teaspoon

Aleppo pepper / Pul biber pepper flakes
1/2 Teaspoon

Dried mint
1 Tablespoon

Sesame seeds
1 Teaspoon

Water
Roast pumpkin & onions Sinkonta Directions
Mix the dressing ingredients in a small bowl and if it feels very thick add a teaspoon or two of cold water to loosen.

Arrange the pumpkin slices in a large oven tray and place the onions slices on, and in between the pumpkin. Pour the dressing onto pumpkin and onions and give it a good mix round to fully coat.

Place in a preheated oven (180-degree Celcius fan) for 40 to 50 minutes.

The onions will caramelise and some may crisp up. The pumpkin is ready when a fork will easily go into it and the edges are slightly caught with colour.

Allow to rest for 5 to 10 minutes before serving.
Recipe notes
This Turkish pumpkin recipe is great served with thick/strained yoghurt. It can be served as a main, as a side dish to complement other Aegean recipes or as part of a meze spread.
This recipe contains no extra salt because I şalça has enough (usually) if you are a fan of salty foods or you are using tomato paste you may want to add some in. - Less is more. 
My Sinkonta packs a punch with two teaspoons of Pul biber pepper flakes and black pepper. If you prefer dishes less spicy please half or less.