A soft-set deep crimson syrupy jam with tender fruit full that retains it's natural flavour very well. Cooked gently under the hot Turkish sun with a little black pepper and balsamic vinegar undertones for a rich indulgent jam treat. Great as a breakfast jam and in baking.
A few years ago a dear friend of mine mentioned her neighbours putting out trays of sugar topped fruit onto the apartment rooftop terrace for sun cooking jam. My attention was beyond piqued and I hounded her for info before deep diving into websites, books, family to find out how I too could harness all the free energy from the Aegean sky!
I found a handful of recipes, very little guidance but it didn't hold me back, my first ever sun cooked jam was the purest peach jam I'd ever had and I've never looked back.
Not all jams are suitable for sun cooking, some are just too delicate or use fruits in the cooler months, like Aubergine Jam and Candied Bitter Orange Curls. 
But vişne sour cherries work very very well. Especially if you favour whole fruits tumbled over freshly toasted bread at the kitchen table. They're also exceptionally good topped on lor or ricotta cheese and delightful with thick strained 'Süzme' yoghurt, dribbles of the crimson syrup swirling through the thick slightly soured homemade yoghurt!!! (I'm hungry can you tell?) 
One of the greatest benefits of cooking jam under the sun is that so much flavour and shape is retained but the other than just cant be ignored is the energy saving. 
A quick boil for hygiene is never going to hurt but think about all that gas/electric that's saved gaining all the slow-cooked goodness. Win!
I choose to use a lower ratio of sugar to fruit that standard Turkish jam recipes which to offer 1:1 sometimes even higher, this results is a softer set but we like this -think of those pretty whirls but if you prefer a thick consistency jam don't be afraid to up that sugar to gain that thickset.  
Also for the sake of trying to prevent spoilage, something that I've sadly experience once it's worth to make sure there's a good acidic touch added to the cooking fruit, I think the flavour profile of balsamic vinegar but red grape vinegar also works and is a more authentic Turkish touch.
A little background from the black pepper and vanilla pod are also welcome additions to my jam. I also leave these in the jar for an extra flavour whilst in storage; A sunshine packed breakfast treat throughout the whole year.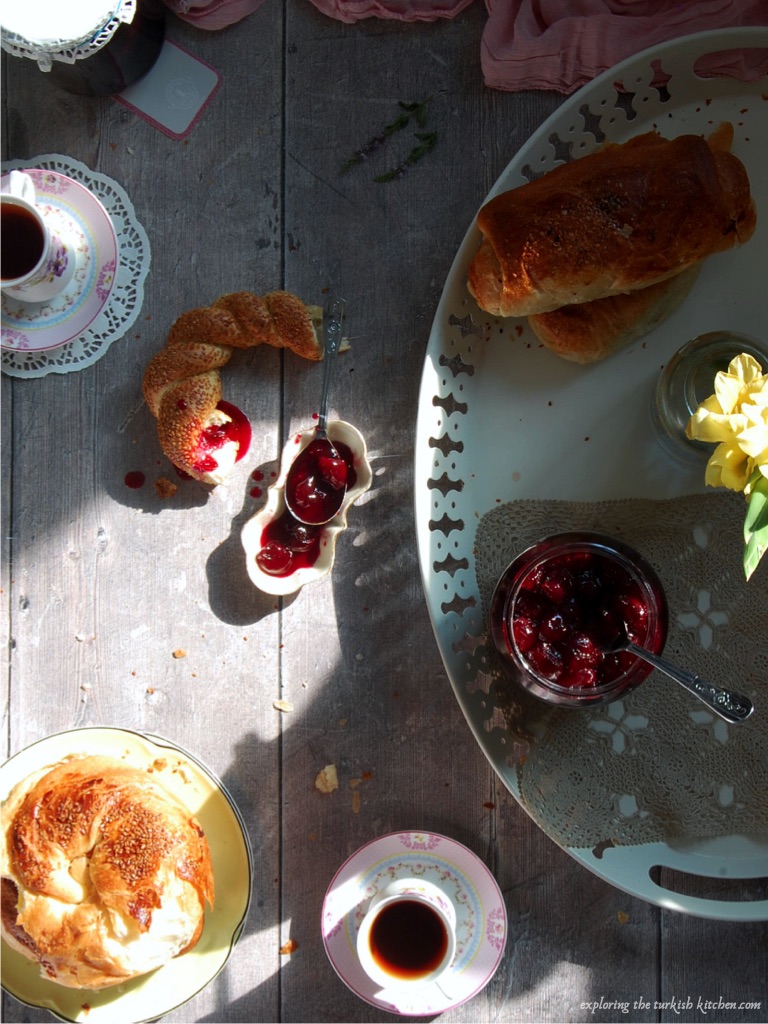 That's if you can make it last a whole year of course. Once you've got that fresh fluffy açma, cıtıt cıtır crush simit or bread warm out of the oven, who can say no to a little extra homemade jam. I certainly can't. 
I've typed the recipe out of 1 kg of cherries, I haven't made two batches of jam with the same quantity of fruit since I discovered sun cooking jam, this is Turkey where prices fluctuate and plans change but don't be afraid to up it with the slider, the process and ratios are the same. 
Just last week my father in law desperate to not run out this year turned up with 10 kilos of cherries and of course, every single one needed pitting. Thankful I have a fabulous pitter. OXO good grips, I brought mine from the Uk but I noticed that it is now for sale in Turkey too from the oxo website. 
If you want to find one elsewhere, Kiraz / Zeytin cıkarıcı is the search term your looking for, otherwise a chopstick or similar and a little patience will do. 
Suncooked Sour Cherry Jam
A soft-set deep crimson syrupy jam with tender fruit full that retains it's natural flavour very well. Cooked gently under the hot Turkish sun with a little black pepper and balsamic vinegar undertones for a rich indulgent jam treat. Great as a breakfast jam and in baking.
Ingredients
Per kilo of Sour cherries (Vişne)
1 Kg Sour cherries (Vişne)
600 Grams Sugar
60 Mililitres Balsamic or red grape vinegar (4 Tablespoons)
4 Grams Natural citric acid nuggets / Limon tuzu (1 'Çay' spoon)
4 Whole black peppercorns
1/2 Vanilla stick or 1 'Çay' spoon vanilla şekeri
Suncooked Sour Cherry Jam Directions
Ideally, the sun-cooked jam is started in the evening / later afternoon to enable the fruit to macerate and have a full day in the sun the following day.

Remove the stalks (retain for tea) and wash the cherries in water and a little white vinegar.

Pit the cherries, I like the OXO cherry pitter and place a third of the fruit in a large saucepan. 

Place on top of a third of the sugar and repeat twice more until all the fruit has been destones and the sugar placed on top.

Leave overnight and the cherries will reduce their own juice for cooking. 

The following morning give the cherries a good stir and place onto the hob.

Bring to the boil and cook on a rolling gentle boil for ten minutes.

Remove from the heat and allow to rest for ten minutes.

Add to the cherries the vinegar, lemon salt nuggets, black pepper and vanilla bean.

Return to the hob and reboil for a further five minutes. 

Prepare freshly washed tray/s or low sided saucepans. Ideally stainless steel or glass and pour the jam into the trays. Take care of hot splashes. The jam works best if not too deep or shallow. A kilo of fruit fits comfortably into a medium to large borek tray.

Place the trays in a sunny, sheltered spot.

Cover with a mosquito net or tulle/net curtain, tucking under neat the tray to protect the jam from sneaky invaders.

The jam will need 2 to 3 days of sun to reduce down into a thick syrupy consistency and the fruit to cook through and should be brought in at night to prevent humidity affecting the process. 

When the jam reaches your desired consistency, wash 2 medium sizes jars in hot soapy water or a dishwasher and prepare a large saucepan (taller than the jars) fill the saucepan with water.

Bring to a gentle boil for ten minutes.

Remove the water from the heat but do not discard the water.

Gently remove the jars and place them onto a clean surface.

Stir through the jam and fill the jars to the rim top.

Remove the lids from the saucepan and place on the jam jars. Seal.

Place the jars into the hot water saucepan ensuring the water covered them by several centimetres.

Bring the water to a gentle boil for at least 5 minutes.

Turn off the heat and allow to water too cool.

The jam can be kept in a cool dark place or in the fridge if you want to skip the boiling.  
Recipe notes
Because sun cooking doesn't take the jam to high temperatures it keeps a wonderfully pure taste but for the sake of hygiene it's best to give a small boil, this is also the reason acids are added. The vinegar does not leave a strong taste but I like the complimentary taste of balsamic vinegar. if you don't have or want to use this a good quality red grape vinegar works well too.
The black pepper and vanilla can be omitted if you wish.
Limon yuzu, are naturally made nuggets of citric acid and can be bought from most supermarkets and spice sellers. Alternatively, the juice of a large lemon can be used.
For larger batches simply slide along the ingredient slider. The method remains the same but more trays should be used. Don't be tempted to combine the trays during the days. I have made this mistake before and never been able to gain the syrupy consistency again.
Because the jam needs several days of cooking it's best to check the weather forecast in case a freaky summer rain period wishes to ruin all your hard work. This happened to me recently with sun cooked peach jam. I cooked it down in a saucepan into a sauce but it was a disappointment. 
I've kept sun cooked jam using this method for a year in a darkened pantry.