Small tender pieces of meat slow-cooked with onions and peppers served with chargrilled aubergine puree blended into thick garlic-infused Turkish yoghurt. This dish is perfect for the slow cooker on high with option of dry browning meat first, or low slow hob but is even better cooked in a clay pot on a low low fire if possible.
Smokey aubergines, garlic yoghurt, tender very simply flavoured meat and an Ottoman legend. What's not to love about Ali Nazik?
Kebab? I hear you ask. Yes! Someone asked this in the cooking group a good while ago and of course, I had to investigate - So kebab in the Ottoman period basically referred to meat dishes that were cooked without water or additional oils. Not kebab as we tend to think of it eg şiş, döner, Adana so I think many of the 'kebab' dishes are now cooked with a liquid such as tas kebab but if we look back to old recipes there are many many 'kebabs' and many of them are what we think more towards a casserole.
Where does the name Ali Nazik come from?
Legend has it that Sultan Selim (Selim The Grim) in the 16th century was passing through Gaziantep where the dish originates from and was served this dish. Upon eating it the Sultan questions 'Whose gentle (Nazik) hand (El) made this. 
That legend sends my imagination into overload and I've defiantly enjoyed pulling together a story to match that idea. Logic tells me it's very unlikely, aubergines made it to the Ottoman empire in the same century but the chances of them being that widely spread I'm not so sure. Still creating a short story and the actual dish is a lot of fun.
Aubergine & Garlic Yoghurt A Match Made In Heaven
How to make Ali Nazik kebab.
The meat stew element of Ali nazık is as easy as the rest of the steps actually; the smaller the cut of meat pieces the better overall dish, some people like to use mince - I favour tiny pieces of mutton hand-cut as small as I can then slowly cooked with onions, peppers and biber salça / pepper paste - this dish is full of peppery favour which compliments the smokey aubergine, sharp yoghurt and full-on flavour meat! 
How to chargrill aubergines for Turkish cooking
There's a number of ways to chargrill your aubergines, I use a little circular grill pan called a kozmatik it's so wonderful speedy on the hob, or if we've got one on the go the BBQ. Alternatively, get your grill nice and hot and stick them under whole until the skins darken and the meat is tender. Whichever way you go for remember to piece with a fork first I've made some messes in the past when being forgetful! Oooops
When they're nice and smokey you simply need to scoop the flesh out and mix it in with some yoghurt and garlic and then bam serve that tender meat on top and dive in.
Share with friends and I guarantee you they'll be blessing your hands too.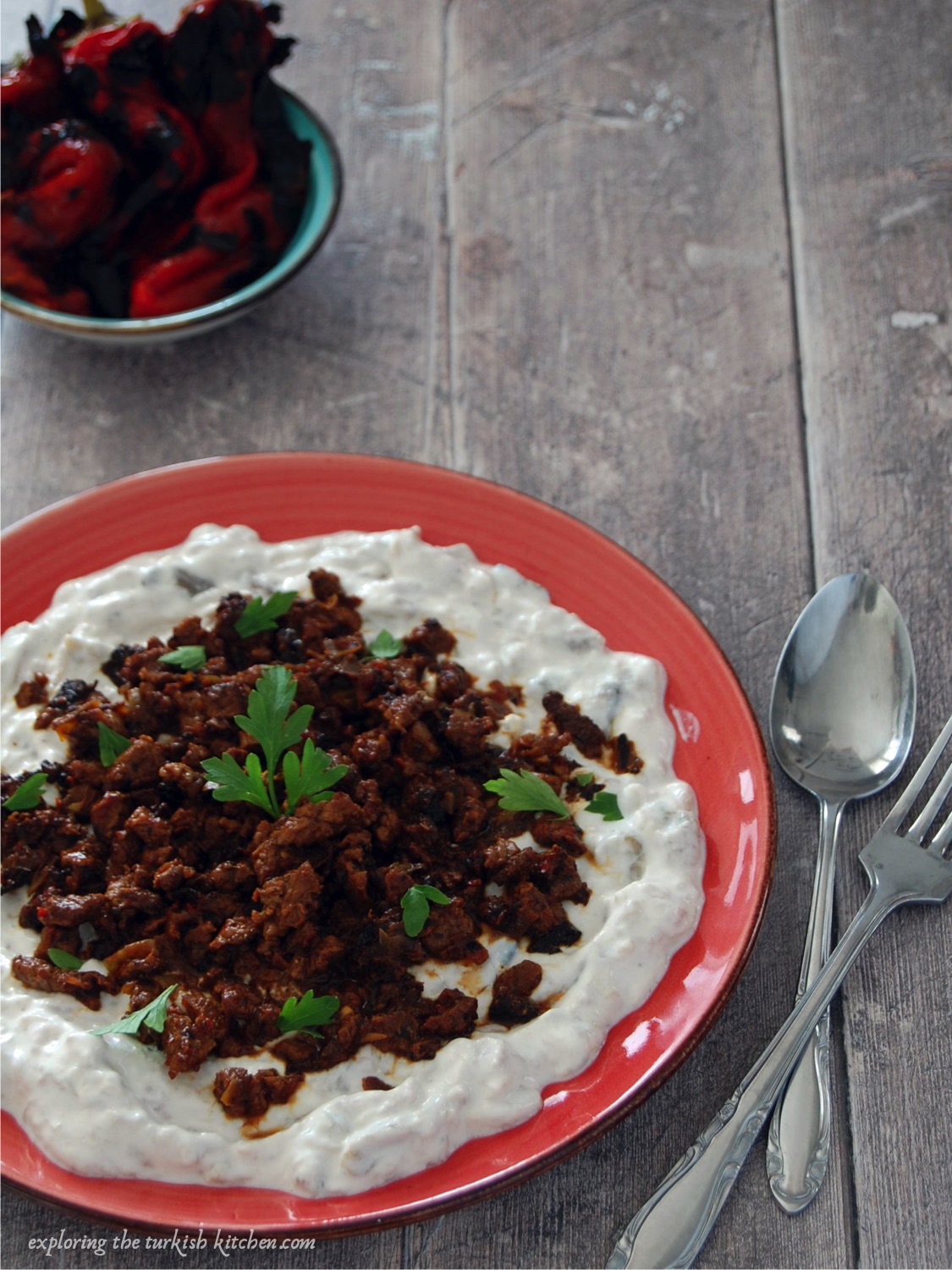 Slow Cooked Lamb With Aubergine Yoghurt Ali Nazik Kebabı
Small tender pieces of meat slow-cooked with onions and peppers served with chargrilled aubergine puree blended into thick garlic-infused Turkish yoghurt.
Ingredients
For the casserole
250 Grams

Diced fatty lamb
2 Large

Onion, Chopped roughly
2
'Çarlson' Large red peppers
1 Heaped Tablespoon

Sundried red pepper paste 'biber salçası'
2
Garlic cloves, minced
1 Handful

Mixed Turkish mixed peppers tops trimmed or kept whole
1/2 Teaspoon

Black pepper
1/2 Teaspoon

Oregano
1/4 Teaspoon

Salt
Chargrilled aubergines
Garlic Yoghurt
400 Grams

Thick / Strained Yoghurt 'Süzme'
Pinch

Salt
Slow Cooked Lamb With Aubergine Yoghurt Ali Nazik Kebabı Directions
Turn the flame on the pan to high and get the pan hot. Or if using a multicooker set to fry.

Add the tiny cubes of meat and quickly fry until browned over (if you don't have fatty meat you may want to add a good drizzle of oil).

Browning is optional for slow cooker

Turn to heat to low and add in the onion cubes and the chopped red peppers.

Turn the slow / Multicooker to high 1 hour or Simmer on medium to low ring allowing the meat to cook in the onion juices.

(It shouldn't need any water because of the onions but keep an eye on it  if it does look like there's not enough juice add in 100mls of water)

Mince the garlic for the yoghurt and combine with the salt and blend into the yoghurt. Place on the fridge until needed.

After one hour add the garlic, black pepper, salça and whole peppers to the meat.

Return to cook for around 45 minutes.

During this time chargrill the aubergines (

I use a kozmatik on the gas hob which is quick and gives a fabulous flavour, alternatively grill until the skin is peeling back them, or even better over coal).

Once chargrilled, open up the skin and scoop out the flesh with a wooden spoon.

Place the aubergine flesh into a bowl and mash together with the garlic yoghurt.

Remove the whole peppers from the casserole and set aside, stir in the salt and oregano.

Place the aubergine yoghurt onto your serving dish and place the casserole ontop.

Decorate with the peppers and serve.

For extra indulgence melt some butter in a small pan and toss in some paprika. Pour over the dish just before serving.