Su or Aşma (Vine) Kabağı are usually seen as decorative lamps - dried out, carved and decorated they do make beautiful ornaments but when I found out they're edible curiosity got the better of me.
I searched & searched but seemed to only be able to find a few recipes, all with origins of şanlıurfa, it's clearly more popular for decorative purposes than for food. But I could let that stop me.
I settled on a recipe from the @cahide_sultan blog and was not disappointed.
Braised lamb pieces, onion, red pepper, chickpeas and the bottle gourd with pomegranate Mollases and mint.
It's a recipe that's right up my street!
I also kept a gourd to have a go a decorating – It looks a little tricky but I'm really looking forward to having a go.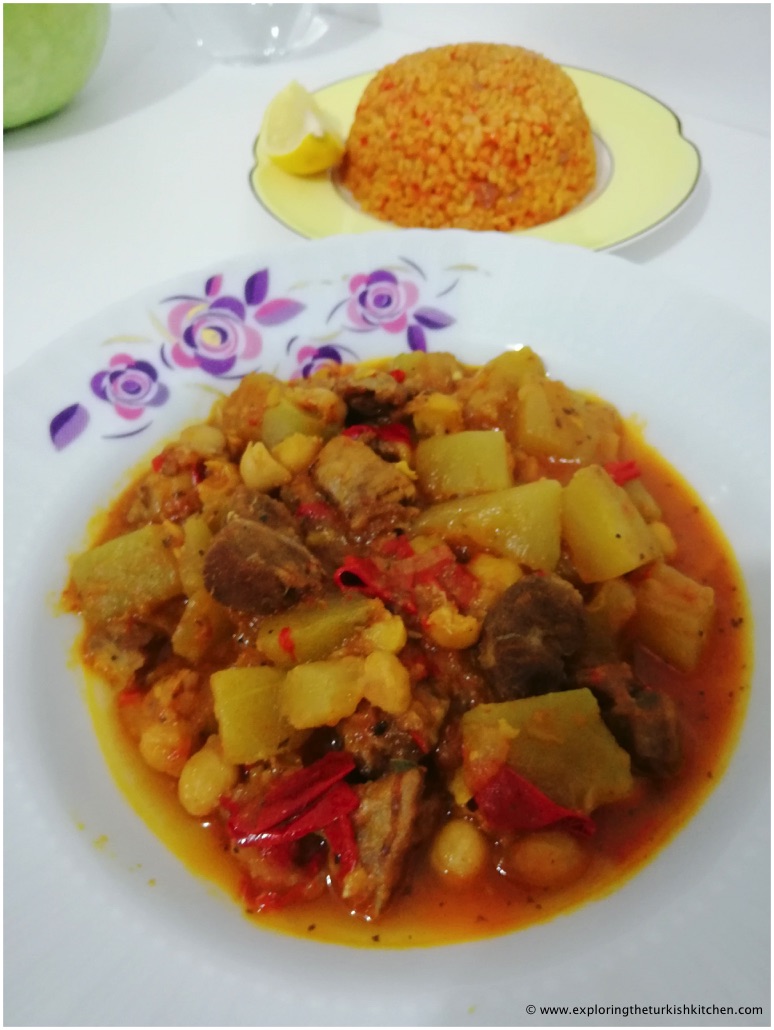 Recipe
1 Medium Sized bottle gourd (Su kabağı)
400 grams lamb, mutton or goat meat, cubed.
1 Cup Cooked chickpeas
1-2 Onions, sliced or diced
3-4 Red Peppers, sliced or cubed.
3-4 tomatoes
1 head of garlic
1 tablespoon sun-dried tomato paste (Domates Salçası)
2 – 3 tablespoons pomegranate molasses (Nar ekşisi)
Method
I used my Redmond Multicooker on stew setting but will work well in a stovetop casserole dish or deep saucepan as per the original recipe.
Heat a little oil in the pan and add in the onions and garlic until softened.
Brown the meat cubes add the salça and enough water to just cover and leave to cook on a low flame for 30-40 minutes.
Wash well the gourd, peel thinly the skin and cut off the long thin neck ((This is supposed to be very bitter and not enjoyable to eat))
Quarter the gourd and scoop out the soft fleshy center and seeds.
Chop the harder outer into bite-sized cubes and mix into the cooked meat along with the red pepper, tomatoes, and chickpeas.
Cook on a low heat or slow cooker high/stew setting for a further 45 minutes.
Stir in the molasses and mint before serving.
Recipe translated and adapted from Cahidesultan.net/