An indulgent meze dish of fried aubergines, peppers and potatoes topped with tomato sauce and thick salted yoghurt. Şakşuka smells and tastes like evenings in a hot summer Turkish city and deserves a place in any serious meze spread. 
Isn't it wonderful how smells can transport you to somewhere else? 
It happens in the kitchen too, of course, maybe even more so, memories of first bites, newly discovered tastes, meals only ever eaten at favourite restaurants and holiday destinations. Take aubergine, for instance. As soon as those cubes of purple hit the hot oil, I'm walking the early evening city streets. Horns tooting, vendors shouting and everyone rushing here and there. 
I would never describe fried oil as a delightful scent, yet it has pleasant thoughts for me. A summer smell I remember vividly from our few years living in Aydın Merkez, Fried veggies wafting from balconies and kitchen windows as the heat of the day starts to take its toll. I used to think people were mad standing in hot, often airless apartment kitchens in the height of summer frying vegetables. I'd never fry anything in the summer months I used to think, getting double pleasure out of Kızartma cooked on the smokey outdoor fireplace in the village house by someone else!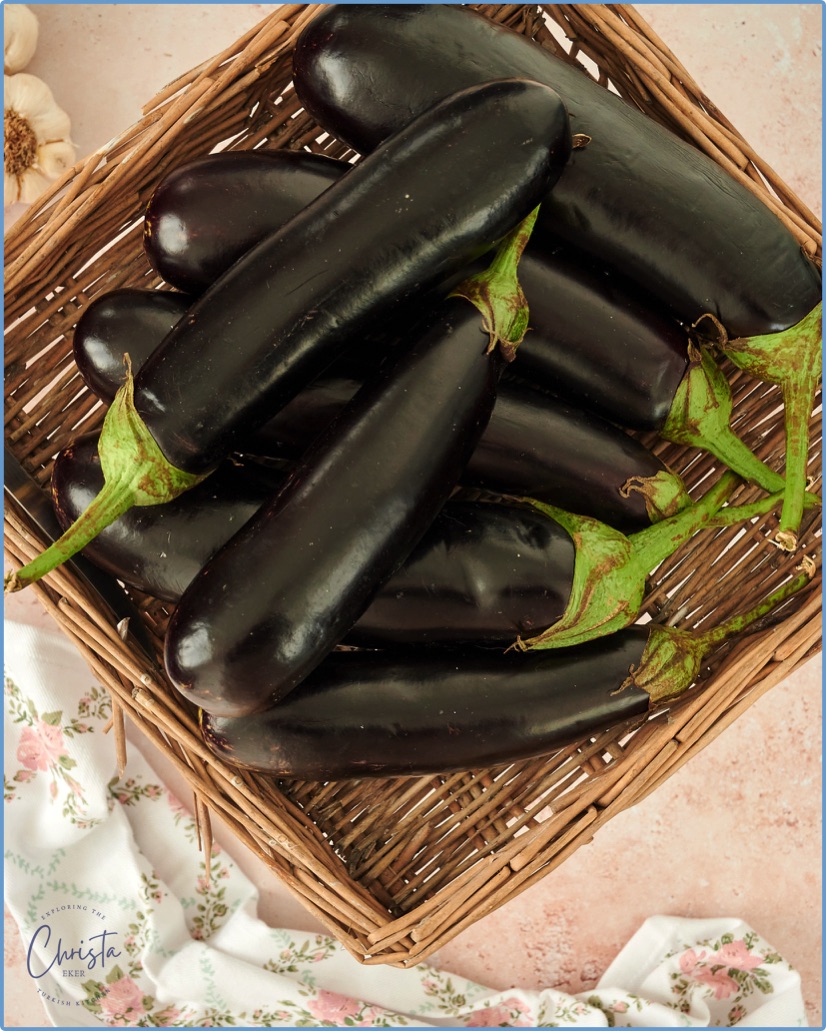 Later I come to see why so many aubergine dishes are popular in the summer months. An aubergine found on a supermarket shelf in the spring or autumn tastes nothing like the firm flesh of a freshly picked July or August vegetable found in considerable quantities in the neighbour pazar. 
I discovered that fresh, well seasoned, properly cooked aubergine represents love. Newly wedded housewives creating a taste of matriarchal home, mothers repeating dishes to bind memories of taste to maternal love and grandparents eagerly awaiting the arrival of children after a day of riding bikes and playing skipping through the shaded inner-city streets.  
At some point in the last eight years, I appear to have lost that frying is only for winter months attitude. Only an evening breakfast or salad will do some days, but there are others when standing at the stove frying batches of summer vegetables is water off a duck's back. Often big batches that give you a couple of days off from severe kitchen duty and allow for mix and max meze dishes are exceptionally appreciated. 
How to make Şakşuka, a fried aubergine meze
Making this medley of fried Turkish vegetables is really easy, providing you can handle the heat of the kitchen, that is. 
Frying the vegetables separately is a must, in my opinion. Yes, you want the flavours to blend when combined in the dish, but they need to stand up on their own, too, for the best flavours. 
The oil must be hot - very hot otherwise, everything gets soggy and greasy. We personally use virgin olive oil because we2re blessed to have our own supply; Riviera olive oil would be my first choice if not. A blended & refined oil, it keeps that olive oil flavour for this dish but isn't as overpowering and is better suited to frying. 
My other must do - is to use fresh oil for the onions and tomatoes; nothing ruins this Turkish aubergine dish for me more than tomatoes cooked in the oil used for frying the other veggies. The colour goes, and the flavour is no existent. 
It's a dish well worth the effort for me personally, and I implore you to wack on that aircon, fry away and enjoy it, even more, the following day. It works as a meal in its right is wonderful as meze but also fabulous to a breakfast spread!
Maybe it's hubby coming home and commenting with excitement on the first sniffs of fried veg smell, the sight of my son diving in for extra potato chunks... 
...(Why are the once shocking, cold chips and yoghurt suddenly so delightful after a few years of living in Turkey?) ...
 ... or maybe it's just the crazy assimilating you accidentally do. But as I stand and fry another batch of aubergine, potato and pepper for Şakşuka, I smile and appreciate how happy I am to sweat in the summer kitchen and how darn tasty it is too! 
Fried Vegetables With Tomato & Yoghurt Sauce Şakşuka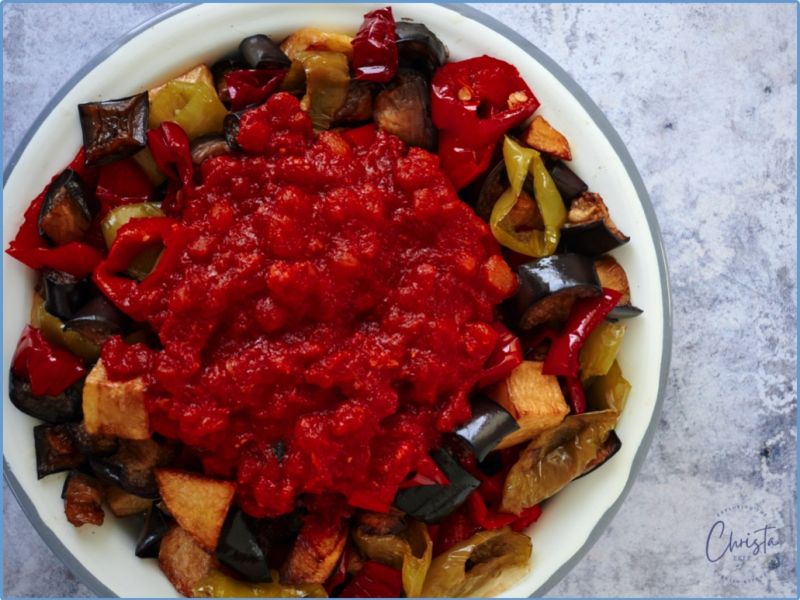 An indulgent meze dish of fried aubergines, peppers and potatoes topped with tomato sauce and thick salted yoghurt. Şakşuka smells and tastes like evenings in a hot summer Turkish city and deserves a place in any serious meze spread. 
Ingredients
Saksuka vegetables
4 Large

Aubergines
2 Tablespoons

Salt
1 Tablespoon

Sugar
2 Medium to Large

Potatoes
4
Green Peppers
2 Large

Red Peppers
Oil for frying
Tomato Sauce
1 Small

Onion, grated
4 Large

Tomatoes, grated
2
Garlc cloves, minced
Yoghurt
1 Cup

Thick Yoghurt
Salt
Water
1
Garlic clove, minced (Optional)
Fried Vegetables With Tomato & Yoghurt Sauce Şakşuka Directions
With a peeler, make alternative stripes down the length of the aubergines so that a third to half of the peel has been removed. 

Cut into large chunks and place into a bowl or a colander placed on top of a bowl.

Sprinkle on the salt and sugar and place a heavy plate on top to press out any bitter juices. (Around 15 to 20 minutes)

While the aubergines are resting, prepare the potatoes by peeling and chopping them into large chunks, similar to the aubergine pieces. And cut the peppers wither into rounds of large slices. 

Grate the onions and place them aside for later. 

Grate the tomatoes and place them aside for later. 

Mince the garlic cloves for the tomato sauce and, if using in the yoghurt, one more for the yoghurt topping. 

In a frying pan, heat enough oil to fry the vegetable pieces (around a cup). The oil needs to be very hot, so test with a single vegetable for sizzling hot. 

In batches, fry the aubergines pieces for a few minutes. When removing from the frying pan with a slotted spoon, place onto kitchen paper to remove excess oil. 

Allow the oil to come to hot again and fry the peppers, again in batches to not overcrowd your pan. Remove from the pan and drain on paper. 

At this point, you may need to add a little more oil and allow it to come to temperature before following the above to fry the potato pieces, which will take longer than the vegetables.  

Remove the oil from the heat and arrange the cooled vegetables on a large serving plate/bowl. 

In a smaller frying or saucepan, heat a little olive oil and saute the onions and garlic until translucent. 

Fry the grated tomato for a few minutes before turning to simmer for five minutes. 

Remove from the heat and top the fried vegetables. Mixing in should you wish. 

In a bowl, mix the thick yoghurt, salt and if using minced garlic clove. 

Thin with a little cold water should you wish for a thinner consistency. 

When ready to serve the Şakşuka, top with the yoghurt.