This easy make cucumber and yoghurt Turkish side dish is perfect as a bbq meat accompaniment, part of a meze spread, or simply a refreshing snack on a hot summer day.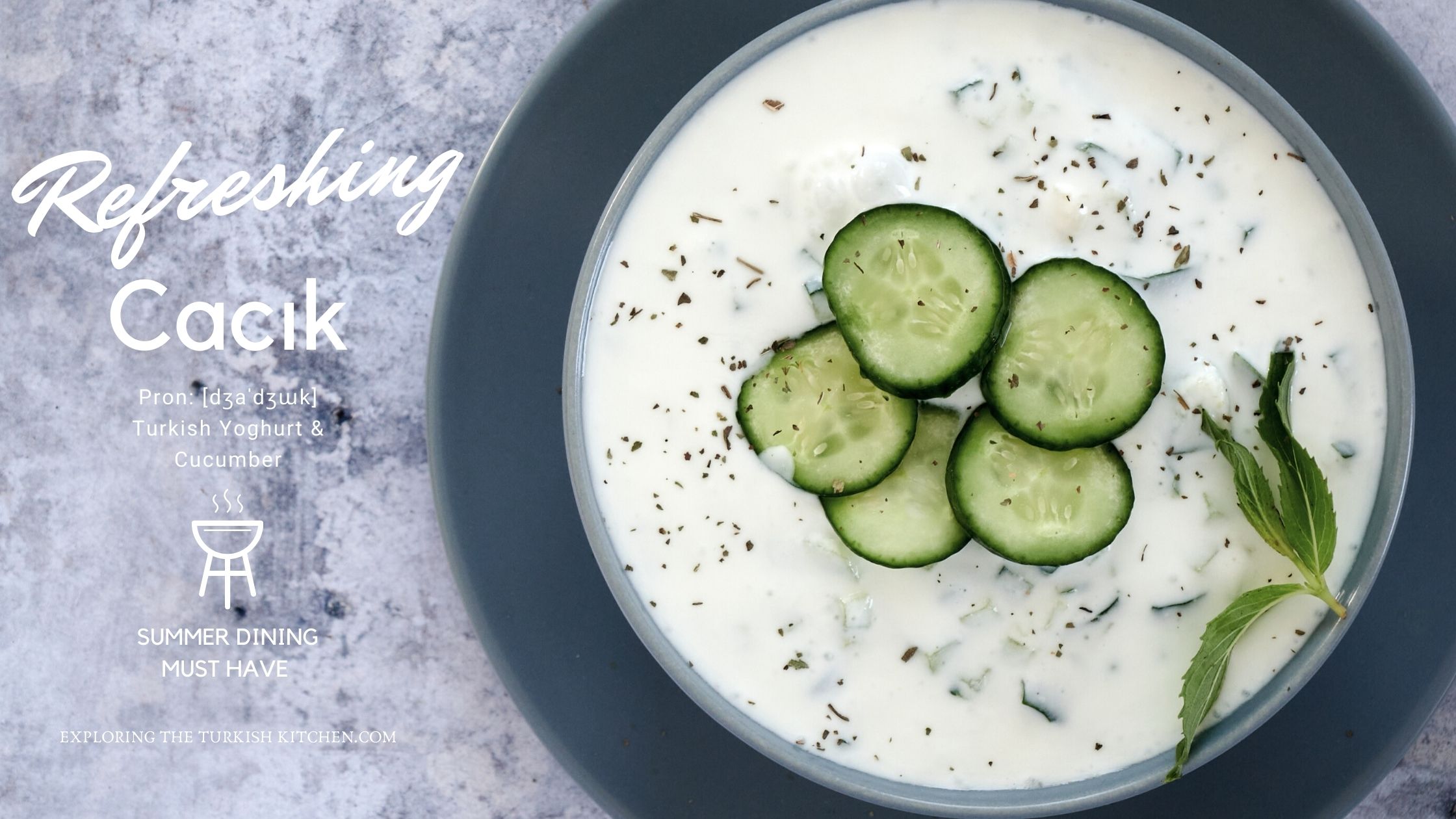 Refreshing, hydrating and the perfect complement to so many types of Turkish meals, Cacık or Turkish cucumber and yoghurt meze is a must for the summer kitchen. It's easy to make and needs very few ingredients; it's almost a non-recipe recipe!
There's a lot of personal preference that goes into making this classic Turkish yoghurt meze, and so home cooks should take it with a pinch of salt (A pinch of salt, a little garlic, and loads of tiny chopped cucumber pieces for my style, actually). How thin or thick you like it, the volume of cucumber in the yoghurt, whether you want your cucumber chopped or grated, and adding garlic or not can't be told to you in a recipe. 
So I've put together the method for making my cacık, but you should think of it only as a suggested list of ingredients and process of pulling together this easy Turkish meze.
I like a little garlic (a small clove) in mine, my in-laws dont, and so I decided to ask those that make it, my fellow cooking group sisters and Instagram followers, if they add garlic to cacık. I was expecting a more balanced answer, but I guess they, too, are all garlic fiends.

Should you add garlic to cacık?
Here are the results of my polls:
On Facebook, I asked Cacık: With Garlic or Without? and gave the options of A little garlic (72 votes), Bol Bol 'A lot of' garlic (32 Votes) and No Garlic (2 Votes).
On Instagram, I posted in my stories Cacık Making: With or Without Garlic? The results were a massive 97% Yes and 3% No.
So it seems garlic in cacık is mostly a yes but not for everyone!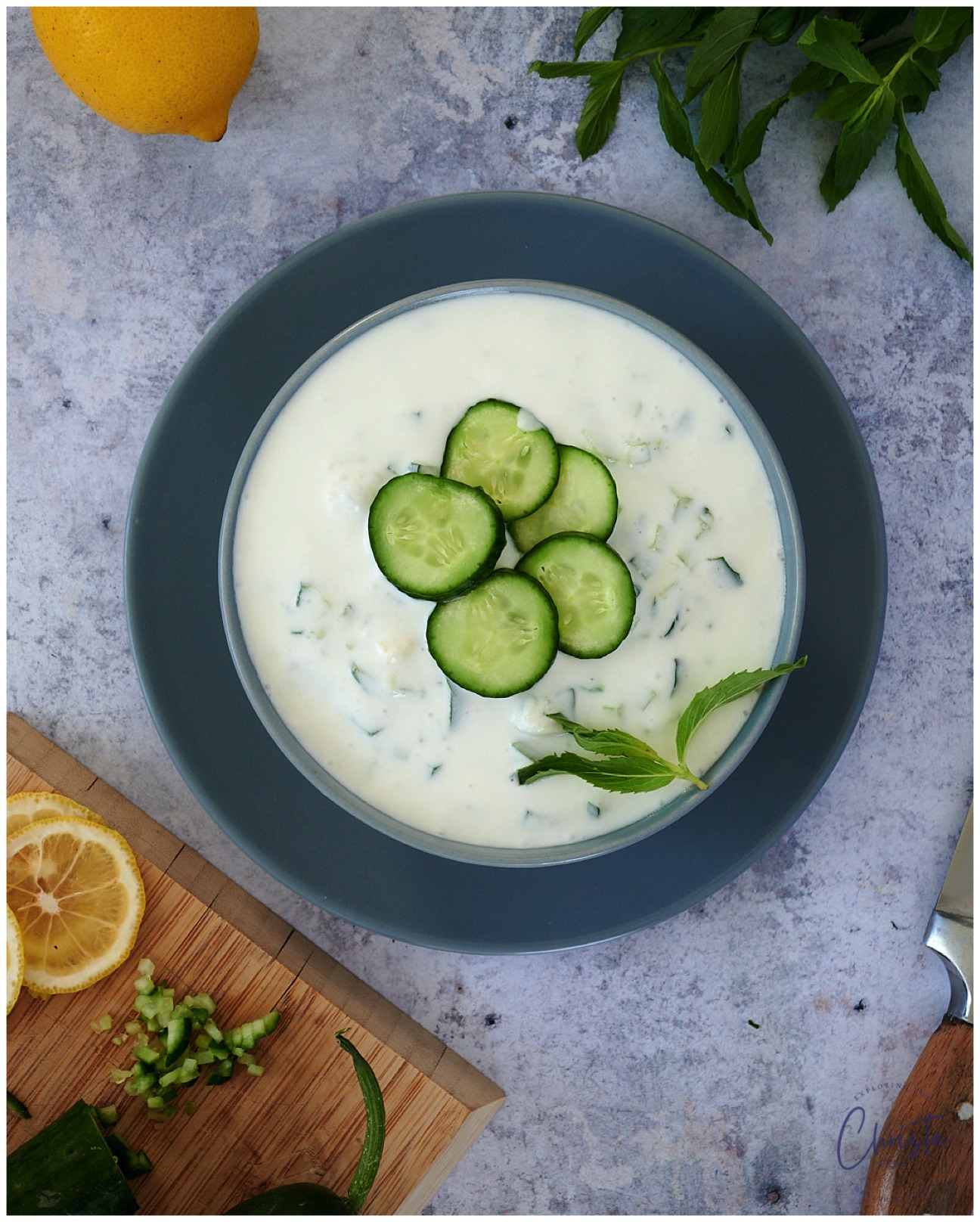 Turkish cucumbers are nice and small, have very few seeds and thin skin. Should you be making cacık with cucumbers other than in season Turkish cucumbers, you'll likely need to cut out the centre and peel any thick skins.
Thick yoghurt can be ever so slightly watered down (unless you like your cacık thick, of course) or if you want to go in for a thin version, think of using plain yoghurt. 
But don't go thinking that cucumber & yoghurt are the key ingredients: (I think most of us think of Cacık as Turkish cucumber & yoghurt) but I discovered recently via Musa Dağdeviren's 'The Turkish cookbook' that cacık can be made from chopped green bell peppers, fresh almonds and even with cheese rather than yoghurt!
No wonder we all get a little confused by Turkish food!
What to serve Cacık with?: 
Well, there's a whole second poll right there.
Are you a cacık is a great accompaniment to Turkish BBQ dishes like kebabs and grilled chickens?
Served with traditional lokanta style meals like Kuru Fasulye & pilaf?
Or do you see it as a hydrating snack to serve with finger foods?
For me, all three!
Yoghurt with Cucumber Cacık
This hydrating meze is perfect as a bbq meat accompaniment, part of a meze spread or a refreshing snack on a hot summers day.
Ingredients
Cacık / Cucumber meze
4 'Su' glasses (approx 3.5 Cups)

'Süzme' thick yoghurt
1 Large

Garlic clove, minced
1/2 Teaspoon

Sea salt
1/2 'Su' glass (100ml)

Water
4
Turkish cucumbers
Options for serving
Olive oil
Lemon juice
Fresh mint
Cumin
Yoghurt with Cucumber Cacık Directions
Using a sharp knife, cut the cucumber as small as possible. If you use cucumbers other than the small Turkish 'Bademcık' ones, remove the seeds and peel should this skin be thick. 

For me, that means holding it upright in my left hand and with the knife in the right cutting down into cucumber a few centimetres in small stripes parallel to each other, turning it 90 degrees and cutting again, therefore, creating perpendicular lines. This cross-hatching makes easy work of tiny pieces.

In a medium bowl, gently whisk together the thick yoghurt, minced garlic and salt. 

Add a little of the water at a time (as much as is required for your desired consistency).

Stir in the cucumber pieces. 

Cover and refrigerate for a minimum of twenty minutes or until required.

Serve with a drizzle of olive oil and, if desired, chopped mint, squeeze of lemon juice, or sprinkle cumin/pul biber pepper flakes. 
Recipe notes
Suzme or strained yoghurt is ideal for making cacık and needs a little water to find the right consistency. Should you have only plain yoghurt omit the water and reduce the volume of yoghurt used by a third. 
Turkish cucumbers are very small and have only a little amount of seeds and thin skin. Larger cucumbers cn be used but will likely need peeling and the seeds removed. 
Garlic and salt are optional and should be used or missed as desired.